GRAVE MISTAKE RECORDS AND MAILORDER
Webstore Update / December 16, 2022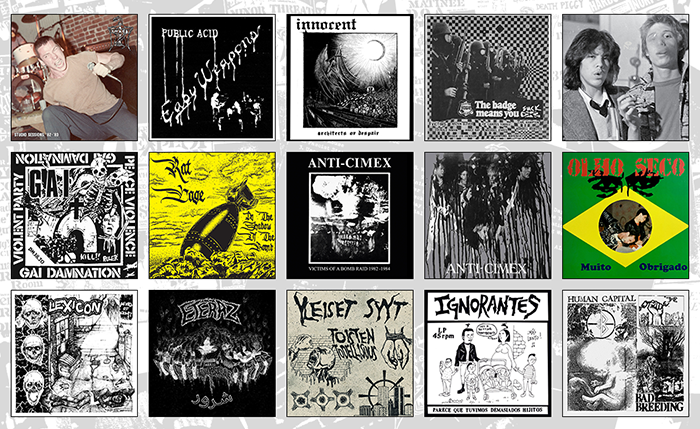 For quick browsing of recent additions to the store, you can check out all of these titles mentioned below in the New Arrivals and Recent Restocks sections!

Well, 2022 is almost at an end, so this will most likely be the last time you'll be reading one of these until next year. This year might have been the busiest year for the webstore in a while (and the busiest year for me personally as well!), so thank you to all who have supported Grave Mistake for another year.
A special thanks to everyone who picked something up during our Fall Clearance sale or Black Friday sale ... was able to clear out some much needed space to make room for both incoming new releases AND a brand new Grave Mistake release early next year.
That being said, I'm going to try and keep this short and sweet, so please check out the full list with descriptions below. Some great reissues dug deep from the punk vaults in this update (Graven Image, The Hated, AK-47), five vinyl reissues from Sweden's 偏執症者 Paranoid, a ton of killer new stuff from Side Two (Innocent), La Vida Es Un Mus (Public Acid, Rat Cage, Violin, Balta), Iron Lung (Lexicon, No Future, Hologram, Rashomon), Sorry State (Yleiset Syyt, Shaved Ape, Valtatyhjio), and Not for the Weak (Spore, Thought Control, Stray Bullet), and some incredible international hardcore/punk reissues and fanclub releases (Kaaos, Anti-Cimex, HHH, Olho Seco, Pojhasakka, Etc) as well .
This also may be the last update, but we have a ton of new stuff en route as I type this, so definitely keep checking back or keep an eye on our Instagram page for real time updates!
Thanks for reading and thank you for your support.
New Titles in the Webstore for 12/16/22:
INNOCENT "Architects of Despair" LP (Side Two Records)
Side Two can finally announce the release of the Innocent 'Architects of Despair' LP. 11 tracks of noise damaged D-beat. A follow up to earlier demos, this LP was originally recorded in 2018 and is now finally seeing the light of day. Huge poster insert w/ art by Willow (Flower).

PUBLIC ACID "Easy Weapons" LP (La Vida Es Un Mus)
Easy Weapons was the debut from North Carolina's Public Acid. Originally self-released by the band in 2018 in a criminally small press of 300, LVEUM is proud to finally get it back in print. PUBLIC ACID's debut is an extremely ugly, powerfully distorted record. Taking cues from the outer fringes of both Japanese and Italian hardcore punk and combining it with the weirdness of early primitive black metal, pushing the feedback, noise and performing intensity in to the red from the first note. PUBLIC ACID execute very idiosyncratic song writing. Full of memorable riffs that twist and turn on a constantly out of control ride, which gives it a very urgent feeling of confusion and chaos. The ferocity and out-there-ness of luminaries ala G.I.S.M. or PARABELLUM, and the immediacy of WRETCHED, NERORGASMO or SHOTGUN SOLUTION in the hell of a modern sui-generis punk album. (Tesco Holocaust)

RAT CAGE "In the Shadow of the Bomb" 7" (La Vida Es Un Mus)
At last, 'In the Shadow of the Bomb', the pummelling new single from Rat Cage is back in print after a limited lathe run on Lughole Records last year. The A side is a Burning Spirits style ripper, inspired by a trip Hiroshima and witnessing the devastating long lasting effects that nuclear war has on a city and country. 'In the Shadow' sonically nods to classic Japanese hardcore, but still maintains the typical Rat Cage blend of Scandi/UK punk. On the flip side, 'Scared Of The Truth', is a political mid pace stomper that rumbles with power in a State Violence, State Control fashion, while somehow also sounding like Out Cold at their most rocking. A glimpse through the cracks as to what's coming next from Rat Cage in 2023.

BALTA "Rendszerszintu Agybaszas" 7" (La Vida Es Un Mus)
It takes BALTA seven minutes to annihilate Rendszerszintű Agybasz​ás (Systematic Brainfucking), the debut EP by these feral Hungarians. Their approach to music is beyond urgent and their delivery equally drastic. BALTA's sound is vicious, pounding and hectic. With one of the nastiest guitar tones to grace these ears in recent memory, and a drumming style that may collapse at any giving moment. Drawing parallels with PIÑEN, ULSTER, the first TRANQUILIZER Flexi, PLASMID or IMAGEN is fair, giving the total disregard for melody or time the band displays. But it is their anti-authoritarian lyrics and uber punk attitude that sets them on their own path; Searching for a primitive future amongst the concrete ruins.

VIOLIN "S/T" LP (La Vida Es Un Mus)
A deranged cacophony straight out of London, England. On their debut, self-titled release, VIOLIN blend elements of Swedish masters TOTALITÄR and HEADCLEANERS with the muscle and swagger of Boston 82 and the panicked power of NYHC in the mid 80s. The end result is a Mind numbingly fast and concise pure hardcore punk that is all together contemporary, edging in at times on the learned idiocy of Toronto's S.H.I.T. VIOLIN is the brainchild of Lindsay Corstorphine (SAUNA YOUTH, MONOTONY, PRIMITIVE PARTS etc) who has written, mixed and recorded everything on this stellar release, with the exception of the drums, here carried out by the inimitable Jonah Falco of FUCKED UP fame. Pinning Falco's drumming to Corstorphine's vision has nailed a sound which is at once huge and perfectly audible, whilst remaining brutal and ugly in tone. There are moments of genuine innovation on display as is evident on the track 'Empty Mind' which begins with discordant noise, before building from a mid-paced swing into frantic lunacy, and then introducing a harrowing and unexpected synthesizer. The stark black and white artwork, carried out by Daniel David Freeman, provides a perfectly abstract and menacing back drop to this slab of primitive hardcore. ($arny)

YLEISET SYYT "Toisten Todellisuus" LP (Sorry State Records)
Toisten Todellisuus compiles two 7"s by Helsinki, Finland's Yleiset Syyt: their self-titled EP, originally released in 2019, and 2021's Umpikujamekanismi. Despite members playing in well-known underground Finnish bands like Kohti Tuhoa and Foreseen, Yleiset Syyt has flown under the radar in the Anglophone world, with only a small fraction of their records' tiny pressings making it outside Finland. Fortunately for you, the hardcore fanatics at Sorry State and La Vida Es Un Mus have our ears to the ground, and we agreed that a band this killer deserves a much wider audience. Yleiset Syyt's sound is both blistering and anthemic, moving nimbly from full-throttle rippers like "Hygieeninen Ruumis" to tracks like "Hyväntekijä" and "Luovan Keskiluokan Takapihalla," whose big chorus hooks could have anchored a Riot City or No Future a-side. The combination of ferocious performances and songwriting chops might remind you of older Finnish bands like Lama, Mellakka, and Appendix, but Minor Threat, the Fix, and Necros are equally apt comparisons.  If you like your early 80s-style hardcore tightly-wound, razor-sharp, and bristling with hooks, you're gonna love Toisten Todellisuus as much as we do.

SHAVED APE Demo Tape (Sorry State Records)
You may know Shaved Ape's alter ego, Vince, from his time pounding the kit in Sickoids, Loose Nukes, and White Stains, among many others. Vince recorded Shaved Ape's debut by himself on a 4-track, building it on the same floor plan as Poison Idea's early recordings: straightforward in conception, virtuosic in execution, and practically vibrating with anger. The lyric sheet gives some insight into why Vince is so mad, with "Worm Food" in particular conjuring enough disgust to make me wanna sneak into the war room and just smash the big red button already. On second thought, riffs like the ones in "Moral Crumbs" and "Lord" are worth living for, so maybe I'll stick around for at least six minutes so I can listen to this tape again. If the best 80s US hardcore still gets your blood boiling, Shaved Ape is for you.

VALTATYHJIO "Lukko" Tape (Sorry State Records)
Sorry State is proud to present a US pressing of Lukko, the debut cassette from Joensuu, Finland's Valtatyhjiö, who caught our ear here at Sorry State with their wild and original sound. While Valtatyhjiö's vocals have the trademark snarl we love to hear in Finnish hardcore, their songs (on the first three tracks, at least) are rooted in Swedish mängel, with insanely fast tempos and a wild, careening sense of rhythm that makes their take on this classic sound truly exciting. The drumming, however, might be the star of the show. Double bass drumming is taboo in many hardcore circles, but Valtatyhjiö proves it can work, integrating crazy, Dave Lombardo-style kick drum rolls into a frantic explosion of hardcore percussion whose only point of reference might be Jerry's Kids' Is This My World?. After three tracks with the pedal to the floor, Valtatyhjiö close out Lukko with "Pahat hahmot," an anthemic mid-paced track that wouldn't be out of place on a classic record by Kaaos or Lama. This edition is 150 professionally duplicated cassettes with pro-printed j-cards and paper labels.

IGNORANTES "Parece Que Tuvimos Demasidos Hijitos" LP (FOAD Records)
Raw, uncompromised nihilism from Chile's premier fuzzed out hardcore punks! After multiple cassette only releases and 2 x 7"s here's their first time on 12". 13 tracks of snotty angry punk blending the simplistic in-your-face aggression of typical Latino-American taste with a noisy distorted approach recalling 80's Japanese and British classics (Gai, Confuse, Chaos UK, Disorder). Ignorantes stands above as one of the current gems of punk, their sound and attitude are totally spontaneous and out of the guts, without any ambition or intention. Quoting the singer Gabriel: "In the beginning we didn't even try to go out and play. The idea was just to record once and that was it. Then we enjoyed the process of recording six or eight songs and that's how it all started." LP with large 6-panel foldout insert and lyric sheet.

"Crass: You're Already Dead" Book (PM Press)
PUNK, doo wah, or do what?.  Either way  it's become a part of the grand social circus. Dance music  for dickheads, or a genuine expression of our anger and our despair?. There's such a fine line between that which simply adds to the plastic crap that engulfs our lives and that which offers vision, hope dignity and a FUTURE. Can you tell the difference?" Written over three decades ago by the pioneers of anarcho-punk. This text seems all the more relevant today just with differently named puppets and masters. Now republished by Active as an A6 booklet.

AK-47 "Badge, Singularities, and More"' LP (Orange Vinyl) (Splattered Records)
From the notorious Houston, TX art-punks that obliterated the thin blue line over 40 years ago comes their first-ever officially licensed compilation LP. Famed by the longstanding bootleg punk series, Killed By Death. Ten songs in total. Including eight that have rarely seen the light of day. Both tracks from The Badge Means You Suck single, The Singularities EP, and one from the past decade. Often misunderstood as a typical early eighties hardcore outfit, AK-47 were far from it. True artists, punks, and cultural outsiders to this highly-romanticized era. Formed by a body of work that draws on fast paced agression, angular post punk, political critique, and pure independent spirit. Or simply put, real punk that only Texans could make. All proceeds towards the band have been donated to charity. But more importantly, in 2022, The Badge STILL Means You Suck...

GRAVEN IMAGE "Studio Sessions '82-'83" LP (Beach Impediment Records)
In the summer of 1982, an already burgeoning scene in Richmond, VA saw the arrival of some new blood in the form of GRAVEN IMAGE. Taking both inspiration and influence from the hardcore punk explosion that was well underway all over the world, these youngsters who met at a local skate ramp channeled their aggression through the no bullshit hardcore punk that they churned out in their few years of existence. Having shared the stage with a veritable who's who of punk at the time (BAD BRAINS, MINOR THREAT, NECROS, C.O.C., VOID, THE FU's, etc) throughout the Mid-Atlantic, the band's explosive live performance fronted by the powerful and charismatic Dwayne Curd was evidence that they could hold their own when billed with the aforementioned titans of the genre. "THE STUDIO SESSIONS: '82-'83" features the entirety of GI's recorded studio output - first from the "YOUR SKULL IS MY BOWL" session circa fall of 1982 that became the extremely rare and sought after split tape with fellow local juvenile upstarts HONOR ROLE, and lastly from the "KICKED OUT OF THE SCENE" EP session that was recorded in 1983 and released the following year, plus some previously unreleased tracks from each of the studio outings that yielded these 22 tracks of USHC fury! Carefully transferred and restored from the original reels, each record comes with a 12 page booklet chock full of photos, flyers and even some liner notes from guitarist Nick Smilek and drummer Joey Boisineau. For admirers of early American Hardcore and not much else.

HATED, THE "Best Piece of Shit Vol. 4" 2xLP (White Vinyl) (Numero Group)
Draped in a flag of patriotic shame, the Hated stormed onto the scene just as D.C.'s Revolution Summer was swerving out of control. Channeling Bad Brains' Black thrash and Hüsker Dü's zen approach to hardcore, Dan Littleton, Erik Fisher, Colin Meeder, and Mike Bonner synthesized their own version of what became emo in 1985. Remastered from the original analog tapes, Best Piece Of Shit Vol. 4 compiles their D.I.Y. debut cassette, the No More We Cry EP, and 14 period bonus tracks from the Hated vault, spread across two LPs and annotated by fellow Annapolis hooligan Andrew Gebhardt. Decorated with extensive photo documentation and cut'n'paste ephemera, this Hated-approved set captures a band, a scene, and a country on the verge of either exploding or imploding. Never said it'd be like this, right?

KAAOS "Ei Enää Kipua Ei Tuskaa" LP (Sonarize Records)
These 1983 Studio recordings were intended as KAAOS debut album. Some of these tracks were later re-recorded for their 1984 "Ristiinnaulittu Kaaos" LP. Other tracks from this session were released in 1996 on the "Valtio Tuhoaa Ei Rakenna" 7". Here is your hand is the original full-length record . . . how they were meant to be. Remastered for maximum ear damage.

ANTI-CIMEX "S/T" LP (Back on Black Records)
DELUXE VINYL EDITION!!! "Anti Cimex" is the self titled 1986 EP by the Swedish, D-beat, tour de force ANTI-CIMEX.

ANTI-CIMEX "Victims of a Bomb Raid: 1982-1984" LP (Back on Black Records)
Collects the first three Eps from Sweden's ANTI-CIMEX. Includes the Anarkist Attack 7" (1982), Raped Ass 7" (1983), and Victims of a Bomb Raid 7" (1984).

GAI "Damnation" LP (Harto De Todo)
Japanese hardcore / noisecore / crust / anarcho-punk band from Fukuoka in Japan, formed in 1981. Most of the members went on to form the iconic noise-punk band The Swankys. Reissue on vinyl of their cassette released in 1984 on Violent Party Records.

OLHO SECO "Muito Obrigado" LP (Fanclub Pressing)
Collection including 1982 demos,  outtakes from Grito Suburbano, and tracks from the first 2 7"s. Fanclub Pressing from Singapore.

DEADLESS MUSS "5 Years Imprisonment + 3 Tracks" LP (Fanclub Pressing)
80's HC punk band from Shizuoka, Japan., reissue of their (1984)  LP and 3 comp tracks. Comes with two inserts, Mastered for vinyl so the sound will blow your head off.

POHJASAKKA "Kidutusta Ja Pelkoa" LP (Finnish Hardcore)
POHJASAKKA's Maailma täynnä vihaa 7" EP (1985) is an absolute Finnish hardcore classic. In 1986 the band recorded a 5 track demo but never managed to release it on vinyl. This 12" (FINHC-014) has all 5 demo tracks for the first time on vinyl. Mastered for vinyl by Jari Mikkola (Aivoproteesi) from the original studio recordings. Artwork by Pate Vuorio (Uutuus). The album includes a photo and lyric (in Finnish) sheet.

SEKAANNUS "Kutsu" LP (Finnish Hardcore)
SEKAANNUS: Kutsu 12" is a reissue of the band's self-released 7" from 1985. While the original single-sided 7" had only three songs from the pioneers of Finnish Anarcho-influenced hardcore punk, the reissue has the full Kutsu demo with six tracks, three of them previously unreleased on vinyl. The reissue is made with the original artwork and comes with a 12-page booklet including lyrics in Finnish and English as well as fanzine clippings and photos from the 80's. Mastered for vinyl from the original studio session.

HHH "A Por Ellos … Que Son Muchos y Estan Super Cachas!!"  LP (Bcore Records)
HHH (acronyn of Human Bone Flour in Spanish) are considered one of the pioneers of the Spain's Hardcore/Punk scene, along with Subterranean Kids and Anti-Dogmatikss. Originally released in 1990, "A por ellos... Que son muchos y estan super cachas!!" is a whirlwind of fast hardcore and for many fans it's also their best work to date. Storming its way through 27 tracks with machingun-like drumming and blazing riffs, this record is an absolute pillar of Spanish hardcore, sharing the prize with bands like Antidogmatiks, L'Odi Social and Kangrena. If you're into full throttle thrashing hardcore, this record is an absolute must have! LTD to 500 copies!

TOTALITAR "1998-2002" LP (Skrammel Records)
FINALLY the second anthology installment of this legendary Swedish band! The definitive TOTALITÄR of the second most productive era of these Swedish hardcore veterans. Completely remastered by Keno at Communichaos Clay Studio for your listening (dis)pleasure. 28 tracks collecting 1998's Klasse Inte Ras and Vansinnets Historia, 2000's Dom Lurar Oss, 2001's Spela Bort Allt Du Har, and 2002's Allting Är På Låtsas.

偏執症者 (PARANOID) "Cursed" LP (Paranoid Northern Discs)
Our fourth album offers 10 more tracks of our trademark metallic punk. While the sound is as powerful as ever, Cursed is our darkest and most melodic release as well. Pressing: 950 copies (first time ever on vinyl). Comes w/ obi strip and free download code. "If you know 偏執症者 (Paranoid), you might already have some expectations of what "Cursed" might sound like – and you will not be disappointed. 偏執症者 (Paranoid) are not considering about taking prisoners as their brachial mix of D-Beat and Thrash Metal Punk rages like a horde of berserkers. Altogether, a beautiful powerload. Music for the fast lane, for deconstruction and for a flaming moshpit"

偏執症者 (PARANOID) "Heavy Mental Fuck-Up!" LP (Paranoid Northern Discs)
Our second album channels the noisy sound of our debut into a heavier, more powerful attack. A grimy, crusty, metal-punk 10 tracks album. Pressing: 300 copies. Comes w/ obi strip and free download code. "The result of this concoction is a fist pumping mix of frantic beats, chug along riffs, bonkers bass solos and out of control lead breaks. It all sounds like the best squat party you could ever go to or the sound track to those old skate vids Thrasher put out in the late 80's. The production is great. It treads the fine line between underground punk and great to listen to even on MP3 which many punk and thrash bands fail at- tending to veer one way or t'other" - Ave Noctum

偏執症者 (PARANOID) "Out Raising Hell" LP (Paranoid Northern Discs)
Our third assault delivers some of our most nasty riffs and songs yet. 10 blackened punk anthems. Pressing: 400 copies. Comes w/ obi strip and free download code. "Paranoid's approach has always felt like it was born from playing filthy shows in even filthier venues, and Out Raising Hell's songs evoke that gritty flick knife and broken bottle feel. If you're feeling like the end of days is fast approaching, then Out Raising Hell is the album for you. Oozing with raw, instinctual punk, Out Raising Hell is a certified, Mad Max, off-the-leash ripper. Grab your battleaxe, don your bullet belt, and slap on your studded-vest. Hell's a-comin', and Paranoid are leading the charge" - Last Rites

偏執症者 (PARANOID) "Satyagraha" LP (Paranoid Northern Discs)
Our first album is a manic, noise-drenched d-beat assault. 10 tracks that capture us at our rawest and most aggressive period up to this date. Pressing: 750 copies. Comes w/ obi strip and free download code. "Whether you're the old guy at the bar with the Discharge tattoo, or the 14 year-old who just discovered punk, Paranoid will bring out your inner discontent. D-beat is an interesting genre, either you do it well, or you don't. Paranoid, dare I say, have completely mastered the genre and everything from their tone to their album artwork embodies what it means to be in a d-beat band. There is no bullshit attached to this record"

SPORE "Rabid Intent" Demo Tape (Not for the Weak Records)
Not For The Weak is proud to bring forth the debut demo cassette from Richmond, Virginia's SPORE. Rabid Intent is 8 tracks of politically driven hardcore punishment, with every intent of starting a full on revolt. A perfect concoction of raw punk rooted in the Swedish realm of chaos. The music is thick and brutally punishing as expected, but the atmospheric reverb effect on the vocal adds a cool element to the mix. While listening to this tape, images of a slammed out kitchen or basement with nonstop fist-pumping can't help but creep into my mind. Probably the future reality for this Richmond outfit.

STRAY BULLET "Factory" 7" (Not for the Weak Records)
NFTW is thrilled to be handling the North American pressing of the "Factory EP" from Sheffield hardcore ragers, STRAY BULLET! Following up their 2020 7" debut, UK's finest are back to bless us with 7 more inches of rigorous brutality. Seeing as the lads in this band are at the helm of some of the greatest bands Sheffield has to offer, it's no surprise the four tracks on this 7" are nothing but monstrous ass kickers. STRAY BULLET blends together the perfect cocktail of Swedish and USHC, packed from start to finish with astonishing catchy riffs and topped off with disgustingly perfect vocals that sound like they are going to rip through the speakers to eat you at any given second. A truly essential piece of wax to add to your arsenal to say the least.

THOUGHT CONTROL "PMRRTW" 7" (Not for the Weak Records)
THOUGHT CONTROL is back with yet another explosive batch of fury and a fantastic follow up to their "Shock to the System" 7" we released back in 2021. "Psychos, Murder, And Rape Rule The World" (P.M.R.R.T.W) 7" unleashes six tracks of ferocious 80s inspired USHC and continues to push the no frills envelope we've grown to love from this outfit. The rhythm section lays the groundwork beautifully, and all and all seems to punch through a lot more on these recordings. Johns vocals are the standout again this time around, feverishly embedding his anger into catchy hooks that no mind can escape. If you fancied their first 7" or love the reminiscence of 80s USHC, then this is a must have for you collection!!!

PYREX "Touch/Conditioner" 7" (Filth Pot Records)
Pyrex is a three-piece band from Atlanta and Australia who live in Brooklyn, NYC. If you're into bass-heavy, screeching DIY post-punk, these guys are for you. And there's already been a bit of buzz about the band and this new single. They were featured as the band of the week on the podcast No Dogs in Space (of Last Podcast Network), played two Gonerfest after parties last year, and did an east coast tour.

FORSEEN "Untamed Force" LP (Quality Control HQ)
How many hardcore, let alone metal, bands exceed all previous efforts on their third LP? Some might argue that 'Feel The Darkness' was Poison Idea's prime. You could present 'Master Of Puppets' and 'Reign In Blood', if you're so inclined. Let's face it, these are a dying breed of exceptions to the rule. And yet, like an icepick in the eye socket of logic, here stands Foreseen with 'Untamed Force'. In the landmine ridden field that is crossover, where bands can all too easily get it so wrong, Foreseen not only survive the death sentence of their sophomore record "Grave Danger" (2017), but head out on a blunt force killing spree. Foreseen's power is untamed but at the same time borne from hard work, a love for the craft and their musical community, and absolutely no excuses. Dig in, endure, stomp out, shoot to kill. Foreseen are for headbangers who haven't been brainwashed by click tracks and digital recordings. Foreseen are for punks who can deal with a synth intro and harmonised solos. In 2022, 'Untamed Force' is the guiding principle that can inspire, but not be replicated, by the Kings of Hardcore Thrash.

ETERAZ "Villain" LP (Iron Lung Records)
Beyond the clearly scorching and well executed Disbones/crasher/d-beat/crust whatever you wanna call it bombastic hardcore that Eteraz has crafted on Villain, what strikes this listener most is that the whole thing is belted out in Persian. And it sounds fucking perfect. The harsh throat scraping sounds of the language add an extra layer of immediacy and power to an already flawless Discharge style delivery. Add that to a wall of tasteful distortion, acidic riffage and a drum battery that would detonate any unexploded ordinance within a 10 mile radius and you're starting to get the picture.

GAOLED "Bestial Hardcore" 7" Flexi (Iron Lung Records)
The 2nd release by GAOLED (pronounced 'jailed', like the SCAPEGOAT song, which they cover on this flexi), also titled "Bestial Hardcore" - a title so nice they used it twice - sees the crew tightening it's strap and getting ready for some unknown forthcoming hell. The new material is just as violent and paranoid as the demo but the sound is sharpened up quite a bit making all the more dangerous. Still from Perth, still power violence and still criminally raw. Watch your step.

RASHOMON "Nin-Gen" LP (Iron Lung Records)
Much like the classic Japanese bands we all know and love, RASHŌMON has never rushed to release anything. They wait until the time is right to completely raze your dome with their densely packed Tokyo via DC hardcore. (Did DEATH SIDE ever cover an ARTIFICIAL PEACE song? Probably not but if they did it might sound something like this. Maybe. Anyway...) Add the absolutely sloth-like pandemic production schedule and that had us frothing for ages. Almost long enough to give up and go home but that would be foolish since that is just not what punk does. Careening effortlessly between anthemic and cerebral, despair and optimism - "Nin-Gen" provides a destructive, cathartic release from the ugliness that has become our day-to-day existence, as well as fostering just enough anger and hope within us to make tomorrow worth fighting for.

HOLOGRAM "No Longer Human" LP (Iron Lung Records)
After a slew of impossible to find tapes and an excellent EP from 2018, the force at work behind HOLOGRAM finally emerges from the shadowy basements of DC with a primo LP full of wild ferocity that shatters all expectations. 9 tracks of reclusive enigmatic hardcore punk that span a lifetime... if your life was only 16 minutes long that is. Strap on your headphones and immerse yourself in the sound of melted reality.

LEXICON "Devoid of Light" LP (Iron Lung Records)
Following up a demo as raging as Lexicon's was is a tough thing to do for most but holy shit Devoid Of Light powerstomps that thing to radioactive dust! KJ's deathly anger/despair ridden vocals are some of the most intense in modern history. The USHC infused noise-crust riffs fit perfectly into a tensely driven percussion grenade of anxious drums and bleary, life-questioning rage. Do we need to say "explosive"? Because that is exactly what the hell it is. Get fucked up, turn the fuzz to 11 and get as strong as humanly possible. Life can be a real piece of shit sometimes, let this be the soundtrack when it is.

BAD BREEDING "Human Capital" LP (Iron Lung Records)
Stevenage based, Bad Breeding, call for solidarity with their fourth album 'Human Capital', a pointed and brutal display of aggression steeped in political awareness. Across twelve merciless anarchopunk inspired tracks they attack Conservative meritocracy and the exploitative forces of late capitalism with a cacophony of blistering guitars and thunderous drums played with an intensity that refuses to abate. 'Human Capital' is released alongside a manifesto of sorts. Within the almost 2000 word essay, long time collaborator Jake Farrell explains that "we are marooned on our islands of self obsession by cultural forces that emphasize our differences, keeping us apart and suspicious of one another. It feels as though in recent years, especially during the immediate onslaught of austerity following the 2008 financial crisis, that the idea of community itself was under attack". From the opener's menacing feedback and raging distortion, across the album's dynamic and wild time changes, through to the final ringing close of the almost optimistic 'Rebuilding', Bad Breeding demonstrate admirable control amongst impassioned expression. Vocals strain and guitars build in epic tension while rhythmic battles take place behind them and, despite it all, each track remains a concise tool applied to their targets with deadly precision. Make no mistake, Bad Breeding aren't shouting at clouds here. 'Human Capital' is a savvy, conscious body of work with salient messaging. There's no aimless finger pointing, punching down or virtue signaling, the band comes armed with answers. It's an intelligent record that defies individualism and promotes community, organization and compassion. "Our lives are not to be managed like we are each a plucky start up, not to be measured in the emotional profit and loss that we can extract from our relationships and those around us. We don't need to invest time and energy on capital projects of the self on some doomed, linear journey to self actualization."

MUTATED VOID "Roses Forever" LP (Iron Lung Records)
Brain damaged skate thrash at it's lo-finest all the way from the eastern wilds of Halifax, NS. So raw that even the freshest catch calls it cannibal fodder. 14 filthy filthies come blasting at you in a mere 16 minutes, just long enough to back lip that crusty ledge, bail and pick the gravel out of your freshly opened road rash.

NO FUTURE "Death" 7" Flexi (Iron Lung Records)
Apocalyptic and empowered desert beat from the far reaches of Western Australia pours frantically from the cones to the LZ with flanged warlike intensity. NO FUTURE peppers us with three politically charged energy bombs tackling such broad subjects as power, ego and of course, death, in preparation for a full length album due out later. Sure to decimate... "Death is inevitable" indeed.

FRISK "Stalker" LP (Iron Lung Records)
You ever wondered what it sounds like inside the heads of people when they're fist-fighting? The sharp thuds and painful cracks, the internalized grunts and high pitched squeal of a ringing ear that just won't go away. You ever been hit in the jaw with your mouth open? It's about as unpleasant as a feeling can be. FRISK's "Stalker" strikes us the same way. Hard and gnarly, an unrelenting misanthropic pummel of the highest order culling influence from equal parts Integrity, Brainbombs and Negative Approach. Leeds is the most dangerous city in West Yorkshire.

PERSONA "Free Your Mind" LP (Iron Lung Records)
Even though they have a song called "Moment of Silence" this record has everything but. Pure crazed thrashing punk that brings back the feelings of rough 90's hardcore with a patchwork of personal and political rapid fire lyrics, manic drumming, distortion on everything and noisy samples between songs. Make no mistake this ain't some paper thin ADAT recording though, "Free Your Mind!" is fucking pummeling. Like when the 00's came around and hardcore bands starting recording on tape again and everything got saturated back to how it's supposed to be. Warm, crunchy and bombastic. This record rips your face off. Damn it though, I liked having a face.

AUTO "Hardcore 2022" Tape (La Vida Es Un Mus)
Savage nasty no frills Anarchist hardcore punk from Singapore. Seven songs in under seven minutes bringing to mind NEANDERTHAL, early AGNOSTIC FRONT and SIEGE. A dying breed in current hardcore.

MOTORHEAD "Bare Breast Boogie '85" 2xLP (Fanclub Pressing)
Lovingly crafted fan club DLP of a killer raw 1985 recording. Features the four-piece Motörhead inlcuding their small stint with Saxon drummer, Pete Gill. Burning down Minneapolis on the 'It Never Gets Dark' tour. Outstanding packaging as well as a 24x24" foldout poster, colored vinyl, obi strip, and Japanese style sleeve.

DISGUST "Brutality of War" LP (Red/Black/Splatter Vinyl) (Back on Black Records)
Re-issue of Disgust's crust punk classic 'Brutality Of War". Originally released on Earache, this classic slab of D-beat has been re-mastered for optimal assault! Line up, Dave "Bambi" Ellesmere on guitar (drummer on Discharge's  classic Why? EP), Dean Jones – Extreme Noise Terror on vocals, Gary Sumner – Blitzkrieg – 2nd guitar, Steve Beatty (Mass, October File) Drums and Lee Barrett – Extreme Noise Terror. Regarded as one of the finest releases of the D-Beat genre!

ABRASIVE WHEELS "The Riot City Years 1981-1982" LP (Audio Platter)
The Riot City Years 1981-1982 from punk rock band of the late 1970s – early 1980s Abrasive Wheels! Hailing from Leeds, England and by far the biggest punk band from the area they were seldom out of the Independent charts between 1980 and 1984. Specialising in the sort of massive rowdy choruses that could put an ear-to-ear smile on the face of a dead man. Like so many of those intense bands of the time, their fire burnt brightly for just a relatively short time, but the shadows it cast, and the colourful musical legacy they bestowed the punk scene, were both important and influential!

DEAD KENNEDYS "Plastic Surgery Disasters" LP (Audio Platter)
Plastic Surgery Disasters is the second full-length album released by punk rock legends Dead Kennedys. Recorded in San Francisco during June 1982, it was produced by the band's guitarist East Bay Ray and punk record producer Thom Wilson. The album is darker and more hardcore-influenced than their debut album Fresh Fruit for Rotting Vegetables as a result of the band trying to expand on the sound and mood they had achieved with their 1980 single "Holiday in Cambodia". It was the first full-length album to feature drummer D.H. Peligro, and is frontman Jello Biafra's favorite Dead Kennedys album.

FLUX OF PINK INDIANS "Strive to Survive Causing Least Suffering Possible" 2xLP (One Little independent Records)
Formed in 1981, Flux – as they later became known – were contemporaries of Crass and synonymous with the strict vegan, anti-capitalist, anti-Thatcher, anarcho-punk scene of the time. The Strive line-up comprised Colin Latter (vocals), Derek Birkett (bass guitar), Kevin Hunter (guitars), and Martin Wilson (drums). Birkett later went on to form the One Little Indian label. One Little Independent are proud to re-issue Flux Of Pink Indians' classic debut album 'Strive To Survive Causing Least Suffering Possible' 30 years after its 1983 release on the band's own Spiderleg label. The double vinyl pressing includes the re-mastered album and the band's original demos.

V/A "Chaos en France Vol. 1" Compilation LP (Euthanasie Records)
This french Oi!/Punk compilation is essential for any Oi! collector. Originally released in 1983 by CHAOS PRODUCTIONS, includes bands such as CAMARA SILENS, COLLABOS, TROTSKIDS, BLANK SS, KOMINTERN SECT, KIDNAP, REICH ORGASM, SNIX, etc.... There was a bootleg of this compilation in 1995, made in Germany. In 2011 CHAOS PRODUCTIONS re-issued this great compilation as a limited edition to 1000 copies. Booklet included with infos, etc...

"From The Garage To The Station: Stories from the Gateshead Music Collective 1980-1988" Book (PM Press)
From The Garage To The Station And Beyond' – Stories From The Gateshead Music Collective 1980-88 is a collection of reminiscences and personal stories richly illustrated by photos, gig posters, press clippings and ephemera from the time. The book includes photos of Chumbawamba, Blood Robots, Passion Killers, Alternative, Reality Control and countless others, together with many lesser-known bands from the local scene, along with the recollections of from the activists, organisers and musicians that made the work of the collective possible. The stories are by those who were there. Over 50 people participating by interview or written submissions. "As a social history we had something truly groundbreaking going on up here and it's about time that story was told!"

Restocks for 12/16/22:

"The Primal Screamer" by Nick Blinko Book
"The Story of Crass" Book
4 SKINS "A Fistful of … 4 Skins" LP (Color Vinyl)
AKUTT INNLEGGELSE / PRODUCT ASSAR Split LP
ANTI "I Don't Want to Die in Your War" LP
BEASTIE BOYS "Polly Wog Stew" LP
BLACK FLAG "Damaged with Dez" LP
CHISEL, THE "Retaliation" LP
COCK SPARRER "S/T" LP
CRYPTIC SLAUGHTER "Speak Your Peace" LP (Color Vinyl)
DAMNED "Machine Gun Ettiquitte" LP
DEATH SENTENCE "1984 Demo / Not a Pretty Sight" LP
DOMINANT PATRI "DOMINANT PATRI "Heroes Glory" LP
EXIT ORDER "Seed of Hysteria" LP
GISM "Military Affairs Neurotic" LP
GUDON "1984" LP
HEADCLEANERS "Collection" LP (Blue Vinyl)
HOME FRONT "Think of the Lie" LP
IRREAL "Era Electronica" LP
KURO "Collection" LP
MISFITS "1977-1984: Complete Singles Collection" LP (Blue Vinyl)
MISFITS "Bullet" 7" (Black Vinyl)
MISFITS "Bullet" 7" (Red Vinyl)
MISFITS "Live! 79 The Perfect Crime!" 7" (Black Vinyl)
MISFITS "Live! 79 The Perfect Crime!" 7" (Red Vinyl)
MISFITS "Static Age" LP
MISFITS "Walk Among Us Alternate Takes" LP (Splatter Vinyl)
NEGATIVE APPROACH "10-Song EP" 7"
NEGATIVE APPROACH "Tied Down" LP
NIGHTMARE "Thirsty and Wander" LP
OPERATION IVY "Energy Demos" LP
POISON "Flexi plus EPs" LP
POISON IDEA "Pick Your King" LP
Raising Hell Zine - Omnibus: 1982-1990 Book
RAMONES "Rocket To Ann Arbor, Michigan: Second Chance Saloon, 2/26/79 - WCBN FM Broadcast" LP
RAMONES "The Kids Are Ready To Go - Montevideo, Uruguay, 11/14/94 FM Broadcast" LP
RAT CAGE "Blood on Your Boots" 7"
RAT CAGE "Caged Like Rats" 7"
RAT CAGE "Screams from the Cage" LP
SAMHAIN "Final Descent" LP (Clear Vinyl)
SAMHAIN "Live 85-86" LP
SAMHAIN "Unholy Passion" LP
SLANT "(Volume 1)" LP
SUBHUMANS "Death to the Sickoids" 7" (Black Vinyl)
SUBHUMANS "Death to the Sickoids" 7" (Color Vinyl)
TAQBIR "Victory Belongs to Those Who Fight for a Right Cause" 7"
V/A "AK79" New Zealand Punk Compilation LP
V/A "Cleanse the Bacteria" Compilation 2xLP
V/A "KILLED BY DEATH Vol. 1: Rare Punk 77-82" Compilation LP
V/A "KILLED BY DEATH Vol. 2" Compilation LP
V/A "KILLED BY DEATH Vol. 3" Compilation LP
V/A "KILLED BY DEATH Vol. 4" Compilation LP
V/A "KILLED BY DEATH Vol. 7" Compilation LP
WIPERS, THE "Is This Real?" LP
WIPERS, THE "Youth of America" LP