GRAVE MISTAKE RECORDS AND MAILORDER
Webstore Update - June 17, 2022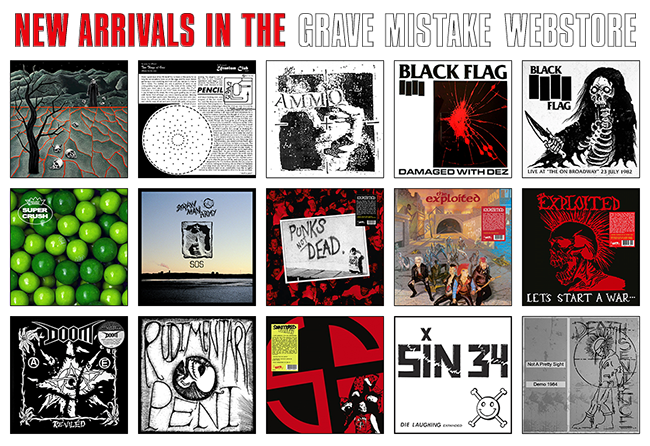 For quick browsing of recent additions to the store, you can check out all of these titles mentioned below in the New Arrivals and Recent Restocks sections!
Webstore update #3 for 2022 ... but make no mistake we have been busier than ever over here, with what seems like an endless stream of new releases and restocks coming in (and going back out just as fast)! Figured it was about time to give everyone a little recap from the past few months. We have a ton of killer reissues, a healthy amount of cool fanclub releases, and some quality new releases from some of the best hcpunk bands going today as well!
Before getting into the distro stuff, just wanted to let you know about a few represses and exclusive titles we have over here at GMHQ. The latest is a brand new pressing of GOVERNMENT WARNING's classic debut LP from 2006, No Moderation; we have a fresh 300 copies on CLEAR GREEN VINYL! That last repressing from 2021 went a LOT faster than anticipated, so we felt it was best to do another press and keep it in circulation for just a little bit longer. We also have a few GW shirts still kicking around ... at the moment it's just smalls and mediums available, however we have some L, XL, and 2XL being reprinted and hopefully on their way in a few weeks.
Next up, we have the latest pressing of the DESTRUCT Echoes of Life LP ... 200 copies on CLEAR VINYL with a bonus sticker and poster ad for their upcoming LP (which should hopefully be out by late summer / early fall). This may be the last time this LP will be available, so grab one now if you have yet to. We also should have more of their most recent Onward to Collapse live tape available in a few weeks as well. We were on schedule to have em for the Destruct / Absolut tour earlier this month, sadly UPS decided to lose the entire package :( Anyways, the plant was nice enough to remake them for us so expect those maybe early July.
As far as distributed titles go, we still have a few copies of the latest 7" self-released single from VA/PA's NO-HEADS, Concrete & Steel, availabe in the webstore. Color vinyl is unfortunately sold out, however we still have the black version and it is as equally awesome as the color version! Finally, in case you missed it earlier this year, I highly recommend checking out the debut LP, Modern Problems, from Australia's CUTTERS that was released on YOFC a few months back. Killer Aussie punk rock and roll chocked full of grit and attitude that is highly deserving of your full attention.
In addition to these little GM updates, we have an insane amount of new webstore titles from the past couple of months. New releases from Warthog, The Chisel, Ammo, Straw Man Army, Supercrush (GMHQ alums and personal faves); some killer reissues from Poison Idea, The Exploited, DNA, Sado Nation, Sin 34, Shattered Faith, Doom, Disaster, Disorder, Totalitar; a TON of UK82 No Future/Riot City reissues from Mad Butcher Records, including but not limited to singles from The Insane, Sex Aids, Peter and the Test Tube Babies, Attak, Death Sentence, Underdogs, The Blood, Crash, and MORE. Finally, a ton of fanclub releases including several essential Black Flag demo and live LPs, a pressing of the classic Japanese compilation Great Punk Hits (featuring Gism, Execute, The Clay, and more), releases from Corrosion of Conformity, The Ramones, Beastie Boys, Misfits, Samhain, Bad Brains, Operation Ivy, and much much more!!! I'm not even going to go into everything we've restocked on, but that full list is below as always so see if we got anything you missed the first time around back in stock!
Full list is below, go wild and keep your eyes on both the webstore new arrivals and our Instagram page, which both get updated a lot quicker and more frequently than these email updates. Thanks to everyone who has purchased something this year, and for a full 20 YEARS of support. Crazy to believe Grave Mistake is still going strong in one form or another!!!
Alex / Grave Mistake Records
New Titles in the Webstore ....
WARTHOG "S/T (5th)" 7" (Toxic State Records)
WARTHOG always takes their time with releasing new music, but you know it will always be worth the wait. Marking their ten year anniversary as a band, Larry and Co finally bring you their long awaited fifth EP. Written in Brooklyn last winter, the new ep delivered three tracks of their trademark sound. Everything is fine-tuned and sounding stronger than ever. Digital Tumor might even be their best track yet. You didn't think that they would let you down, did you? The EP comes in a pocket sleeve with brand new artwork from longtime collaborator Alex Heir and lyric sheet. Recorded by Sasha Stroud, mixed by Will Killingsworth and mastered by Arthur Rizk.

AMMO "Web of Lies / Death Won't Even Satisfy" LP (Wallride Records)
Aggressive New Jersey Shore Hardcore done right. Blazing Fast with just enough constant Hooks and Flip your Mattress breakdowns. Enjoy the Creepy Crawl. This one won't leave the player.

CHISEL, THE "Retaliation" LP (La Vida Es Un Mus Discos)
It's going off and The Chisel are back to cause a bit of bovver. Following a trio of explosive singles, the band finally bring us their debut full-length album, Retaliation, on the London-based punk institution La Vida Es Un Mus. Having formed in early 2020 and featuring a crew of members with long-term associations to the London punk scene, The Chisel quickly secured a reputation as one of the most exciting bands from a pool of contemporaries that includes Chubby & The Gang, Stingray and Big Cheese. Their sound is rooted firmly in Punk but with influences that run across the board to create a distinctive blend of Oi!, anarcho, UK-82 and hardcore. Retaliation is an unmistakably British record that draws a line from 1982 up to the present day, pushing its way into your collection and torching your stereo. Retaliation is 14 tracks of dance floor-stomping-working class Chisel-music. Here and now, The Year of The Chisel.

POISON IDEA "Record Collectors are Still Pretentious Assholes" LP (TKO Records)
BACK IN PRINT ON LP FOR THE FIRST TIME IN TEN YEARS!! After contending with nearly a full year of production delays, TKO Records could not be more delighted to bring back this classic material. This new reissue is without a doubt the ultimate version of this title. Between the scorching new mastering job, the expanded artwork and addition of the new poster that maps out all the records featured in the front cover photograph... it doesn't matter if you've already got ALL other versions of this LP, if you're a record collector worthy of the album title, you're gonna need this one. "Despite all rumors and confusion, POISON IDEA rages with rapid-fire, foaming bites of outrageous energy. This is what you've been waiting for. This band deals out the goods with frenetic, hammering madness and rabid intensity thrash-style compositions." - Pushead / MAXIMUM ROCKN'ROLL - October, 1984

POISON IDEA "Get Loaded and Fuck" LP (TKO Records)
This infamous collection of songs from POISON IDEA EPs released between "War All The Time" and "Feel The Darkness" is finally gets full TKO reissue treatment it deserves. Now after many months of production delay's, TKO is proud to bring back this essential material from one of Hardcore Punk's all-time legendary bands. "Originally released as a cassette with this title in '88, it compiled both the Filthkick and Getting the Fear EPs. All of this was further released on the widely available Ian MacKaye 12″...these are some of the best POISON IDEA songs ever. No, for real. So give it to your little cousins, buy them underage booze, and let them loose to spread hate and venom on a world that truly deserves it. God bless Pig. God bless Slayer Hippy. Amen." - Rotten Ron / MAXIMUM ROCKN'ROLL

STRAW MAN ARMY "SOS" LP (D4MT Labs, INC)
New York's Straw Man Army return with SOS, the follow-up to their 2020 debut LP, Age of Exile. Emerging from the D4MT Labs group that also includes Kaleidoscope and Tower 7, Straw Man Army's delicate musical touch, embrace of melody, and rapid-fire, clearly articulated vocals separate them from the louder and noisier end of New York's fertile punk scene. While Age of Exile examined the legacy of colonialism through the musical milieu of melodic anarcho-punk, SOS turns its attention to the increasingly bleak prospects for the human race and planet earth. While Straw Man Army's lyrical approach remains dense and thought provoking on SOS, their musical scope grows wider, encompassing Age of Exile's melodic take on anarcho, bleak and brooding post-punk, psychedelic instrumental excursions, and even the wistful pop of album highlight "Beware." SOS is everything Straw Man Army's fans could have hoped for in a follow-up and so much more, cementing the band's status as one of the most original, exciting, and important groups in the contemporary punk underground.

SUPERCRUSH "Melody Maker" LP (Don Giovanni Records)
Supercrush are back to administer another dose of impossibly infectious guitar pop with their new EP, Melody Maker. The Seattle-based group–led by guitarist/vocalist Mark Palm along with bassist Phil Jones and drummer Allen Trainer–named their latest batch of songs after a simple student model electric guitar and a weekly rock mag of yesteryear. It's a winking tribute to the rock n roll continuum that the band so lovingly embraces, but also a fitting nod to the band members themselves and the amount of genuine songcraft that goes into making music that sounds so effortlessly catchy. Recorded during the same sessions as Supercrush's 2020 debut album, SODO Pop, the five songs on Melody Maker are far from throwaway leftovers. "We recorded all of the songs at the same time as the LP and then had to decide where everything was going to end up," Palm explains. "It was a pretty challenging process, but I think these songs ended up making sense together." Engineered by Jones and longtime collaborator Jackson Long and then mixed by Justin Pizzoferrato (Dinosaur Jr., The Pixies, Sebadoh, Wild Pink), the music on Melody Maker highlights Supercrush's split personality: equal parts soft sentimentality and loud rock bravado. "When I started doing Supercrush, it was sort of a return to my earliest musical interests," says Palm. "I got into catchy stuff and grunge bands before I even got into punk and aggressive music. There was a big indie and alt rock thing happening in eastern Canada when I was growing up, with bands like Sloan and the Doughboys getting played on MuchMusic all the time, so I was exposed to all of that. In my mind any band that's melodic and guitar-based is fair game to be an influence on Supercrush–from The Beatles, to My Bloody Valentine, to Boston."

BLACK FLAG "Damaged with Dez" LP (Fanclub Pressing)
What if Greg Ginn and the rest of the band never hired Henry Rollins as a vocalist and went on to record Damaged with Dez on vocals?

BLACK FLAG "Demos 1982" LP (Suicida Records)
The 1982 Demos are an unreleased set of demo tracks intended for a follow-up album to Black Flag's debut album Damaged. The tracks recorded show the band moving in a riff-driven, heavy metal-inflected direction, away from the pure hardcore. The only recordings with Chuck Biscuits on drums. Tracks A1 and A2 were never officially released, other tracks are unreleased versions.

BLACK FLAG "Live at the On Broadway 7/23/82" LP (Fanclub Pressing)
"Black Flag always ran into numerous problems during their tours. Playing shows that were shut down by cops, club owners that didn't pay them, bouncers breaking the windows of the van, people stealing from the band, and for instance when the van caught fire and Chuck had to go underneath the van with a pillow to put the fire out before it destroyed all of their equipment." Incredible live performance in '82, in a time when Black Flag were under legal problems with the record label and could only tour for a living. Survival was not easy but Henry Rollins kicked adversity in the teeth.

CRIME OF PASSING "S/T" LP (Feel It Records)
A stunning combination of style, vision, and execution. Crime of Passing, alongside related projects like The Serfs and The Drin, are at the helm of Cincinnati, Ohio's vibrant post-punk underground. Led by Andie Luman's fervent vocals, Crime of Passing's self-titled debut album is a wondrously textured web of sound. Shades of early 80's post-punk, synth-driven electro pop, and heavier Industrial/Krautrock tones combine across an album both instantly memorable and futuristic. Nine cold tracks for a new dark age.

MARAUDEUR "Puissance 4" LP (Feel It Records)
First of all: this record is so much. and it sounds so good! But - how does it feel ? To me, these nine unique songs of "Puissance 4" - the second album by Maraudeur - are completely Sci-Fi. They are opening up the view into various worlds inbetween seconds. Images I feel familiar with are transforming themselves to unexpected landscapes, driven by the strong integrity of bass, synth, and drums. If this would be a shuttle it would go back and forth on sonic streets guided by the vocals of the different songs, intersecting with crowded supermarkets, car traffic, wide beach and beaming portals to parallel universes. At the end of the album the synthesizer sounds like a high wind, blowing from a strange outside world. It is staring at me after I "finally left the house". I wanna see what´s hidden in the dark, and I am following the vocals through different layers of night. For a moment I expect this sound cosmos to shut down. As if the last song "cest cache" would be the end of a narrative I´ve been dreaming about while listening to the record. But it´s not. Actually it is the start of another sphere I am about to slip into. The album is not closing down, it is opening up again for all the listenable great worlds it has to offer. - Schreier Johann

CORROSION OF CONFORMITY "Eye for an Eye" LP (Rotten Tomato Records)
Kicking off a recording career covering three decades, this aggressive debut from Raleigh, North Carolina's legendary Corrosion of Conformity announced the group's destructive musical intentions. The original lineup of Eric Eycke on vocals, bassist Mike Dean, and co-founders Woody Weatherman (guitars) and Reed Mullin (drums), plows through 20 tracks of leftist hardcore on Eye for an Eye. More punk sounding than early-'80s thrash metal contemporaries Metallica, from the West Coast, and Anthrax, from the East, C.O.C. claimed the title of hardcore's Southern ambassadors with this release. Being somewhat isolated from the coastal hardcore movements worked heavily in the band's favor. Unbound by the edicts of punk fashion, Corrosion of Conformity forged a unique sound that generated a loyal fan base and critical recognition. The group maintained their continuity, and surprisingly expanded their audience despite the fact that they featured a new lead singer in each of their first five full-length releases. On Eye for an Eye, Eycke's hyperventilating sounds appropriate enough as the vocalist keeps pace with the rapid-fire guitar and drum exchanges.

BAD BRAINS "Pay to Cum" 7" (White Vinyl) (Fanclub Pressing)
Fanclub Pressing. White Vinyl

SADO NATION "Disruptive Pattern" LP (Puke and Vomit Records)
A must have slice of classic PDX Punk. Sado-Nation were a popular female fronted Punk band that released some of the best and most sought-after collectable American punk records during their existence from 1978 -1984. This LP compiles/collects their unreleased 1981 LP "Disruptive Pattern" and their rare 1982/83 demo tape.

SIN 34 "Die Laughing (Expanded) LP (Puke and Vomit Records)
This PNV LP compiles their long out print and rare 1982 7" EP "Die Laughing" along with their 1981 sessions. Sin 34 were a popular early first wave Los Angeles Punk Hardcore known for their fast, defiant angry satire filled sound. Fronted by powerhouse female vocalist Julie Lanfeld and Sin 34 also featured famed indie film maker Dave Markey on drums. Dave is best known for the popular award winning 1991 tour film 'The Year That Punk Broke' that chronicled tours by Sonic Youth, Nirvana and Dinosaur Jr and others.

SIN 34 "Do You Feel Safe?" LP (Puke and Vomit Records)
SIN 34's only full-length LP, Do You Feel Safe? Captured the band in their short-lived prime. Originally released in 1983 and only repressed once in a super limited run in 2014, then quickly going back out of print. But thanks to PNV it's back in print with updated and deluxe packaging. Sin 34 were a popular early first wave Los Angeles Punk Hardcore known for their fast, defiant angry satire filled sound. Fronted by powerhouse female vocalist Julie Lanfeld and Sin 34 also featured famed indie film maker Dave Markey on drums. Dave is best known for the popular award winning 1991 tour film 'The Year That Punk Broke' that chronicled tours by Sonic Youth, Nirvana and Dinosaur Jr and others.

DISORDER "Under the Scalpel Blade" LP (Radiation Records)
Radiation Records present a reissue of Disorder's Under The Scalpel Blade, originally released in 1984. Bristol punk pioneers Disorder formed around 1980, during the second wave of UK punk rock. Their approach to DIY ethics was so deep that they decided not to sign to Riot City, but to create a label of their own, for a bunch of classic singles the average distortion level of which led BBC DJ John Peel to describe Disorder as sounding like "shit". In fact, unlike many contemporaries like Crass or Conflict, Disorder showed no ambitions in stylistic experimentation: their debut LP Under The Scalpel Blade is one blast after the other of pure rage, packaged in two-minute bursts of hyper-speed drumming, distorted guitars, and screaming vocals. Remastered audio and double-sided lyric insert.

EXPLOITED, THE "Let's Start a War … Said Maggie One Day" LP (Radiation Records)
Reissue on vinyl for the third album by the punk band The Exploited, released in 1983 through Pax Records. The title refers to Margaret Thatcher's decision to go to war over the Falkland Islands in 1982, suggesting that she did so almost on a whim. 'Let's Start A War...' reached the Indie Chart Top 10 when first issued in 1983, this album also includes the single 'Rival Leaders' which hit No. 11 in the Indie Chart. A classic of the 'UK82' hardcore punk sound that provides a blueprint for the decade of punk and metal to come, and all in the space of just over half an hour. Includes poster with exclusive Alison Braun photo.

EXPLOITED, THE "Punk's Not Dead" (Yellow Vinyl) (Radiation Records)
Born of working class roots in Edinburgh, Scotland, The Exploited emerged from the punk underground in 1981 with the release of their debut LP, Punk's Not Dead. A direct reaction to Crass' "Punk Is Dead", The Exploited brought to the early 80s all the fire, speed and attitude of 1977's first wave, with an street/Oi! swagger that was fresh. Peaking at #20 on the UK charts, Punk's Not Dead was the best selling independent record of 1981. Another essential piece of the UK Oi! scene of the early 1980s reissued by Radiation.

EXPLOITED, THE "Troops of Tomorrow" LP (Red Vinyl) (Radiation Records)
In the early '80s, British punk took a turn toward hardcore and The Exploited (along with G.B.H, Disorder, etc.) led the charge. The beat was fast and furious, the politics ferocious, and the magenta mohawk became state of the art. This album is blessed with great production, something many hardcore albums lack, meaning the froth and fury don't come across as a total muddle. Moreover, the machine gun beat comes with hooks that leave you humming along with the tunes. It's raw, loud, and a downright classic. This is a crucial album in the evolution of The Exploited.

AB HJARNTVATT / DISACCORD "Tape Collection" LP (Fanclub Pressing)
ABH is a Swedish punk band from the Gothenburg region. Active between 1982 and 1984, this contains their Det Är Våra Hjärnor tape from 1983. Disaccord was a raw punk/HC band from Sweden. Active during 1980's. This collects their Don't Ask Me Why Tape from 1985. Both sides re-mastered in the u$a for best sound, not that mp3 you tube garbage. Two sides of killer Swedish punk/hc from the 80's!

AKUTT INNLEGGELSE / PRODUCT ASSAR Split LP (Fanclub Pressing)
This fanclub release is a pairing of two obscure 80's international hcpunk ragers! AKUTT INNLEGGELSE from Norway were in their early teens when they recorded three punk songs, released on guitarist Thomas' own Straitjacket Records in 1983. In 1984 they recorded a more hardcore sounding demo cassette with nine great songs. Their songs were featured on compilations such as the classic Nå eller aldri 7″ and Cleanse the Bacteria LP among others. Disbanded in '85. Two of these guys went on to play in Turbonegro. PRODUCT ASSAR are from Sweden, and released only one demo in 1983. Members would later play in band such as Asta Kask - who would even play some Product Assar songs.

ASOCIAL / BEDROVLERS "How Could Hardcore Be Any Worse" LP (Radiation Records)
Radiation Records present a reissue of Asocial and The Bedrövlers' How Could Hardcore Be Any Worse? Vol. I, originally released in 1984. The Swedish hardcore punk scene of the early 1980s was vibrant and wide, with underground movements yielding surprising extremities. This ultra-scarce cassette-only release, limited to 300 copies in 1984, was the first of the legendary Uproar label. The release pitted the blast-beat proto-grindcore of Asocial, from the small town of Hedemora, against the classical thrash of Bedrövlers, from the equally small town of Fagersta, whose name roughly translates to Miserablerz, a term assigned them by a bus driver that disliked their discordant noise. Subverting Bad Religion's How Could Hell Be Any Worse for their own purposes, Asocial's tracks are blindingly fast and Bedrövlers' down and dirty-rare Swedish hardcore, at its best.

DEATH SENTENCE "1984 Demo / Not a Pretty Sight" LP (Fanclub Pressing)
This fanclub collection from Canada's DEATH SENTENCE (not to be confused with the UK or Australia bands of the same moniker) features both of their 1984 demos, the latter of which, "Not a Pretty Sight," went on to be released as a proper LP in 1985. 'A very classy, powerful power thrash outfit that doesn't resort to metal riffs. If anything, they owe more to earlier punk, but they're firmly rooted in modern sounds, blasting it out with strong lyrics and hooks to boot--"live" proof that Vancouver is not dead. Hot!' -Tim Yohannan / MRR (October 1984)

SHATTERED FAITH "I Love America: 1979-1981" LP (Radiation Records)
During the late 1970s, hardcore punk hit the surfer town of Huntington Beach, southeast of Los Angeles, like a gnarly wave. Shattered Faith are among the most revered of the groups to surface from her shores, co-founder Kerry Martinez and early member Goblin both from the Latino community. This indispensable collection gathers all six tracks from their renowned Poshboy session of 1981 that yielded the classic protest single I Love America/Ronald Reagan, as well as the entire slew of 1979 demos, appearing on vinyl for the very first time. This is So-Cal hardcore at its irresistible best. All tracks remastered by California punk rock mastermind, GEZA X. Comes with folded poster with exclusive Shattered Faith 1982 photos by punk photographer Alison Braun.

V/A "The Vikings are Coming" Compilation LP (Radiation Records)
Swedish punk began in the late '70s and by the mid-'80s, the small steel mill town of Fagersta had seven bands, immortalised on rare compilation 'The Vikings Are Coming...', which is surprisingly diverse: Bizarr's old-school punk is influenced by the Clash and SLF; Cruel Maniacs give social criticism and Crude SS's hardcoredraws on Discharge; Rescues In Future's speedcore is super melodic, influenced by Hüsker Dü; Fear Of War's thrash is anti-religious and there's more thrash from Bedrövlerz (or 'Miserablerz'), while Ugly Squaw proffer unique power-punk humour (also making an incognito faux-reggae appearance as Rasta Boys). This edition revives the original Swedish version released on Uproar Records in 1985, giving us the full monty of this must-have anthology.

D.N.A. "Discography" LP (Puke and Vomit Records)
D.N.A. was an early 1980s hardcore punk band from Skövde. They were among the notable pioneers of the classic Swedish Hardcore Punk sound of the time. The singer of D.N.A. , Nillen, was an original member of Anti Cimex. After Anti Cimex's 1982's "Anarkist Attack" EP the rest of the band all moved to Gothenburg, except Nillen who formed D.N.A. The PNV LP collects their classic recordings from the 80s including comp tracks and rare recordings. This is an intense LP of amazing flesh ripping raw Punk with elements of d-beat.

V/A "Great Punk Hits" Compilation LP (w/ GISM, EXECUTE, CLAY) (Fanclub Pressing)
On side one of this compilation, GISM lashes out with their metallic thrash attack—with the accent on metal—and nasty vocals, EXECUTE do ripping thrash, and ABURADAKO cross thrash with the POISON GIRLS' quirkiness. On the flipside, LAUGHIN' NOSE have one Britskunk song and one that sounds Finnish, while the CLAY adapt the early DISCHARGE style, and G-ZET close out with a slightly more melodic and metallic UK assault. All in all, this album has excellent sound quality and some songs that'll knock you out. - MRR (June 1984)

DOOM "Re-Viled" 2xLP (Sonarize Records)
Originally released in 1995 under the title "Fuck Peaceville." This is the re-recording of "Total Doom" as members intended the songs to sound in the early days.

DOOM "World of Shit" LP (Sonarize Records)
Doom have never been big on subtlety and this record is no different. Tried and true, D-beat crust the band pioneered in the early '80s. Recorded in 2001.

DOOM / CRESS Split LP (Sonarize Records)
Available for the first time since 1994. The Doom and Cress split full-length features some of the best material from both bands extensive catalogs.

DISASTER "War Cry" LP (Red Vinyl) (La Vida Es Un Mus Discos)
RED VINYL Ltd. to 300! Originally released in 1991 War Cry was one of the first purely DISCHARGE influenced bands to span what later become popularly known as D-Beat. Hailing from Halifax, they were part of a new wave of raging UK bands with worshiped "Why" as the finest piece on non-music ever recorded. DISASTER faded into obscurity shortly after releasing their MLP and War Cry became a cult record among raw hardcore fans worldwide counting visionaries as Kawakami from DISCLOSE as one of their biggest fans. Finally reissued on CD in Japan in 2006 with extra live sets and unreleased songs LVEUM decide to bring this record back to life on its original format.

TOTALITAR "Ni Maste Bort" LP (Prank Records)
TOTALITAR'S Classic Second LP "Ni Måste Bort!" translates loosely to "You've gotta go!" , Totalitar mark racist, sexist and capitalist modes of thought, dysfunctional politicians and useless media, cynicism and the dull mechanical wearing on people's lives on the "To go" list! A Frenzied wall of guitar driven thrash with gutteral shouts and pulverizing drums, Totalitar's sound was cut from the influence of classic D-beat and Swedish hardcore, but with time has become one of the genre's cornerstones. Ni Måste Bort! was originally released on Sweden's FINN records label in the mid 1990's, and reissued originally by Prank in the early 2000's. This is is it's first re-release in almost two decades, from the original mother plates but brightened with new plating and pressing art RTI. The re- imagined cover art by John Yates at Stealworks (Allied Records, Punchline magazine) has been augmented with Metallic ink printing on a Stoughton Tip On Sleeve.

MANKIND? "Discography" LP (Ryvvolte Records )
Full discography from this Political hardcore punk band from New Haven CT, active from 1993-1995. Includes all previous recorded material from their Won't You Join The Army Now So You Can Fight... And You Can Die! 7" EP, splits EPs with DIRT and FINAL WARNING as well as their comp tracks. Here you also have two unreleased bonus songs. Mankind? is still a very influential band in the Anarcho Punk scene playing often at the time with their pairs AUS ROTTEN. Members have also played in THE PIST, BEHIND ENEMY LINES, AUS ROTTEN, CALLOUSED, CAUSTIC CHRIST, BROKEN, REACT only to name a few. This full length also includes a A2 size foldout poster and a 16 page A4 sized full colored booklet with all lyrics, info, photos, artwork.

GRIMPLE "Up Your Ass" LP (Prank Records)
Grimple " Up Your Ass" ( GUYA) is a classic East Bay punk album of melodic hardcore, originally released in 1993 by legendary punk Photographer Murray Bowles and Eric Yee on their M&E record label. Grimple had recently moved from New Mexico to Oakland with a fast hardcore sound reminiscent of early song driven So Cal punk, but Their sound quickly absorbed some of the East Bay punk's melodic underpinnings and shout-a-long choruses .These Fifteen tracks are such brash punk explosions, super fun odes to punk, being punk and having fun. One of the greatest fusions of what would later be called pop punk and caustic thrash ever! Grimple came from a scene that spawned intense and Heavy bands Like WORD SALAD and LOGICAL NONSENSE, but found themselves Playing back yard parties and at 924 Gilman with the diverse East Bay Punk Scene - from the super punk bands like ECONOCHRIST and FILTH to catchy song driven bands like GREEN DAY and RANCID and Grimple just fused a little bit of all of it together in perfect balance. This album was recorded by Legendary Lookout Records producer Kevin Army, and was painstakingly remastered by John Golden, who mastered the original pressing. This new version replicated the original, in a 24pt Jacket with slight changes to the lyric sheet and an additional printed inner sleeve of band photos by Murray.

GRIMPLE / LOGICAL NONSENSE Split LP (Prank Records)
Originally released in 1994 by Photographer Murray Bowles and Filth Bassist Lenny Johnson's collaborative East Bay Menace label, this split combined two of New Mexico's fiercest hardcore bands on one split LP. East Bay transplants from Santa Fe, New Mexico GRIMPLE's sound had become more harsh, caustic and acidic, retaining strong songwriting of their debut LP but shedding some of their pop sensibilities for quick metallic riffing. Their brother band, Santa Fe's Logical Nonsense had also begun to leans heavier, creatively arranged songs which front harsh guttural vocals and brutal crushing riffs pointing to the sound of their raging follow up LP's on Alternative Tentacles, and their influences of EXTREME NOISE TERROR, NAPALM DEATH and NEUROSIS. This album has not been repressed since it's original pressing in 1994. It was been remixed by Noah Landis from Neurosis / Christ On Parade and re-mastered by Bob Weston at Chicago Mastering Service. The packaging is true to the original but has been painstakingly recreated with slight upgrades, including a new 11x22" insert with band photos and lyrics.

BREAKOUTS "Teeth in the Gears (Discography 79 to 83)" LP (Puke and Vomit Records)
Top-notch Punk Rock from SF, the PNV discography compilation features all the tracks from both of their collectable 7inches "In Vagueness Deal" (1979) and "Waiting for A Change / All We Wanna Do" (1980) plus the entire mind blowing "No More" (1983) mini-LP along with two unreleased tracks from the same era. The Breakouts were a powerhouse SF punk band known for lead singer Rudy Fontaine's awesome vocals and killer song writing. Their 1983 track "Junkies All Around You" was college and underground radio staple. They toured the USA with Italian Hardcore legends Raw Power in 85.

MAJOR ACCIDENT "Massacred Melodies" LP (White Vinyl) (Radiation Records)
Radiation Records present a reissue of Major Accident's Massacre Melodies, originally released in 1982. Formed in late 1977 in Darlington, UK, legendary punkers Major Accident were initially influenced by the Pistols and the Clash. A very sad fate befell their early studio activities: both their first recording sessions in 1980, which was supposed to be their debut single (Terrorist Gang/War Boots) and the following one, which produced a completely mucked-up, unusable first edition of this LP, remained unreleased for years. It took until late 1982 for their first proper release to see the light of day: produced by Donkeys guitarist Neil Ferguson, their debut album Massacred Melodies finally came out on Step Forward, supported by a full UK tour with label-mates Chelsea. The distinctive Clockwork Orange image (they were the first punk band to adopt the look from Kubrick's famous movie, which was banned in the UK at the time and impossible to see anywhere) and their songwriting, by far more peculiar than the average UK82 punk band, allowed them to grow a sizable following, and their classic sleeve artwork by Paul Dillon started appearing on the back of more than a few black leather jackets. White vinyl.

V/A "Carry On Oi!!" Compilation LP (Daily Records)
Limited vinyl reissue of this classic Oi LP originally issued by Secret Records in 1981. This album went straight to number 4 of the independent charts and became the probably best Oi compilation ever issued. 19 tracks by legendary bands such as The Business, Infa Riot, The Partisans, The Ejected, Peter & The Test Tube Babies, Blitz, … Original artwork with inner sleeve.

ATTAK "Murder in the Subway" 7" (Mad Butcher Classics)
Reissue of second 7" from 1982 by this UK punk band.

BLITZKRIEG "Lest we Forget" 7" (Mad Butcher Classics)
Absolutely crushing UK punk, originally released on No Future Records in 1982.

BLOOD, THE "Stark Raving Normal" 7" (Mad Butcher Classics)
Reissue of this great 1983 UK punk single!

CRASH, THE "Fight for Your Life" 7" (Mad Butcher Classics)
Reissue of this killer UK82 punk single!

DEATH SENTENCE "Death and Pure Distruction" 7" (Mad Butcher Classics)
This EP is as good as Death Sentence were short-lived, "Death and Pure Distruction" is one of the very best record of the UK82 genre. "Death and pure distruction" was released by a label called "Beat the system!!" whose field of expertise was punk-rock from Northern England (The Fits, Antisocial, Uproar, One Way System). Death Sentence was certainly a band of its time as the looks of the boys suggest with their boots, studded jackets and spiky hair. The four songs on this Ep epitomize everything I love about that genre. It is fast and basic, it is sloppy, it is snottier than a six-year old on a rainy day, it is pissed, spontaneous and distorted. The shouted vocals are really at the front of the music and have this juvenile feel with a distinct English accent. The drummer must have been heavily into Chaos UK's "Burning Britain" and Disorder's "Complete disorder" as you can spot the particular drum rolls so cherished by the Bristolians (and keep in mind that this was only 1982). The guitar is effortlessly distorted, the bass sound is buzzing, and while the band's influences are pretty obvious, this is done in such a fresh, direct manner that it can't really fail.

INSANE, THE "Politics" 7" (Mad Butcher Classics)
This UK punk band's killer debut single from 1981, originally released on Riot City.

PETER AND THE TEST TUBE BABIES "Run Like Hell" 7" (Mad Butcher Classics)
Official reissue of this UK82 classic from No Future Records.

REALLY RED "Modern Needs" 7" (Mad Butcher Classics)
Reissue of this sought after punk single by this band out of Houston, TX originally released in 1980.

RED ALERT "In Britain" 7" (Mad Butcher Classics)
UK Oi!/punk, originally released on No Future Records in 1982.

SEX AIDS "Back on the Piss Again" 7" (Mad Butcher Classics)
Sole 1983 single by this UK punk band, originally released on Riot City.

UNDERDOGS "East of Dachau" 7" (Mad Butcher Classics)
Originally released on Riot City in 1983. Killer UK punk!

CENOBITE 2022 Demo Tape (Foreign Legion Records)
Fast and loose hardcore from Chicago, influenced by classic USHC (Jerry's Kids, Life's Blood, etc) and noisier Japanese bands. Portuguese vocals about humanity's ascent to the stars to find an even lonelier existence. Members of Fuerza Bruta, Warrior Tribes, Riesgo, and Cidade Cemitério.

FUERA DE SEKTOR "El Mundo Sigue" Tape (La Vida Es Un Mus Discos)
FUERA DE SEKTOR come from other time to bring back loud guitars and soft rock. With ILEGALES, LOS VIOLADORES and the Uruguayan LOS TRAIDORES as reference bands. They have produced a superb four track demo that deals with love tricks, drug problems and life struggle amongst other subjects. Produced and recorded by FUERA DE SEKTOR at La Cinètika, one of the neuralgic points of the current Barcelona punk scene.

AXE RASH "Contemporary Ass" 7" (Not for the Weak Records)
NOT FOR THE WEAK is proud to be handling the North American pressing of this nuclear assault from Sweden's powerhouse, AXE RASH. Following their 2019 Self-Titled LP, the band continues to enthrone their implacable sound, capsulated this time around in seven inches of merciless fire. "Contemporary Ass" is suffused with intricate, catchy, and powerful playing with vocals that spew out a beautiful array of vigorous disgust. For those familiar with the band's previous output, the Scandinavian inspired Totalitär sound will come as no surprise. Those who haven't had the pleasure, strap in and prepare yourself for a true ass kicking.

ERUPT "Left to Rot" 7" (Static Shock Records)
Erupt offer up five fiery tracks on Left To Rot. Treading the blurry lines between extreme punk and extreme metal, Left To Rot is a cacophony in all the right ways. Fast as, heavy as, nasty as. Featuring members of Sheer Mag, Geld and Gutter Gods - Erupt brings its own molten explosions to the surface. These burnt offerings are recommended for fans of Sodom, Celtic Frost, Iron Age, Warthog, Mindsnare and the other hordes of apocalypse old and new.

FRACTURE "Jaulas" Tape (Ryvvolte Records )
Philly hardcore punks! FFO Totalitar, Vaaska, Los Crudos. This tape & band rules, lyrics sung in both english & spanish

SUICIDAL TENDENCIES "1982 Demos" LP (Die Hard Recors)
The 1982 demos from Venice Beach legends Suicidal Tendencies available again on vinyl. Raw, fast hardcore, which became a blueprint for generations of bands that followed in their footsteps.

DICKIES "The Incredible Shrinking Dickies" LP (Survival Research)
Survival Research present a reissue of The Incredible Shrinking Dickies, originally released in 1979. Hyperactive Ramones-influenced cartoon punk rock from Los Angeles. One debut LP that made the history in the genre. Frantically fast and short versions of Black Sabbath's "Paranoid", the Monkees' "She", and Barry McGuire's "Eve of Destruction", along with a few unforgettable hits like "You Make Me Ape (You Big Gorilla)" and "Give It Back". A must for all California punk completists.

BEASTIE BOYS "Paul's Boutique Demos" LP (21 Bridges Records)
Demo versions from the Beastie Boys' 1989 sophomore classic, Paul's Boutique.

FASTBACKS "Mural Ampitheater, Seattle Wa 8/25/86" LP (Bachelor Records)
Today, 35 years ago, the FASTBACKS played a open air day show. Here's the vinyl record to this! We are always excited about our new releases but this one is pretty pretty special. Oh-my-god-I-cannot-believe-it special. One of our all-time favorite bands is releasing a record on our label. Boom! Early in the 90ties as I dived into our little punkrock microcosm I found their ZÜCKER album and I immediately knew that this is a special band for me, too sugary for the punks, too rocknroll for the poppunks haha, to weird for the now emerging grunge scene, but still, my little pocketband I told everyone about. And with Glitterhouse Germany running the Sub Pop Europe business, all of their records were available and not expensive. I never saw them live, although I had tickets to their show in Innsbruck, Austria, when they were touring with Pearl Jam, but as fate would have it, their van broke down the day before in Milano, Italy. Goddamnit! "Trouser Press" once said the FASTBACKS were "always good but never trendy", now THAT sounds like a perfect fit to Bachelor Records. This live show from 1986 (!!!) captures HOW GOOD they were, how fun their shows must have been and how much fun they had on stage. After Kurt Bloch himself remastered this show for a CD release, we thought this has to be pressed on vinyl of course too! And here you have this whole show (with the exception of the first two songs, the CD version has the audience recording of it, but it is not on the LP, which features the whole multitrack recordings).

HEADCOATEES, THEE "Sisters of Suave" LP (Damaged Goods Records)
Compilation of all Thee Headcoatees singles that ever made it onto 7″ of plastic. Four fiesty girls from the Medway towns, Kyra Rubella, Holly Golightly, Ludella Black and Bongo Debbie started life as mates of Thee Headcoats doing a few songs on stage and then came the great idea to do a proper album, 'Girlsville' was recorded and a great new band was born. Whenever Thee Headcoats played Thee Headcoatees also did a set, at one time it seemed like they were more popular that the boys, more albums followed and we did a few singles plus a compilation of all their singles on one nice album.

MO-DETTES "The Story So Far" LP (Deram Records)
Originally released in 1980 on Deram Records (a division of Decca), this is the first time this seminal UK post-punk album has been reissued on vinyl. The Mo-dettes were an all-female band, formed in 1979 by guitarist Kate Korris (The Slits), Jane Crockford (Bank of Dresden), Ramona Carlier (Kleenex) and June Miles-Kingston. They were in the heart of the late 70s London art, film and punk scene with some of the members assisting Malcolm McLaren on the set of the film, The Great Rock 'n' Roll Swindle, as well as living in a community squat with Joe Strummer and Sid Vicious. Their branding was eye catching too, perhaps helping to pull in a wider audience, or it could have been influenced by some of the band members' art backgrounds too. The album features a version of The Rolling Stones' Paint It Black, a remake of their debut single White Mice (renamed White Mice Disco), plus a cover of Edith Piaf's Milord, along with other original penned songs.The band toured for four years and they supported two-tone ska bands such as Madness and The Specials before breaking up finally in 1982. When the members went their separate ways, many continued to work and be associated with artists such as Fun Boy Three, Everything But The Girl, and The Communards.

MISFITS "Last Caress Live in Detroit (1983 FM Broadcast)" LP (Fanclub Pressing)
Danzig and the rest of Lodi, New Jersey's finest horror punk heroes rolled into Detroit on their 1983 tour, broadcasting live on WCBN. Featuring tracks from their first two legendary LPs, this is absolutely crucial, ripping early Misfits.

SAMHAIN "Horror of Lodi" LP (Dunwitch Records)
Samhain, live at the Ritz (NYC) in 1986.

MALARIA "Emotion" LP (Fanclub Pressing)
MALARIA! Emotion (Scarce 1982 Belgian 10-track LP by the NDW all-girl group, like a German version of the Slits but stranger, released here on the Factory-related Les Disques Du Crépuscule label.

OPERATION IVY "Bring Me Back Up (Live from KSPC Radio 3/17/88)" LP (Fanclub Pressing)
Operation Ivy's contribution to the history of US punk rock has never been in doubt. Not only did they invent and define the entire ska-punk subgenre, but they also featured Tim Armstrong and Matt Freeman, i.e. half of the members of one of the most successful punk bands ever: Rancid. This 14 track scorcher collects a killer set from KSPC radio in Pomona, CA, March 1988. Junkies Running Dry, The Crowd, and more of their uncountable hits played live and raw! Skank to the beat!

RAMONES "Pleasant Dreams" LP (Fanclub Pressing)
"To me this is the most criminally underrated album the Ramones released. All of the songs are very catchy and well-crafted. Some have called it overproduced, but the company was wanting them to score a hit. That being said, the songs are still Ramones songs , just a little tighter and cleaner, don't make them bad, far from it. Both Dee Dee and Joey were wanting to score hits and liked this album a lot. Don't blame the record company for wanting the Ramones to score a hit, the two main song-writers did as well. Just really loved this middle period, along with Subterranean Jungle."

RAMONES "Too Tough to Die" LP (Fanclub Pressing)
"After the good, but not amazing 2 previous albums, this really comes out swinging as not only being the biggest leap back into quality, but also being one of the best albums by The Ramones since "Road To Ruin" with a much needed return to Punk Rock form with it's excellent production, fun and badass melodies, memorable lyrics, and superb composition making this album an underrated masterpiece, and to come after a time where the band wasn't doing too well is all the more impressive and applaudable, making this too good to pass up."

RUTTO, THE "Ei Paluuta" 7" (Final Doomsday Records)
Rutto (T.H.E. Rutto) was a pioneering Finnish hardcore band that existed from 1981 to 1984 and released two highly sought-after 7"s EPs released by Ikbal Records in 1983 and 1984 respectively. One of the few Finnish hardcore bands to have a female singer, Rutto managed to record only 11 songs in their brief existence. Final Doomsday records are extremely proud to present official reissues of both Rutto 7"s complete with rare compilation only tracks, unreleased photos, Finnish zine interviews from the early 80s, and for the first time ever, printed labels. The records have been made in close cooperation with the band as well as Finnish punk and hardcore veterans Vote Vasko and Läjä Äijälä. Each 7" is limited to 500 copies worldwide and comes in a tri-fold sleeve with the original record artwork and unreleased photos.

RUTTO, THE "Ilmastoitu" 7" (Final Doomsday Records)
Rutto (T.H.E. Rutto) was a pioneering Finnish hardcore band that existed from 1981 to 1984 and released two highly sought-after 7"s EPs released by Ikbal Records in 1983 and 1984 respectively. One of the few Finnish hardcore bands to have a female singer, Rutto managed to record only 11 songs in their brief existence. Final Doomsday records are extremely proud to present official reissues of both Rutto 7"s complete with rare compilation only tracks, unreleased photos, Finnish zine interviews from the early 80s, and for the first time ever, printed labels. The records have been made in close cooperation with the band as well as Finnish punk and hardcore veterans Vote Vasko and Läjä Äijälä.

FLOWER TRAVELLIN' BAND "Anywhere" LP (Future Shock Records)
A reissue of the first album from the legendary Japanese rockers, Flower Travellin' Band, fronted by Yuya Uchida. Although an album consisting mainly of cover versions, Anywhere, originally released in 1970, still exhibited many of the musical traits that were to come to the fore on the band's next release in 1971, the classic Satori (ASH 3002CD/LP), an album of original material delivered with panache by the increasingly confident Uchida. An album made memorable by its risqué cover as well as its ground-breaking approach to Western rock music.

MOTORHEAD "Tales of Glory" LP (Magic Dice Records)
Live At L'amour, New York, August 10th, 1983 FM Broadcast

BAD RELIGION "924 Gilman St, 10/21/89 FM Broadcast" LP (Mind Control Records)
The famous Bad Religion comeback show after the disbanding that followed Into the Unknown, promoting their Suffer 1989 masterpiece at Gilman Street in Berkeley.

BAUHAUS "Life at Tiffany's, Glasgow Scotland 6/27/83" LP (Planet Claire Records)
Vinyl LP pressing. Bauhaus burnt bright and quick, bursting to attention in 1979 with breakaway debut single 'Bela Lugosi's Dead' and releasing a powerful body of work before disbanding in 1983. This live recording from Tiffany's in Glasgow was recorded in the summer of 1983 in support of Burning From The Inside, a prophetic record summing up the inevitable demise of one of the all-time great British post punk bands. It's a stunning document of the band, with Kevin Murphy on devastating form and the band sounding tight and loose in all the right places. Just listen to the opening strains of 'Burning From The Inside' and you'll understand.

"The Last of the Hippies: An Hysterical Romance" by Penny Rimbaud (PM Press)
First published in 1982 as part of the Crass record album Christ: The Album, Penny Rimbaud's The Last of the Hippies is a fiery anarchist polemic centered on the story of his friend, Phil Russell (aka Wally Hope), who was murdered by the State while incarcerated in a mental institution.Wally Hope was a visionary and a freethinker, whose life had a profound influence on many in the culture of the UK underground and beyond. He was an important figure in what may loosely be described as the organization of the Windsor Free Festival from 1972 to 1974, as well providing the impetus for the embryonic Stonehenge Free Festival. Wally was arrested and incarcerated in a mental institution after having been found in possession of a small amount of LSD. He was later released, and subsequently died. The official verdict was that Russell committed suicide, although Rimbaud uncovered strong evidence that he was murdered. Rimbaud's anger over unanswered questions surrounding his friend's death inspired him in 1977 to form the anarchist punk band Crass. In the space of seven short years, from 1977 to their breakup in 1984, Crass almost single-handedly breathed life back into the then moribund peace and anarchist movements. The Last of the Hippies fast became the seminal text of what was then known as anarcho-punk and which later blossomed into the anti-globalization movement. This revised edition comes complete with a new introduction in which Rimbaud questions some of the premises that he laid down in the original.
RESTOCKS FOR 6/17/22:
"The Day the Country Died: A History of Anarcho Punk 1980–1984" Book
"The Primal Screamer" by Nick Blinko Book
4 SKINS "A Fistful of 4 Skins" LP
AGENT ORANGE "Living in Darkness" LP
BAD BRAINS "Black Dots" LP
BAUHAUS "The Bela Session" LP
BEASTIE BOYS "Def Jam Master Demos" LP
BEASTIE BOYS "Polly Wog Stew and More" LP
BLACK FLAG "Licorice Pizza and More" 7"
BLACK FLAG "The Unheard 1983 Demos" 7"
BLITZ "The Killing Dream" LP
BLITZ "Time Bomb (Early Singles Collection)" LP
BLITZ "Voice of a Generation" LP
BROKEN BONES "I O U Nothing" LP
CHAIN CULT "Shallow Grave" LP
CHISEL, THE "Deconstructive Surgery" 7"
CHRIST ON PARADE "Sounds of Nature" LP
CHRISTIAN DEATH "Only Theatre of Pain" LP
CHUBBY AND THE GANG "Speed Kills" LP
CHUBBY AND THE GANG "The Mutt's Nuts" LP
COCK SPARRER "S/T" LP
CODE OF HONOR / SICK PLEASURE Split LP
CRASS "Christ, The Album Box Set" 2xLP
CRASS "Stations of the Crass" 2xLP
CRUDE SS "Who'll Survive" LP
D.O.A. "Hardcore 81" LP
DANZIG "III: How the Gods Kill" LP (Red Vinyl)
DEAD KENNEDYS "Bedtime for Democracy" LP
DICKS "Hate the Police" 7"
ESKORBUTO "Anti Todo" LP
G.B.H. "City Baby's Revenge" LP
GAUZE "Equalizing Distort" LP
GENERACION SUICIDA "Regeneracion" LP
HARD SKIN "On the Balls" LP
HARD SKIN "We're the Fucking Business: Singles 1975-1977" LP
HARD SKIN "We're the Fucking George (Singles 1978-1981)" LP
HHH "Sin Identidad / Intelectual Punks" LP
HOME FRONT "Think of the Lie" LP
HUSKER DU "Savage Young Du" 4xLP Box Set
ICONS OF FILTH "Onward Christian Soldiers" LP
LAST RESORT "A Way of Life - Skinhead Anthems" LP
LEWD, THE "American Wino" LP
LIFE SENTENCE "S/T" LP
LIFE'S BLOOD "Hardcore A.D. 1988" LP
LIP CREAM "9 Shocking Terror" LP
LIP CREAM "Kill Ugly Pop" LP
LOS CRUDOS "Doble LP Discografia" 2xLP
MISFITS "3 Hits from Hell" 7"
MISFITS "Back with a Bang" 7"
MISFITS "Cough/Cool" 7" (Red Vinyl)
MISFITS "Horror Business" 7"
MISFITS "Night of the Living Dead" 7"
MISFITS "Night of the Living Dead" 7" (Orange Vinyl)
MISFITS "Walk Among Us: Alternate Takes" LP
MY BLOODY VALENTINE "Loveless" LP
NECROS "Conquest for Death" LP
NECROS "Sex Drive" 7"
NERVES "One Way Ticket" LP
NEWTOWN NEUROTICS "Kick Out!" LP
NIKKI AND THE CORVETTES "S/T" LP (Blue Vinyl)
PETER AND THE TEST TUBE BABIES "Pissed and Proud" LP
POISON IDEA "Blank Blackout Vacant" LP
POISON IDEA "Darby Crash Rides Again: The Early Years" LP
POISON IDEA "Feel the Darkness" 2xLP
RAMONES "Halfway to Amsterdam, Live at the Melkweg 1986" LP
RANDOMS "ABCD" 7"
RATA NEGRA "Justicia Cosmica" LP
ROMERO "Turn It On!" LP
RUDIMENTARY PENI "Death Church" LP
SAINTS "(I'm) Stranded" LP
SAMHAIN "November Coming Fire" LP
SAMHAIN "Unholy Passion" LP
SCREAMERS "Demos 1977-78" LP (Blue Vinyl)
SIOUXSIE & THE BANSHEES "The Peel Sessions: 1977-1978" LP
SIOUXSIE AND THE BANSHEES "BBC Sessions 81-82" LP
SIOUXSIE AND THE BANSHEES "BBC Sessions 86-87" LP
SUBCULTURE "I Heard a Scream" LP
SYSTEMA "Ultima Guerra" LP
TOTALITAR "Sin Egen Motsandare" LP
TOXIC WASTE "Belfast" LP
V/A "AK79" New Zealand Punk Compilation LP
V/A "Bloodstains Across Canada" Compilation LP
V/A "Bloodstains Across the Midwest" Compilation LP
V/A "City Rockers" Compilation (w/ Gauze) LP
V/A "KILLED BY DEATH Vol. 2" Compilation LP
V/A "KILLED BY DEATH Vol. 4" Compilation LP
V/A "KILLED BY DEATH Vol. 5" Compilation LP
V/A "KILLED BY DEATH Vol. 7" Compilation LP
V/A "Knuckle Girls Vol. 2" Compilation LP
V/A "Knuckle Girls: 14 Bovver Bird Blitzers Tough Enough" Compilation LP
VARUKERS, THE "Bloodsuckers" LP
WRETCHED "Libero E Selvaggio" (Singles Collection) LP
ZERO BOYS "History Of" LP
ZERO BOYS "Vicious Circle" LP (25th Anniversary Edition / RED VINYL)
ZOUNDS "Can't Cheat Karma" LP