GRAVE MISTAKE RECORDS AND MAILORDER
Fall 2022 Distro LP Clearance Sale - October 27, 2022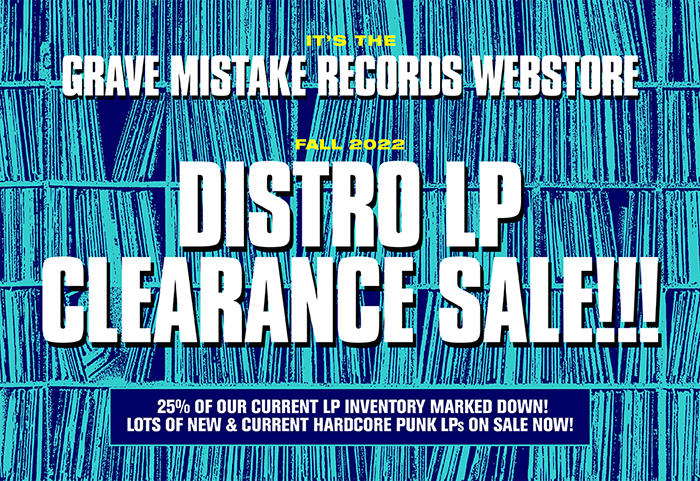 You were warned last week that we had a few more sales up our sleeves leading up to Black Friday, and here is our second announcement! Just lowered prices on more than 100 distro LPs in the webstore, including a handful of great recent titles just to keep things interesting.

As with our 7" sale last week, there are a LOT of killer hardcore and punk releases included in this sale, including some of our favorite bands in recent years including Red Death, S.H.I.T., Waste Management, Game, The Flex, Uranium Club, Primal Rite, Dame, Gag, Supercrush, Tony Molina, and MORE!  Lots of great titles from some of our favorite labels like Beach Impediment, Feel It, Iron Lung, La Vida es Un Mus, and Quality Control!

We have some LPs that were released this year that might pop up on a few "Best of 2022" lists, like the latest LP from The Flex or the debut LP from Quarantine so now is your chance to grab em at a bargain if you have yet to pick them up; some killer collection LPs from several of our all time favorite bands like The Marked Men and Paul Collins Beat; some awesome early punk/hc reissues from Beex, S.O.D. (Sweden), Last Bomb, and Medanos De Singapur, and much more!
We also had a few titles from last year's sale that were still kicking around, so decided to lower those prices even more. Needless to say, you will find some good deals in this most recent sale section.

A good amount of these titles only have 1 or 2 copies left, so if you see something you like I highly recommend grabbing it while you can!
Thanks to everyone who grabbed something from the 7" Clearance Sale! There are still a good number of great EPs from that sale still available, so do yourself a favor and browse that section while you are at it.
Alex / Grave Mistake Records