GRAVE MISTAKE RECORDS AND MAILORDER
Webstore Update - August 29, 2023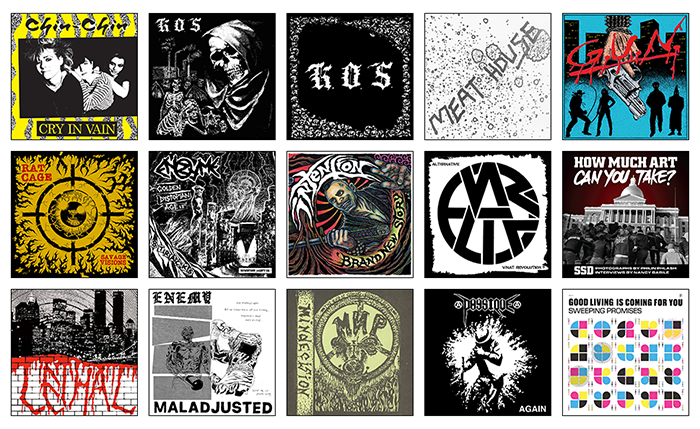 For quick browsing of recent additions to the store, you can check out all of these titles mentioned below in the New Arrivals and Recent Restocks sections!
We're back! Spent the past two months moving into a new HQ and getting everything set up in the new digs, but it's time to hit the ground running as we finish off 2023! Gonna keep it quick with a fresh update and let you get on with your week, but there is once again a solid grip of new hcpunk for you to get your hands on.
Not too many reissues in this update which is a fresh change (although we do love our reissues), but the ones we do have are guaranteed pleasers. We've got a killer reissue from 80's Swiss punk legends Chin Chin! This reissue courtesy of the great Sealed Records brings us a few unreleased BBC tracks, as well as a selection of hits from Chin Chin's discography. Considering their first EP and LP haven't been in print for about a decade and a half, this is a great release for both the prexisting fans (like myself) and those just discovering this incredible band.
Another reissue in this update is a 12" pulled from the mountains of VA circa 1984; the highly obscure demo from Roanoke, VA's MNP on Beach Impediment. Where did he even find this one?? Just when you think all of the great obscure 80s hcpunk has already been mined, a gem like this comes out of nowhere! Definitely a solid reissue worth checking out.
Now, on the new hcpunk tip, we've got some heavy hitters you should seriously pay attention to. Two new blazing hc LPs from Sorry State Records - full lengths from TN's G.U.N. and NC's Meat House; new releases on 11PM Records like the Lethal 7" and Enemy LP; new LPs from Enzyme and Rat Cage on La Vida Es Un Mus; two must have EPs from Philly's Kinetic Orbital Strike; a solid full length from Japan's Intention on courtesy of Beach Impediment; a few rad demo tapes on Total Peace Records from Eterno Ritomo, Simulation, Memory Ward, and Art. 
Last but not least in this update - grabbed a few copies of the incredible SSD book How Much Art Can You Take?, a 200 page photo book from the legendary SS Decontrol and MUST HAVE for any USHC enthusiast!! 
Finally, if you are still playing catchup on your record buying from this summer, we've still got a ton of stuff from our June update; new releases from Sweeping Promises, Physique, Fairytale, Belgrado, Slan, The Hell, and The Stools; reissues / fanclub collections from Confuse, Kuro, Subhumans, YYY, and Court Martial!
Thanks for reading!
- Alex / Grave Mistake Records
New Arrivals for August 29, 2023:
CHIN CHIN "Cry in Vain" LP (Sealed Records)
14 track compilation from Swiss punk and bubblegum indie pop band Chin-Chin. This compilation features the unreleased four track Janice Long Session recorded for the BBC from 1988 which includes songs only heard on the broadcast plus tracks from the Stop Your Crying! 12" from 1986 a selection from the classic Sound of the Westway LP from 1985 and two tracks from the We Don't Wanna Be Prisoners 7" from 1984. Formed in 1982 in Biel Switzerland Chin-Chin are a group that sits perfectly next to the Ramones, 60's Girl Groups, The Shop Assistants and Blondie. The sound is instant urgent and with choruses that stick in your head for days, weeks and years. The songs are perfectly produced and have aged like a fine wine. The LP comes with an insert featuring photos handouts and archive.

ENZYME "Golden Dystopian Age" LP (La Vida Es Un Mus)
Hey knuckle draggers and chain swingers! Looking to add some dynamite to your pogo stick? Look no further!! Enzyme's Golden Dystopian Age LP is here! 4 years since Howling Minds LP, Enzyme's 2nd offering bends all odds and pushes the band's brand of noise punk to a new limit. Lots to process about this record, from the hyperactive drumming, catchy rhythm backbone by the bass, 1000 pedal stomp buzz saw noise/psychedelic soundscapes guitars, discordant terminator vocals that sound like they been recorded through a cheap boom box, cameo vocals from Hardcore Victim CEO / Phantasm vox Bernie, to the more noise / beats provided by hard techno unit Nerve AKA Joshua Wells makes for one perfect storm that these noise bent fuckers have managed to harness. 3 years to make, this record sounds and reads like a reflection of life living through the tightly sanctioned lockdowns, a state of uncertainty, helplessness, anxiety and fear, geographical and imposed isolation, natural disasters and civil unrest in Naarm (Melbourne) Australia. 8 relentless noise punk tracks for the new hell we live in. Golden Dystopian Age showcases Enzyme's never ending one sided romance with punk legends Confuse, Chaos U.K and Disorder but also exploring other influences like Anarcho punk, space rock, psychedelia, metal and gabber. Blasphemy! Is this punk future? It's as ugly as the world Enzyme sees. It's the Golden Dystopian Age.

RAT CAGE "Savage Visions" LP (La Vida Es Un Mus)
Yorkshire's most Honorable Master of Mangel brings to bear upon us the sophomore RAT CAGE full-length, an anxiety-compounding white-knuckle ride through the nauseating experience commonly known as trying to get by.  On SAVAGE VISIONS, listeners are exposed to the maniacal cries of the critically-minded individual pushed to the absolute brink, copping rapid fire tidings of woe belted out by an unhinged unit who has finally ceased to give a fuck. Here we find Bryan of Sheffield, defiant and desperate on what is by far the most sinister, claustrophobic, reckless and dynamic release in the RAT CAGE catalogue to date.  Though it may be full of huge sing-along-moments and loaded with surprises, SAVAGE VISIONS is no party, because there's nothing to celebrate.  The boisterous resilience and boozy joy of previous works has vanished. With the rule book shattering the window of the '82nd floor, SAVAGE VISIONS lashes out at times towards the not-too-distant sounds of VENOM, MIDNIGHT and later DARKTHRONE, expertly folding these riff expressions back in to the irresistibly dysfunctional bop of GBH and CRUCIFIX. Anyone who chucks this thing on is going to feel like the passenger in a car crash waiting to happen.  Razor's edge lead breaks serve only to increase the tension.  Our driver careens wildly across both sides of the highway, regularly steering us toward the familiar influences of SKITKIDS, THE PARTISANS, DISARM, THE VARUKERS, TOTALITÄR and AUKTION before quickly engaging the hand-brake once again to speed off at 90 degrees in the direction of the unfinished overpass at the edge of town. Due to the up-scaled take on Swedish HC and the (now boosted) thump of the kick drum and bass guitar on SAVAGE VISIONS, this record feels like DISFEAR's Live The Storm played significantly faster.  Minimal respect is afforded to genre convention. The way it should be - every band, every time. You may very well survive the maze, but what will you become by the time you reach its exit?

MEAT HOUSE "S/T" LP (Sorry State Records)
When White Stains guitarist Eric Montanez (who also did time in Government Warning, Direct Control, Blood Pressure, Sickoids, and many others) moved back home to Raleigh, North Carolina in 2021, it wasn't long before he was playing with some of the area's best musicians, recruiting Alex Greenberg from Mutant Strain on drums and Scarecrow / Public Acid guitarist Jeff Young on bass. When the trio invited White Stains vocalist Keith Caves on board—even though he lives in Pittsburgh, 500 miles from the band's home base—Meat House was born. After a handful of rehearsals and a couple of low-key gigs, in December 2022 Meat House spent a couple hours laying down seven tracks with the Shaved Ape, who recorded them live with the same 4-track setup he uses to produce his own recordings. The results, a loose and lethal homage to the filthiest, fastest, and catchiest early 80s US hardcore punk, could have easily fit on a 7", but the band decided to cut them loud on a 45RPM 12" with a ton of dead wax in homage to records like Black Flag's Jealous Again or Battalion of Saints' Fighting Boys. Nothing about this record is precious or overwrought… it's just seven raw blasts of go-for-the-throat American hardcore punk.

G.U.N. "S/T" LP (Sorry State Records)
Nashville, Tennessee's G.U.N. roars onto vinyl with their debut full-length for Sorry State. Hearkening back to the glory days of the early No Way, Grave Mistake, and Sorry State catalogs—the band features two members of No Way Records' Life Trap—G.U.N. lives where the hardcore underground meets the criminal underworld. While G.U.N.'s music evokes Koro's lightning-speed intricacy and the Adolescents' surfy hooks, the lyrics describe a sick, sad world that takes Black Flag's "No Values" as philosophical truth, imbuing G.U.N.'s sound with a palpable sense of desperation. Charismatic vocalist Nico Arambatzis can summon Damaged-era Henry's primal howl one second, then in the next hit a magical note that transforms a song into an anthem, pushing standout tracks like "A Prisoner's Tale," "Sadist Faction," and the epic closer "Sick Sad World" well beyond your standard bash-and-crash. Guitarist Connor Cummins (whom you might know from his other projects Snooper and Spodee Boy) is similarly dynamic, crafting whirlwind riffs and leads that are as powerful and as unpredictable as afternoon thunderstorms in the sticky southern summer. It all adds up to a classic-sounding hardcore punk record bursting with energy and dripping with hooks.

KINETIC ORBITAL STRIKE "The True Disaster" 7" (Self Released)
Recorded during the same sessions as their demo cassette, this new EP from Philadelphia's Kinetic Orbital Strike delivers five more truncheon strikes of ear-splitting hardcore punk. KOS sounds like a band who knows exactly who they are, mining the same Discharge influences as Anti-Cimex, Disaster, Disclose, Framtid, and beyond, but—like those bands—placing their own stamp on the tradition. An old new sound to match a new old war, and a fitting soundtrack to the impending apocalypse.

KINETIC ORBITAL STRIKE "S/T" 7" (Self Released)
Vinyl version of the demo cassette from Philadelphia's Kinetic Orbital Strike. With a sound firmly rooted in Discharge-inspired hardcore, KOS doesn't reinvent the wheel, but the members' experience shows through in their ability to carry the sound forward without slavishly copying what's come before. Through the straightforward pounding of "Deception," the nimble riffing of "Rotten Lies," and the anthemic stomp of "Anguished Misery," KOS sounds like the musical equivalent of the killing technologies they sing about, efficiently and totally pulverizing everything in their path.

INTENTION "Brand New Story" LP (Beach Impediment Records)
Previously released on CD earlier this year by the great Break the Records, Beach Impediment is proud to be handling the vinyl pressing of the debut release from Japanese hardcore punk powerhouse INTENTION! Hailing from the Nagoya and Mie regions of Japan and featuring members of CONFRONT and HUMAN DESPAIR among others, the "BRAND NEW STORY" 12" showcases 7 blasts of full-force Burning Spirits descended hardcore with blazing guitars, a commanding rhythm section, and frenzied vocals. Each record comes in a thick gatefold jacket adorned with stunning full color art by the iconic Japanese hardcore artist Sugi.

MNP "Mindecision" LP (Beach Impediment Records)
By now, it's not surprising that the dissemination of the hardcore punk movement in it's infancy seeped into the pores of nearly the entire planet. Of course, all the major cities worldwide developed burgeoning hardcore scenes that yielded the classics we know and love but there's something to be said about the less known spots on the map and their select inhabitants that were swept up in the fervor of it all, like some of those in the sleepy valley town of Roanoke tucked away in the tranquil Blue Ridge mountain region of Southwest Virginia. It was in that city, circa 1984, that four teenagers came together to form Мир or, for the non-Cyrillicaly inclined, simply MNP. The band name, pronounced "Mihr" per the  and which translates from Russian to peace, was also the group's mission statement and driving force in their brief existence. Having played a slew of gigs locally and elsewhere alongside contemporaries like CORROSION OF CONFORMITY, SCREAM, BATTALION OF SAINTS and DEATH PIGGY among others, they left as quickly as they came, disbanding in the summer of 1985 before most of the members left for college. Thankfully, the band entered the studio earlier that year before calling it a day. The tracks that made up the criminally underrated and sparsely circulated "MINDECISION" cassette are a crucial entry into the annals of early Virginia hardcore punk history, featuring twelve cuts of scorching USHC executed by small town high school kids. Remastered from the original reels by Chris Corry, each record comes in a jacket adorned with the original cover art by drummer Lawson Jaeger, featuring a 12" x 24" insert chock full of live photos, flyers and other ephemera plus liner notes by guitarist Spencer Edmunds. Limited to 550 copies.

ENEMY "Malajusted" LP (White Vinyl) (11PM Records)
Like a rocket from LA to the moon, enemy takes off with their new record Maladjusted. Returning from a split from LA's Downsided last year, Enemy brings their brand of straight forward LA style punk to their debut LP. Mixing modern influences from the west coast with classic 80's US HC, Enemy is one of the west coast's most consistent bands. Featuring guest vocals from Chris, from Richard Rose and GOGGS...Enemy is in good company and you will love MALADJUSTED.

LETHAL "Lethal's Hardcore Hit Parade" 7" (11PM Records)
Crawling from beneath the streets of New York City is the brand new project from familiar faces, LETHAL. Bringing together UK influence with NYHC influence...reminding me of bands such as Crucifix, Sacrilege NYHC and the Nausea track off the Rev comp. Their bleak view of the world is displayed in the five tracks that make up their debut seven inch. Catch them on the road this summer as they play many of the fests in the northeast with plans to tour in the fall.

ALTERNATIVE "What Revolution" 7" (Sealed Records)
What Revolution? was originally recorded at Southern Studios for the album If They Treat You Like Shit - Act Like Manure on Corpus Christi but for some unknown reason it was dropped at the last minute for a live track. We asked the band about this and not one member could remember why but all admitted it was a massive mistake as What Revolution? Is classic Alternative. Impassioned and raging anarcho punk with duel female and male vocals. On the flip is two radically different mixes from the album of Another Subversive Peace Song and Love and life which have the guitar tones clean and give both tracks a fresher sound. The 7" comes housed in a Crass style Sleeve.

JJ AND THE A'S "S/T" 7" (La Vida Es Un Mus)
JJ and the A's release their debut 6 track EP and it's a barrage of punk nuggets that explode out of the speaker. The treble is on full and the bass down low as the Danish/Barcelona powerpunk band unleash hell and fury. This is punk from the golden eras of the late 70's and early 80's and even a bit of early 90's from people who have been involved in hardcore scene for all of their adult lives. It's relentless and is an absolute fireball of speed and energy. Think a mix of Gorilla Angreb, Screamers, Spits, Rip Off Records and those classic Killed by Death 7"s that now are worth thousands. Get your dancing shoes on and enjoy every last second of this gem that came out of nowhere. (Sean Forbes)

MISS ESPANA " Niebla Mental" LP (La Vida Es Un Mus)
For fans of Le Tigre, Bratmobile and 80's DIY synth pop. Death, anxiety and pain parade down their catwalk to the rhythm of a deranged synthesizer and galloping drums and groomed with pop harmony, they present these ten songs where punk dresses up in tragedy and rage and hysteria overflow.

AIVOPROTEESI "Pommisuoja" LP (Final Doomsday Records)
Ingenious Finnish HC from the beginning of the 80s from Rovaniemi directly from the Arctic Circle! Known from the legendary "Yalta Hi-Life" sampler on Barabbas Records! The band name translates as BRAIN PROSTHESIS!

"SSD: How Much Art Can You Take?" Book (Radio Raheem Records)
In 2017, I asked Al if I could create an SSD Instagram page because I wanted him to see the impact he and his band had on people from around the world. Since I was not a member of the band, and I wanted to ensure authenticity, I only featured stories and interviews from members of the band and those close to them. Of course, I also highlighted the artistry of Boston photographer PHILIN PHLASH, who was present at so many shows, and who documented the band's trajectory so well. Almost immediately, people began contacting me, telling me how much they loved the stories and photos, and how they'd make a great book. Since Al has always said Phil's work deserved its own platform, I thought a photo essay book would be perfect. Society System Decontrol (SSD) ended as a band in 1985, but the stories, the photographs, and the music live on. As Al has said "We gave it everything we had. We wanted to make an impact. This is how we rock." — Nancy Barile. "How Much Art Can You Take?" compiles over 170 images, many of which have never been seen before, plus first-hand commentary from the band and their crew, spread across 190 pages in a beautiful 10"x10" hardcover book.

ETERNO RITOMO Tape (Total Peace Records)
These Venetian punks make propulsive hardcore reminiscent of Disper-Azione and Nog Watt. Chorus drenched and alternating between flailing with reckless abandon and stomping forward. Total Peace is proud to make this available for the first time in North America complete with new artwork following a scarce and long sold out pressing from the incredible Italian punk label Sentiero Futuro Autoproduzioni.

SIMULATION Tape (Total Peace Records)
Simulation come out the gate fully formed playing noisy and disjointed hardcore. Picking up where Acrylics left off and boasting members of Repo Man, Stressors and many many more, Simulation are a band only the Bay Area could produce. Odd rhythms grinding against each other held together by explosive bursts of energy and power. If you were a fan of No Statik, Replica, or any of the members other bands this will not disappoint.

MEMORY WARD Demo Tape (Total Peace Records)
Raging paranoid modern hardcore punk. '82 Touch and Go style attack sharpened by the bleak reality that the 2020's are yet another decade of the same. Hunched over, surveilled, and sick? Dying for a taste of the hardcore reality? Come and enter the Memory Ward.

ART "One" Tape (Total Peace Records)
Have you looked around? Plastic new developments encroaching. The suburbs turned inward and bled into the cities. No future is now. Ask yourself where's the color? It's time we put Void in the Guggenheim.

Recent Restocks for August 29, 2023:

"Better Never Than Late: Midwest Hardcore Flyers and Ephemera 1981-1984" Book
CHISEL, THE "Deconstructive Surgery" 7"
ENZYME "Howling Mind" LP
GRAVEN IMAGE "Studio Sessions '82-'83" LP
HOME FRONT "Games of Power" LP
HOME FRONT "Think of the Lie" LP
INDRE KRIG "Destroyer" 7"
NURSE "Discography" LP
RIXE "Collection" LP
WARTHOG "S/T" 7" (Violet Vinyl)