GRAVE MISTAKE RECORDS AND MAILORDER
Fall 2022 Distro 7" Clearance Sale - October 20, 2022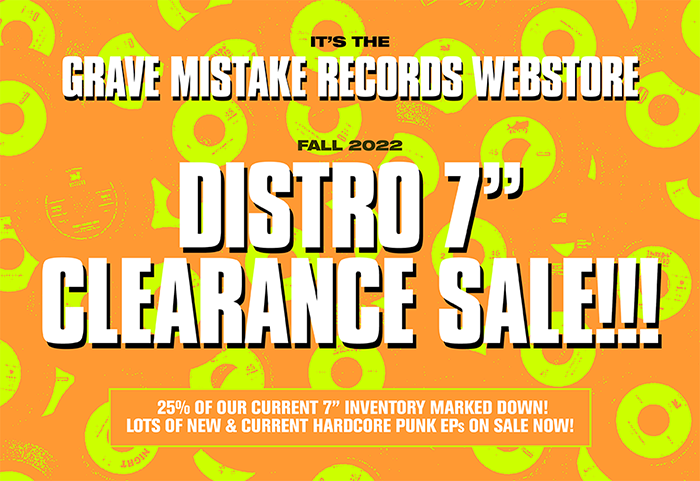 Yes, you've read correctly! It's been a while since we've done a distro clearance sale, so we are stoked to finally announce the first of several we will be dropping over the next few months!!
First up is our 7" SALE! We've lowered the prices on a bunch of killer distro 7" titles, including A LOT of recent new-ish hardcore/punk releases from the past couple of years! Most of these titles we are selling at or below cost. We've got some killer stuff (many of which I have thoroughly enjoyed) from the likes of Public Acid, Repeat Offender, Delco MFs, Vivisected Numbskulls, Necro Heads, Fashion Change, Zodiak, and many more 7" titles from your favorite labels like 11PM, Iron Lung, Desolate, Distort Reality, and La Vida Es Un Mus, to name a few!
When Grave Mistake started, I used to trade early label releases for other 7" titles from similar small hcpunk labels. Not to mention, Grave Mistake only released 7"s (and maybe a CD or two) for the first 5 years of the labels existince. That being said, for the first few years the GM distro consisted solely of 7"s (and maybe a bunch of bootleg NYHC cdrs, but that's a different story for another time), which I would set up a box or two of at whatever show I was going to. I still love carrying new 7" releases in the webstore (especially ones that rip), but due to increased pressing costs, manufacturing turnaround times, and the fact that 7"s just really aren't as much of a necessity as they were in the pre-streaming age, the demand is a lot lower and the prices a lot higher for a lot of new 7" releases - even great ones often get passed over!
That being said, I thought it would be cool to give everyone the opportunity to check out some killer hc and punk that has been released on 7" over the past few years for a lower price than usual. This might be the most QUALITY clearance sale we've ever done ... as well as with the the most recent releases, including several releases that have come out in 2022!
In addition to these new mark downs, we also dropped prices on our remaining clearance 7" section which was last updated i believe in 2020? So browse around, see what we've got and check some of these bands out if you haven't yet! Some of these acts are long gone, some are still active, and some who even knows!? Don't know where to start? Anything pictured in this email is a guaranteed safe bet. Enjoy!
Alex / Grave Mistake Records