GRAVE MISTAKE RECORDS AND MAILORDER • Webstore Update / September 16, 2022
For quick browsing of recent additions to the store, you can check out all of these titles mentioned below in the New Arrivals and Recent Restocks sections! 
Killer little update for you this week! We've got a few brand new hcpunk releases that you need to scoop up ASAP, a few reissues and fanclub scorchers (as always), and some Destruct tour news.

First up, fresh off the press is the long overdue LP from Boston's Savageheads!! This band has been a personal favorite of mine since their demo dropped back in 2013 (which is crazy to think that was basically a decade ago). This LP has been in the works for a WHILE and I know that Social Napalm has experienced more pressing headaches than most labels should on this one, so hats off to them for seeing it through and delivering one high quality slab of blistering punk rock! This LP does not let up and does not disappoint one bit ... if you purchase one LP this month, make it this one.

Other new releases of note this month include the brand new long player from Portland's Long Knife, a killer 7" debut from Yambag, a MASSIVE Poison Idea Kings of Punk LP reissue with all of the bells and whistles, another rad live Minor Threat fanclub LP (also restocked on the Irving Plaza LP from last update), yet another Damned singles LP (no complaints here), another international Bloodstains compilation (this one from Yugoslavia) back in the rotation, a nice fanclub pressing of the Ramones Animal Boy LP, and not one, not two, but SIX cassette releases from Sweden's 偏執症者 (Paranoid)!!!

Also, some choice restocks from Crass, Poison Idea (both Get Loaded and Fuck and Record Collectors ... LPs back in stock!), and Burial, plus restocks on the Decline of Western Civilization soundtrack and rad Belfast Rock compilation from Radiation!
DESTRUCT • A Varning: There and Back Again Tour • September 2022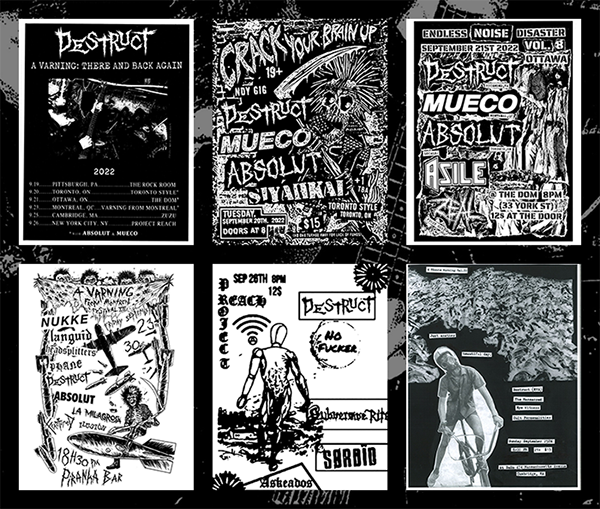 Destruct will be heading out on a Northeast tour this coming Monday, making their way up to the legendary Varning Festival in Montreal! They will have copies of their Onward to Collapse: Live Tape that we just pressed up more of available (I'll have a few in the webstore shortly).

Of course we were all really hoping to have their brand new Cries the Mocking Mother Nature LP ready in time for this tour, sadly the vinyl gods have not blessed us, as it is not ready quite yet. We still hope to have it in your hands and ears before the year is up, so stay tuned because this LP is CRUSHING. Peep em live and get psyched! Dates are as follows:

Mon 9.19 • Pittsburgh, PA • The Rock Room
Tues 9.20 • Toronto, ON • Toronto Style
Wed 9.21 • Ottawa, ON • The Dom
Fri 9.23 • Montreal, QC • Varning From Montreal • Piranha Bar
Sun 9.25 • Cambridge, MA • ZuZu
Mon 9.26 • New York City, NY • Project Reach

And for you RVA locals ... next Richmond gig will be October 30th with Nightfeeder


That's all for now, thanks for reading and go see Destruct next week!!!!

Alex / Grave Mistake Records

New in the Webstore for 9/16/22:

SAVAGEHEADS "Service to Your Country" LP (Social Napalm Records)
It's been 17 years of hell waiting for this record to come out, but here it is. Savageheads from Boston follow up their their 2014 debut EP with this 13 song long player of thrashy pogo punk meant for anyone into toe tapping, fist pumping, or bedroom bouncing. Heavily influenced by the Partisans, Skeptix and the harder end of UK82, this album covers such topics as government intervention, military service, and other themes related to power and greed. PLAY LOUD.

POISON IDEA "Kings of Punk" LP (Portland Edition w/ Posters, Booklet) (TKO Records)
Out-of-print for nearly a decade, POISON IDEA's landmark 1986 debut album RETURNS in all its well-deserved glory. TKO RECORDS could not be more delighted to FINALLY be able to present this newly remasterd edition of "KINGS OF PUNK" : inarguably one of the most important Hardcore Punk LPs of all time. AND...for the first time since the original release, the impossibly rare friends and family "Portland Edition" version of "Kings Of Punk" has been faithfully reproduced for this reissue. At long last, all of us who weren't taking our lumps on the Satyricon dance floor back in '86 can now own a copy of the fabled "Portland Edition" without ransoming our firstborn to the dark forces of the Discogs marketplace. Each copy includes: -23" x 35" Black & White "Thanks" Poster; -23" x 29" 3-color "Band" Poster; -8.5" x 11" 16-page Lyric Booklet; -3.75" x 4.25" Black & White "Squeal Skull" Sticker. Housed in a wide-spine, full color direct-to-board printed LP jacket with spot varnish finish and craft interior, inside of a sealed 3 mil. poly outer sleeve.

YAMBAG "Strength in Nightmares" 7" (11PM Records)
Carrying the torch for the new post-now thats class cleveland, its YAMBAG. Giving that their name is from a UPSTAB song, it should give you a hint about what you are going to hear. Combine that classic clevocore sound with fastcore and then you've got the full picture. Returning with Strength in Nightmares, Yambag proves they are fastest band in hardcore punk right now.

LONG KNIFE "Curb Stomp Earth" LP (Beach Impediment Records)
The third chapter in the decade long existence of one of the most depraved Portland hardcore bands ever. If you know, you know, as LONG KNIFE has channeled and perfected the POISON IDEA sound, though if you pay attention to their catalog, you can see how they have evolved into their own beast over the years, making the PI comparisons trite. Every song on this record offers something different, whether it's keyboards, horns (yep), what sounds to be operatic gang vocals, or just straight up hardcore bangers. This LP still maintains the intensity, insanity, and aggression these maniacs are known for, though there seems to be a bit more melody thrown in under the chaos this time. The riffs, solos, bass licks and Colin's vocals/lyrics are just as awesome as ever. And of course, the lyrics are just as cynical, disturbing, and well written as we've come to expect. There is no slowing down for these guys and the Earth is ready to be curb stomped again and again with LONG KNIFE's fucked up pummelling songs for these fucked up times. Each record comes in a deluxe package - thick jacket, printed inner sleeve and a huge poster plus stunning cover art by Alina Radetsky.

MINOR THREAT "Try Not to Forget: Live 1983" LP (Vinyl Ink Records)
On the 2nd January, 1983 Minor Threat played the "555" Show at the 9.30 Club which comprised of Minor Threat, Faith and Marginal Man. This was the first time all 3 bands played as a 5 piece. Songs 1-17 are from Minor Threat's first set and shows what a powerful force they were. Songs 18-21 were recorded at the Lansburgh Center 29th March, 1983, where Minor Threat played with the Big Boys. It was pretty obvious the spark had gone and this was the last show Minor Threat ever played. This show was notable as it was the only time they played all 3 songs from The Salad Days 7".

DAMNED, THE "Singles Singles Singles Vol. 2 (1979-1980)" LP (Zero Thoughts Records)
Amazing collection of the second wave singles by the legendary early days UK punk rock heroes. Collected in this record are: "I Just Can't Be Happy Today", "The History Of The World - Part I", "Wait For The Blackout", "White Rabbit" and "There Ain't No Sanity Clause" 7"es. The sound has been remastered and it comes with a crazy detailed insert full of informations and pictures. What else can a Damned fan ask for?

ANGRY SAMOANS "Inside My Brain" LP (Queer Pills Records)
"Inside My Brain" is the debut record of the Angry Samoans, originally released in 1980. Rising from the ashes of VOM - a semi-serious venture including Gregg Turner and Metal Mike Saunders, both rock writers, and legendary rock critic Richard Meltzer - the Angry Samoans unleashed a torrent of hard-driving, brief, lyrically lucid songs that struck a tone both political and humorous. This synthesis of fun and anger became the foundation for an entire movement's musical voice.

V/A "Bloodstains Across Yugoslavia" Compilation LP (Bloodstains Records)
Bloodstains across Yugoslavia. 22 Tracks. Featuring Buldogi, Indust Bag, Kuzle, Lublanska Psi, Pankrti, Paraf, Pekinška Patka, Prljavo Kazalište, Problemi, and Termiti.

RAW NOISE "The Terror Continues" LP (Red Vinyl) (Back on Black Records)
Raw Noise is side project band by Dean of Extreme Noise Terror of raging Discharge inspired punk attack. This is a reissue of the debut album from 1999 and features the tracks from their 1990 debut 7"

RAMONES "Animal Boy" LP (Fanclub Pressing)
Animal Boy is the ninth studio album by American punk band Ramones, released through Sire Records on May 19, 1986. Animal Boy is a strong set, from Joey's throat-shredding vocals on "Somebody Put Something" to the closer "Something To Believe In" which is an endearing Ramones tune as proven by it's inclusion on many compilations. Dee Dee turns in an excellent if somewhat less-than-sincere vocal on "Love Kills." Joey writes a (probably) autobiographical verse in "Mental Hell" backed by an urgent, hard rocking riff. Richie's contribution is promising. And the record contains, perhaps, their most infectious tune in "Crummy Stuff," a simple 2 minute ditty with a chorus that begs for multiple, precious, back-up vocal harmonies. The other songs are equally strong. The production is a little lush with Joey's vox getting somewhat buried at times but the guitars are cutting & the synths are tasteful. It's a half step backward from it's predecessor and no where in the league of the first three records but those days are gone forever. Animal Boy may have been a disappointment in 1986 but in retrospect it stands as a solid entry in their stellar catalog.

MOTORHEAD "What's Words Worth? Recorded Live 1978" LP (Back on Black Records)
What's Words Worth? is a live album recorded on 18th February 1978 at a benefit organized by Wilko Johnson to raise money to preserve some William Wordsworth manuscripts. The Rolling Stones mobile had been hired to record Chiswick labelmates the Count Bishops, but they also recorded Motorhead's set. For contractual reasons, they were billed as Iron Fist & the Hordes From Hell. Includes an illustrated inner sleeve with a full note by Chiswick boss Ted Carroll.

INVALID "S/T" LP (Sorry State Records)
Invalid's cassette-only debut, Do Not Resuscitate, came out on their hometown label Cruel Noise Records early in 2020 and, for me, it was love at first listen. Invalid plays hardcore in the tradition of Black Flag's Damaged, deploying sophistication and craft not to show off, but as tools that allow them to go further and deeper as they exorcise their demons. Invalid's bulldozer intensity is the first thing that grabs you, but the great riffs and songs keep you coming back, every track containing an improbable hook like the martial chant of "Wake up / eat / shit" in "This Life," the primal howl of "wasting away" in the chorus to "Escape," or the instant-classic intro riff to "Stupid Pills." Fans of records like Direct Control's first 7", C.O.C.'s Eye for an Eye, and Unseen Force's In Search of the Truth are perhaps best primed to appreciate Invalid's punishing yet catchy and energetic style of hardcore. This self-titled LP contains all eight tracks from Do Not Resuscitate plus six new ones cast from the same mold. The first pressing of Invalid's self-titled LP is 500 copies with a black and white jacket, two-sided lyric insert, and 24"x36" poster insert.

PARANOID "Hardcore Addict" Tape (Paranoid Northern Discs)
Cassette version of 偏執症者 (Paranoid)'s 2016 EP. US exclusive version limited to 100 copies.

PARANOID "Cursed" Tape (Paranoid Northern Discs)
Cassette version of 偏執症者 (Paranoid)'s 2021 album. US exclusive version limited to 100 copies.

PARANOID "Out Raising Hell" Tape (Paranoid Northern Discs)
Cassette version of 偏執症者 (Paranoid)'s 2020 album. US exclusive version limited to 100 copies.

PARANOID "Heavy Mental Fuck-Up!" Tape (Paranoid Northern Discs)
Cassette version of 偏執症者 (Paranoid)'s 2018 album. US exclusive version limited to 100 copies.

PARANOID "Singles Collection 2014-2019" Tape (Paranoid Northern Discs)
Cassette version of 偏執症者 (Paranoid)'s The Singles Collection 2014-2019. US exclusive version limited to 100 copies.

PARANOID "Satyagraha" Tape (Paranoid Northern Discs)
Cassette version of 偏執症者 (Paranoid)'s 2015 album. US exclusive version limited to 100 copies.

Restocks for 9/16/22:

BURIAL "A Day on the Town" LP (White Vinyl)
CRASS "Penis Envy" LP
MINOR THREAT "Irving Plaza, NYC 1982" LP (White Vinyl)
POISON IDEA "Get Loaded and Fuck" LP
POISON IDEA "Record Collectors are Still Pretentions Assholes" LP
TEMPLARS "1118-1312" LP
V/A "Belfast Rock" Compilation LP (Splatter Vinyl)
V/A "The Decline of Western Civilization" Soundtrack LP