GRAVE MISTAKE RECORDS AND MAILORDER
Label Update - April 12, 2022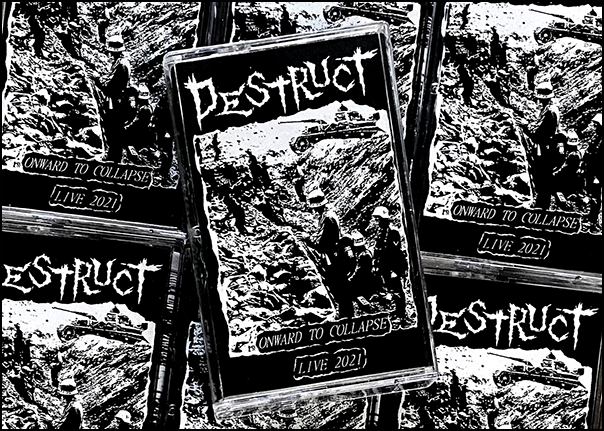 We have a few copies of the self released Onward to Collapse: Live 2021 tape from 

Destruct

 in stock now! A little something to hold everbody over until their second full length drops later this year on Grave Mistake (more detail on that in the coming months). This tape features nine pro-recorded live tracks, two of which are new and will be on their upcoming new LP. At the moment, we only have a handful of copies left but might press up some more in the near future, so if you don't feel like waiting then grab one ASAP.
The tracks are also now up at the 

Destruct

 bandcamp, so head over there and give them a listen.
Destruct

 will also be touring the East Coast with Canada's Absolut in June ...
Finally, a little webstore update preview of some killer new stuff that has come in since our last update! Grab these while you can:
V/A "Great Punk Hits" Compilation LP (w/ GISM, EXECUTE, CLAY) (Fanclub Pressing)
On side one of this compilation, GISM lashes out with their metallic thrash attack—with the accent on metal—and nasty vocals, EXECUTE do ripping thrash, and ABURADAKO cross thrash with the POISON GIRLS' quirkiness. On the flipside, LAUGHIN' NOSE have one Britskunk song and one that sounds Finnish, while the CLAY adapt the early DISCHARGE style, and G-ZET close out with a slightly more melodic and metallic UK assault. All in all, this album has excellent sound quality and some songs that'll knock you out. - MRR (June 1984)

D.N.A. "Discography" LP (Puke and Vomit Records)
D.N.A. was an early 1980s hardcore punk band from Skövde. They were among the notable pioneers of the classic Swedish Hardcore Punk sound of the time. The singer of D.N.A. , Nillen, was an original member of Anti Cimex. After Anti Cimex's 1982's "Anarkist Attack" EP the rest of the band all moved to Gothenburg, except Nillen who formed D.N.A. The PNV LP collects their classic recordings from the 80s including comp tracks and rare recordings. This is an intense LP of amazing flesh ripping raw Punk with elements of d-beat.

BREAKOUTS "Teeth in the Gears (Discography 79 to 83)" LP (Puke and Vomit Records)
Top-notch Punk Rock from SF, the PNV discography compilation features all the tracks from both of their collectable 7inches "In Vagueness Deal" (1979) and "Waiting for A Change / All We Wanna Do" (1980) plus the entire mind blowing "No More" (1983) mini-LP along with two unreleased tracks from the same era. The Breakouts were a powerhouse SF punk band known for lead singer Rudy Fontaine's awesome vocals and killer song writing. Their 1983 track "Junkies All Around You" was college and underground radio staple. They toured the USA with Italian Hardcore legends Raw Power in 85.

DESTRUCTORS "Exercise the Demons" LP (Puke and Vomit Records)
Available domestically for the first time in the USA on vinyl the debut LP from UK;82 punk band the Destructors, the album hit the Indie top 10 when originally released by Illuminated Records in 1982. This influential and popular UK Hardcore Punk band from Peterborough, England started out in 1977/78. By time the band started to release records they had fully embraced the 2 nd wave of UK Punk sound, the LP takes that heavy fast Punk UK 82 sound and adds stronger, more infectious melodies with some post- punk elements.

AB HJARNTVATT / DISACCORD "Tape Collection" LP (Fanclub Pressing)
ABH is a Swedish punk band from the Gothenburg region. Active between 1982 and 1984, this contains their Det Är Våra Hjärnor tape from 1983. Disaccord was a raw punk/HC band from Sweden. Active during 1980's. This collects their Don't Ask Me Why Tape from 1985. Both sides re-mastered in the u$a for best sound, not that mp3 you tube garbage. Two sides of killer Swedish punk/hc from the 80's!

AXE RASH "Contemporary Ass" 7" (Not for the Weak Records)
NOT FOR THE WEAK is proud to be handling the North American pressing of this nuclear assault from Sweden's powerhouse, AXE RASH. Following their 2019 Self-Titled LP, the band continues to enthrone their implacable sound, capsulated this time around in seven inches of merciless fire. "Contemporary Ass" is suffused with intricate, catchy, and powerful playing with vocals that spew out a beautiful array of vigorous disgust. For those familiar with the band's previous output, the Scandinavian inspired Totalitär sound will come as no surprise. Those who haven't had the pleasure, strap in and prepare yourself for a true ass kicking.
NABAT "1982" Tape (Foreign Legion Records)
Official reissue of the first Nabat demo from 1982 on cassette for the first time. I wanted to give stores the option of carrying an authorized release with much better audio than the crappy bootlegs floating around, and charge less than them.

SOCIETY'S BANE Demo Tape (Foreign Legion Records)
Totally ignorant oi-core from rural Alabama influenced by bands like Oxblood/early Sheer Terror. There's no melody, no nuance, and no where to go. Four songs of pure aggression.

CENOBITE 2022 Demo Tape (Foreign Legion Records)
Fast and loose hardcore from Chicago, influenced by classic USHC (Jerry's Kids, Life's Blood, etc) and noisier Japanese bands. Portuguese vocals about humanity's ascent to the stars to find an even lonelier existence. Members of Fuerza Bruta, Warrior Tribes, Riesgo, and Cidade Cemitério.

Recent Restocks:

BLITZ "Second Empire Justice" LP (Puke and Vomit Records)
Released a year after their much hearled debut album 'Voice of a Generation' , 'Second Empire Justice' features half the members from the original line-up and with a new sound. While initially being an Oi!/Skinhead Punk band, on 'Second Empire Justice' they not only changed members and their look but also their sound and released a Post-Punk classic with a heavy dose of Joy Division worship, produced by Chris Nagle. While Nagle had also produced their debut album, he had also engineered the Joy Division and New Order albums under Martin Hannett and had also engineered various other post punk albums of the day from the likes of The Durutti Column, A Certain Ratio and Magazine. Together the band and Nagle created a masterpiece while not appreciated at the time, especially by their original skinhead/Oi! fanbase. The album would go onto influence tons of post-punk/darkwave bands that sprouted from the ashes of punk/hardcore bands decades later and become one of the most sought after albums of the golden age of post-punk.. So sit back and listen to these beautiful moody haunting guitars, dancing basslines and emotionally fragile vocals all the while retaining a punk ferocity.

V/A "AK79" New Zealand Punk Compilation LP (Flying Nun Records)
Raw, unfiltered, shambolic madness. The vision to capture the Auckland scene began with Bryan Staff (Head of Ripper Records and Radio DJ at the time) who saw reason to capture the music coming out of the local punk venues of the time such as Windsor Castle and Zwines. Originally released by Ripper Records in December 1979, bands that featured on the original pressing included The Swingers, The Scavengers, The Primmers, Proud Scum, Toy Love and The Terrorways. The musical movement captured on record was an abrasive, empowered response to the overindulgent progressive rock and glam era of the 70s. The initial pressing, with its iconic black and white cover designed by Terence Hogan was limited to 500 copies, to be later reissued on vinyl and cassette through CBS. During the 40 years since AK79's first release, the record took on a life of its own. Those original 500 pressings became a rare and coveted collectors item, and somewhat of an "urban myth" on the vinyl market. December 2019 marks the 40 year anniversary of an important record in our lives, AK79. Within the grooves of this historical landmark compilation lies a connection to our musical whakapapa as New Zealanders and music lovers. A defining record, having captured a raw snapshot of the punk subculture in Auckland during the late 70s, this much-loved compilation is a living, breathing statement of what came before today. To mark this very special occassion, Flying Nun Records pays tribute to those ragged and rambunctious years by presenting the AK79 40th Anniversary Edition Reissue, featuring new liner notes written by Ripper Records' Bryan Staff, as well as all songs ever featured on any version of AK79 for a complete look at its recorded history. 40 years on, the spirit of the AK79 still packs a punch and the feeling captured in these recordings are as relevant as ever.
"The Day the Country Died: A History of Anarcho Punk 1980–1984" Book
The Day the Country Died features author, historian, and musician Ian Glasper (Burning Britain) exploring in minute detail the influential, esoteric, UK anarcho punk scene of the early Eighties. If the colorful '80s punk bands captured in Burning Britain were loud, political, and uncompromising, those examined in The Day the Country Died were even more so, totally prepared to risk their liberty to communicate the ideals they believed in so passionately. With Crass and Poison Girls opening the floodgates, the arrival of bands such as Zounds, Flux of Pink Indians, Conflict, Subhumans, Chumbawamba, Amebix, Rudimentary Peni, Antisect, Omega Tribe, and Icons of Filth heralded a brand new age of honesty and integrity in underground music. With a backdrop of Thatcher's Britain, punk music became self-sufficient and considerably more aggressive, blending a DIY ethos with activism to create the perfectly bleak soundtrack to the zeitgeist of a discontented British youth. It was a time when punk stopped being merely a radical fashion statement, and became a force for real social change; a genuine revolutionary movement, driven by some of the most challenging noises ever committed to tape. Anarchy, as regards punk rock, no longer meant "cash from chaos." It meant "freedom, peace, and unity." Anarcho punk took the rebellion inherent in punk from the beginning to a whole new level of personal awareness. All the scene's biggest names, and most of the smaller ones, are comprehensively covered with new, exclusive interviews and hundreds of previously unseen photographs.

"Burning Britain: The History of UK Punk 1980-1984" Book
As the Seventies drew to a close and the media declared punk dead and buried, a whole new breed of band was emerging from the gutter. Harder and faster than their '76–'77 predecessors, not to mention more aggressive and political, the likes of Discharge, the Exploited, and G.B.H. were to prove not only more relevant but arguably just as influential. Several years in the making and featuring hundreds of new interviews and photographs, Burning Britain is the true story of the UK punk scene from 1980 to 1984 told for the first time by the bands and record labels that created it. Covering the country region by region, author Ian Glasper profiles legendary bands like Vice Squad, Angelic Upstarts, Blitz, Anti-Nowhere League, Cockney Rejects, and the UK Subs as well as the more obscure groups like Xtract, The Skroteez, and Soldier Dolls. The grim reality of being a teenage punk rocker in Thatcher's Britain resulted in some of the most primal and potent music ever committed to plastic. Burning Britain is the definitive overview of that previously overlooked era.

"The Story of Crass" Book
Crass was the anarcho-punk face of a revolutionary movement founded by radical thinkers and artists Penny Rimbaud, Gee Vaucher, and Steve Ignorant. When punk ruled the waves, Crass waived the rules and took it further, putting out their own records, films, and magazines and setting up a series of situationist pranks that were dutifully covered by the world's press. Not just another iconoclastic band, Crass was a musical, social, and political phenomenon. Commune dwellers who were rarely photographed and remained contemptuous of conventional pop stardom; their members explored and finally exhausted the possibilities of punk-led anarchy. They have at last collaborated on telling the whole Crass story, giving access to many never-before-seen photos and interviews.

"The Primal Screamer" by Nick Blinko Book
A Gothic Horror novel about severe mental distress and punk rock. The novel is written in the form of a diary kept by a psychiatrist, Dr. Rodney H. Dweller, concerning his patient, Nathaniel Snoxell, brought to him in 1979 because of several attempted suicides. Snoxell gets involved in the nascent UK anarcho-punk scene, recording EPs and playing gigs in squatted Anarchy Centers. In 1985, the good doctor himself "goes insane" and disappears. This semi-autobiographical novel from Rudimentary Peni singer, guitarist, lyricist, and illustrator Nick Blinko, plunges into the worlds of madness, suicide, and anarchist punk. Lovecraft meets Crass in the squats and psychiatric institutions of early '80s England. This new edition collects Blinko's long sought after artwork from the three previous incarnations.