WEBSTORE UPDATE 04/10/19: New Releases from PRIESTS, SUPERCRUSH, URANIUM CLUB, SLANT, CONMEN, BLU ANXXIETY, and MORE!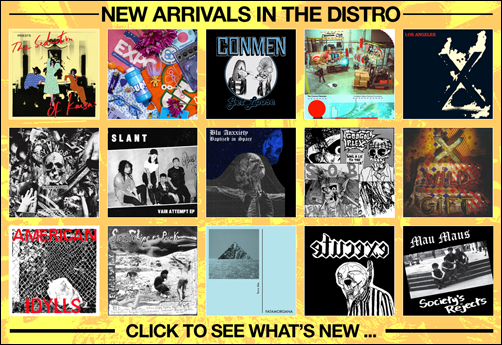 For quick browsing of recent additions to the store, you can check out all of these titles mentioned below in the New Arrivals and Recent Restocks sections!
Hey all! I wanted to get this update out last week, but unfortuantely couldn't make it happen. Sadly, our copies of the new
Diat
LP are already sold out, but working on getting a restock as soon as we can. In the meantime, here's a little recap of everything else that's hit the webstore over the past month.
Some quick news first - the
Red
Death
Permanent
Exile
LP has been repressed after being unavailable for about a year. We did a limited number on
Orange Vinyl
, and still have a few in the webstore so scoop one up if you need a copy! Red Death are doing a quick tour later this month, and you can peep those dates
here
. They will also be hitting Europe with
Cro-Mags
this fall!
Damaged City Fest
is this weekend in DC! As always, I'll have a table set up with some distro and other assorted goods. Some great bands playing, including
Hank
Wood and the Hammerheads
,
Screaming
Females
,
Night
Birds
,
Coke
Bust
,
Krimewatch
,
S.H.I.T.
, and many more - so come find me and say hi!
Big
Eyes
have a brand new LP out now on
Greenway Records
!! Working to get some copies for the GM webstore, but if you can't wait then hit up the Greenway site or grab one from the band on
tour
(which they are currently on this month).
Supercrush
have released their singles collection,
Never Let You Drift Away
, which features all of their tracks from their four singles (including the "Lifted" single on Grave Mistake) plus a couple bonus tracks - we have copies in the webstore now on LP and Tape, so pick one up!
With that out of the way, let's see what's new in the webstore for this month ...
New LPs from
Uranium
Club
,
Priests
,
Conmen
,
Zyanose
,
Supercrush
,
Fatamorgana
,
Protruders
, and an impressive North Carolina punk/hc 2xLP compilation
American
Idylls
, from our friends at Sorry State Records; new 7"s from
Blu
Anxxiety
,
Slant
, and
Gimmie
; a grip of killer reissues, including new ones from
Mau
Maus
and
X
(both their
Los
Angeles
and
Wild
Gift
LPs), some classic titles from
Chaos
UK
,
Infa
Riot
,
Chron
Gen
,
Pure
Hell
, and
Peter and the Test Tube Babies
, plus some rad fanclub releases like the
Execute
S/T 7",
Googol
Plex
/
SOB
split LP, and a restock of the
Screaming
Sneakers
7"! Also, a handful of rad demo tapes in this update from
Tired of Everything
,
Rolex
,
Humanoids
, and
Conscrpits
!
Also, got a HUGE batch of restocks in this update from
Tragedy
(their new
Fury
LP back in stock!),
Idiota
Civilizzato
,
Extortion
,
Dinosaur
Jr.
,
Negative Approach
,
Boston
Strangler
,
Forward
,
Warcry
,
L.O.T.I.O.N.
,
Spazz
,
Siege
,
Uranium
Club
,
Zero
Boys
,
Disclose
,
Gag
, and
MORE
!
Full list of all new titles (with descriptions) and restocks below!
Thanks for reading, hopefully I'll see some of you in DC this weekend!
Alex / Grave Mistake Records
New Distro Titles in the Webstore for April 10, 2019:
SUPERCRUSH "Never Let You Drift Away" LP/Tape
(KR Records)
For the past handful of years Supercrush has been employing a drip-feed approach to releasing new music. Every so often a new two song 7" single of power-pop excellence would appear out of nowhere.  And then all would go quiet until the next pair of gems inexplicably materialized out of the silence.  Here we have all four Supersingles, along with two previously unreleased bonus tracks, collected as one ten song release.  From the fuzzed-out guitars of 'Lifted' to the tasteful organ and glockenspiel accents of 'Walking Backwards' it's all here in one attractive package, with cover art featuring an eye-catching assemblage in the colorful style we've come to expect from Supercrush. The two bonus tracks were recorded in the winter of 2015/2016 as part of the same group of sessions that yielded the 'I've Been Around' and 'I Can't Lie' singles.  However, this pair of songs finds the band taking a temporary detour from the short and sugary simplicity of their superpop formula to explore a more spacey approach, recalling the shoegazing dreamy-ness of the outro of 'Melt Into You' from their first single, or perhaps even some of Mark Palm's work with his previous group, Modern Charms.  The closing track 'Rewind' especially demonstrates this different approach as it forgoes percussion altogether and utilizes mantra-like lyrical repetition and the juxtaposition of layers of chaotic noise, static, and feedback over a cyclical chord progression to bring this collection to it's cathartic conclusion.  Although, upon reaching that conclusion it's likely that the listener will find themselves echoing the lyrical sentiment of the final song: "I just want to start again from the beginning."  Luckily, in this case starting again is as simple as flipping the record and dropping the needle.
URANIUM CLUB "The Cosmo Club" LP
(Fashionable Idiots Records)
You're being urgently, naughtily rushed up the tallest, steepest stairs you've ever climbed. Smile cautiously as the Uranium Club welcomes you into their stinky apartment. You've been here before, right? Oh, that must have been some one else. Do you have a brother or sister? One of the members mumbles some deceptively eloquent bullshit as he hands you a drink. His lips are dark red and chapped; he looks really bad. But the drink is wet, and those stairs had been tall. Sit down, lean back, sip it. There's salt in it, some pulp, some pebbles. It rolls around your tongue, hides between your teeth, a perfectly TV-worthy combination of pleasure and mischief. Swallow it. But spit it out... Spit it out now! It's supposed to go into your ears! How crazy is that? Such a sensation of taste, transmogrified for the realm of sound? Is it Sprite, or is it... music? Careful, engaging, and dare-I-say theatrical vocals over hyper bass-and-drums while other boingy-boingy instruments puke all over it, all over the whole show. That's called synesthesia. Gentle lectures, dangerous storytime, eerie fast-and-slow nightmare riffs, and a taut, bound...  more
PRIESTS "The Seduction of Kansas" LP
(Sister Polygon Records)
Building off the precedent set by their previous LP, Priests are back with fireworks of noise and arresting melody. If Nothing Feels Natural felt like an album-length ode to possibility, then The Seduction of Kansas exists within the adventurous world its predecessor pried open. If Nothing was the reach and conviction of a band pushing beyond itself, willing itself into existence on its own terms, then Kansas stands boldly in the self-possessed space it carved. Its 10 pop songs are like short stories told from uncanny perspectives, full of fire and camp. They make up Priests' most immediate and musically cohesive record, a bracing leap forward in a catalog full of them.
CONMEN "Get Loose" LP
(Rock and Roll Disgrace)
The only LP of 2019 you'll want to own and easily the best straight up punk record to come out in ages. Boston's answer to the classic Good Vibrations label/irish punk sound collide with the angst and raw power of early ramones. tough, sweet and catchy as hell. if you already liked their 7" or demo well this fuckin smokes those, and you will not be disappointed. Members of waste management, siamese twins, and MFP.
FATAMORGANA "Terra Alta" LP
(La Vida Es Un Mus)
Formed in Barcelona in the summer of 2017, Fatamorgana sprang to life from the hearts and minds of Patrycja Anna Proniewska and Louis Harding. What began as a bedroom project of sorts (monophonic synthesisers, 4-track cassette recordings) the project soon blossomed into a functional live unit. Following a self-released cassette single at the start of the year, the pair spent the latter part of 2018 touring continental Europe and the west coast of North America. Recorded at Holyrook Estudio in Barcelona, Terra Alta is the group's first full-length effort. The verse-chorus songwriting, the raw set-up of 2-synths-and-a-beat, and the primal rhythms nod to the duo's background in punk. But Terra Alta has a pensive and mesmeric quality, provided in part by an outstanding production job (Studio AS One, Warsaw), but also by lyrics concerning themselves with themes of love, time travel, reflections on the future, the power of imagination and the mysteries of the natural world. If pressed for musical references the band could be pin-pointed somewhere between early DEPECHE MODE, YOUNG MARBLE GIANTS, THE HUMAN LEAGUE and a rounder around the edges BORGHESIA. Dreamlike synthesisers and echoed voices circle around danceable rhythms, inviting you to simultaneously contemplate and move your body. Allow yourself to be teleported from the majesty of Nature, to the glow of the discotheque.
POLO PEPO "San Felipe es Punk" 7"
(La Vida Es Un Mus)
San Felipe Es Punk is an anomaly in the history of punk. Overlooked at the time it was released by the international scene, this object contains the essence of Mexican underground rock in a couple of songs. We are not talking the fast, urgent and political hardcore punk most people think of when Mexico pops up in a conversation. This is different, this is what people with no relation to worldwide tape trading or specialized zines thought was punk. Polo Pepo came from the 60s hippie movement, survived the government repression of the youth during the 70's and 80s, and finally found in punk the true spirit of rock and roll. Embracing punk, he developed a unique sound with all the limitations an inhabitant of a third world country had. he songs don't talk about imminent nuclear war or Reaganomics. Instead "San Felipe Es Punk" is an ode to a poor neighbourhood in North DF where a strong music scene flourished alongside gang violence, alcoholism and drug addiction. Self-released in 1988 by Polo Pepo and Merced Belén Valdéz, co-author of the lyrics, the record became legendary among the collector and music-freak circles. And now finally sees the light again as a licensed reissue by Polo Pepo himself thanks to La Vida Es Un Mus. The record comes with an 8-page booklet, a recent interview with Polo Pepo and two archive pictures of the man himself.
PROTRUDERS "Poison Future" LP

 
(Feel It Records)
"After four self-released cassettes, Montréal's premier art-punk/neo-proto-punk band Protruders makes its vinyl debut with a 25-minute 12-inch of very groovy sounds. The sound is a bit clearer and maybe a little beefier—some of the noise gives way to a more relaxed and expansive approach. The psych quotient is higher. But the heart of the band is still beating for the sort of raw open-minded non-generic punk that once came from the likes of Rocket From The Tombs, Swell Maps, Dead Moon, Dancing Cigarettes, etc. "Fruit Hang" has a perfect mid-70s style garage feel—like a Boston pre-punk band tearin' it up at the Rat! This could be the hit, kidz! Skronky sax gives "Hydrophytol" a kinda Hawkwind/no-wave feel. And dig "No Stone"—a slower one, catchy as hell—I swear it could pass for an outtake from the Saints circa 1978. Solid—another hit! At five minutes, the title track stretches things out a bit. This one has a definite Ubu/Voidoids vibe—nasty angular spazz-punk with a little more sax blat added. Very nice guitar stuff happening here. We get some weirdo HC action on "Stabilizer" and more hot guitar squiggles. "Tax 101" is maybe a "typical" Protruders song—that means good! "Wrong Way Sign," pushes things over the six-minute mark, with a strong psych-punk feel (Wipers?) and some totally swell rock-jam stuff at the end. Wow. This record is a significant step for the band and an impressive way to start their vinyl career as they gain the higher visibility they deserve. Most excellent!" -Eddie Flowers (Vulcher Magazine/The Gizmos)
V/A "American Idylls" 2xLP  (NC Punk/HC Compilation)
(Sorry State Records)
93 releases into its catalog, Sorry State Records is finally releasing its first compilation, American Idylls. Following in the tradition of regional compilations like This is Boston, Not LA, or Dischord Records' Flex Your Head, this carefully curated collection is a snapshot of one corner of North Carolina's punk and hardcore scene circa 2018. The double-LP features new, exclusive tracks by ISS, Public Acid, Fitness Womxn, Scarecrow, Davidians, Natural Causes, Concussion, Cammo, Vittna, Crete, Essex Muro, Oxidant, Drugcharge, Silica, Das Drip, DE( )T, Mind Dweller, No Love, and Skemata, and is packaged in a beautiful, silk-screened jacket (art by Thomas Sara) with a 32-page booklet documenting the past year of North Carolina's DIY punk scene. Limited to 360 numbered copies.
BLU ANXXIETY "Baptized in Space" 7"
(Toxic State Records)
Baptized In Space is the debut 7" single of NYC's Blu Anxxiety, who are fresh from dropping their first cassette, God's Exposure, a little over a month ago. That demo introduced the band's self-proclaimed "Dark Freestyle," (take the doom and gloom of classic Post-Punk/Goth music and slap it with the dancefloor-ready infectiousness of Freestyle) which plays as a natural progression from frontman Chi Orengo's previous project, Anasazi. While they stood monolithically as one of the most unique and exciting (especially their fiery live show!) contemporary post-punk bands, this new style of sound allows him to really go full force and release the beast and let his charisma and his, well, BEING take this performance to whole new heights. I know I say this every single time Toxic State releases a record, but the label has really outdone itself with the printing of this EP…it looks incredible!! This is an exciting new chapter indeed! Highly recommended. -Adam / Material World
SLANT "Vain Attempt" 7"
(Iron Lung Records)
Hyper-urgent and super pissed US style hardcore played by members of SCUMRAID and BLOODKROW BUTCHER with a cleaner than expected delivery given the pedigree. Tight, passionate and driven music that goes for the throat. Crew oriented but singularly realized. Not to be trifled with.
ZYANOSE "Chaos Bender" LP
(Distort Reality Records)
A new 8 track 12" from Zyanose with the insane noise and intensity you have come to expect from these legendary Osaka noise masters. Side B is beautifully etched with the iconic "Noise Philia Cruster" design.
TASHME "S/T" 7"
(High Fashion Industries)
The theory goes that if punk is the escapism, then hardcore is confrontation. Both strains are firmly rooted in the same rejection, but where punk lampoons or parodies, hardcore kicks and screams and claws. Tashme embodies this latter camp, with each song its own ugly, snarling, guttural howl, packaged in and complemented by the ever-haunting artwork of Mexico's Yecatl Peña. This genius debut outing is a must have hardcore record for any collection that channels the fury of latter-day Spanish heavyweights like Destino Final and Glam and mixes it with the skin-crawling genius of citymates Kremlin. - Ralph (Not Normal Records)
GIMME "Waiting to Die" 7"
(Self Released)
Killer hcpunk from Florida!
MAU MAUS "Society's Rejects" LP
(Sealed Records)
21 track singles round up from one of the UK`s first wave of Hardcore Punk bands, the Mau Maus. They were formed in Sheffield and in the early 80`s they released a string of hard hitting EP`s on the Pax and Rebellion labels. Including Society's Rejects, No Concern, Facts Of War and Tear Down The Walls, all of which hit the UK Indie Top 10. This set includes all the tracks from those four singles plus Give Us a Future from the Punk Dead – Nah Mate, The Smell Is Jus Summink In Yer Underpants Innit Compilation on Pax. Each track is a prime example of fury delivered with intensity and passion. The LP comes with a A4 Booklet of lyrics, reviews and archive.
EXECUTE, THE "S/T (A-Z)" 7"
(Fanclub Release)
Reissue of classic Japanese hardcore band EXECUTE debut flexi as hard vinyl.
GOOGOL PLEX / S.O.B. Split LP
(Fanclub Release)
Paring of raging & ultra fast 80's Japanese HC/thrash bands. Collects: Googol Plex (Hardcore punk band from Hiroshima, Japan) 1- 8 Nail A Lie To The Counter! 7" (Kagaimousou Records, 1987 ); 9-10 V.A. / Hang The Sucker Vol.1 7" ( Kagaimousou Records, 1988 ); 11-14 Live at Quest in Hiroshima (Previously unreleased, 1988 );  3 live tracks. Sabotage Organized Barbarian or S.O.B - formed in 1983 in Osaka, Japan, S.O.B. are highly regarded as one of the leading pioneers of Japanese hardcore and grindcore. Includes their "Leave Me Alone" 12" (1986) and "Thrash Night" 7" (1989). Fanclub release. Import.
X "Los Angeles" LP
(Fat Possum Records)
A reissue of X's essential debut album originally released by Slash in 1980, and the first in a series of X reissues on Fat Possum. Ranked # 286 on Rolling Stone's list of the 500 greatest albums of all time.
X "Wild Gift" LP
(Fat Possum Records)
A reissue of X's essential second album originally released by Slash in 1981, and the second in a series of X reissues on Fat Possum.
PURE HELL "Noise Addiction" LP
(Beat Generation Records)
Beat Generation presents a reissue of Pure Hell sole full-length album, recorded in 1978 but not released until 2006. In 1974, on the streets of Philadelphia, a band unlike any other was formed. They called themselves Pretty Poison. They had a sound so ahead of its time that the music industry was not yet ready for it. They coupled the punk sound of the New York bands of the time with a harder, faster heavy metal edge unheard before. Their unique sound was a result of Kenny Gordon's berserk choreography and Preston Morris's needling guitar riffs, while Steel and Spider added synchronized barrage with no nonsense execution to the arsenal. Inspired by the famous fuel-altered dragster, they changed their name to Pure Hell in 1975. Soon after, they moved to New York City where they played with bands like the New York Dolls, Sid Vicious, Wayne County and the Electric Chairs, The Dead Boys, The Stimulators, Richard Hell, The Germs, The Nuns, The Cramps and more. In 1978 Pure Hell headlined a tour of the UK, with bands like the UK Subs, Wilko Johnson, Vermilion & the Aces and more opening for them. While in the UK, their only original record was released. It was a single released by their manager Curtis Knight on his label, Golden Sphinx Records. The songs on the single were "These Boots Were Made for Walking" and "No Rules." The single charted in the top 40 charts in the UK. During the same year, a full length album was recorded but was never released. It did not surface again for 28 years. Limited edition of 500 copies.
INNUMERABLE FORMS "Punishment In Flesh" Tape
(Iron Lung Records)
Massachusetts based death metal force INNUMERABLE FORMS have completed their much anticipated devastating debut LP "Punishment In Flesh". Formed in 2007 by mastermind Justin DeTore (Wound Man, Mind Eraser, Dead Black), a veteran of the Boston hardcore/power violence scene, as a solo project to bring forth a vision of doom-ridden, dark brutal death metal with the spirit of the early '90s. Since inception INNUMERABLE FORMS have already generated quite the cult following over the years with their live shows supporting a repertoire only consisting of the "Dark Worship" 7"EP, a split with Blessed Offal, and the "Frozen To Death" comp cassette. Now with "Punishment In Flesh", INNUMERABLE FORMS will harness the authentic feeling of true death metal doom, darkness, and fury with total disregard for the scene today. With DeTore pretty much handling mostly all instruments himself on previous INNUMERABLE FORMS recordings, "Punishment In Flesh" sees DeTore assemble a full band lineup. INNUMERABLE FORMS on "Punishment In Flesh" include DeTore (vocals/guitars), his co-writing partner/guitarist Jensen Ward (Iron Lung), guitarist Chris Ulsh (Hatred Surge, Power Trip), bassist Doug Cho (The Rival Mob), and drummer Connor Donnegan (Genocide Pact).
TIRED OF EVERYTHING "Silenced" Demo Tape

 
(To Live A Lie Records)
The very first oferring of this brand new band featuring To Live A Lie Records kingping at his first dedicated role on vocals. Additionally the band is filled out with overly competant musical members from Salmonella, Mad Dog, and Zipper. Tired Of Everything have produced six stomping fist pumping hc punk anthems that spin you up and get you pissed at the world. Hardcore punk less for those who like clean haircuts and moshing but more for those who like dirtier punker side of things. It sounds like if youth crew needed to take a bath.
CONSCRIPTS Demo Tape
(Demo)
Blazing new HC outta MPLS.
ROLEX "L" Tape
(B.L.A.P. Tapes)
Newest tape from this Cali hc band
HUMANOIDS "I See You" Tape

 
(B.L.A.P. Tapes)
Newest tape from this Cali hc band
RED DONS "Genocide" 7"

 
(Man in Decline Records)
Red Dons return with their 10th vinyl release and their first new music since the 2015 LP, "The Dead Hand of Tradition". From numerous tours to past collaborations with venerated punks like TV SMITH (THE ADVERTS) and JESSE MICHAELS (OPERATION IVY), the Red Dons have proven that a band can continue to accomplish a great deal despite growing life obligations and even when its members scattered all over the world. Now in their 11th year as a band, the Red Dons have established a formula of dark, driving punk rock with catchy melodic hooks and the songs on this 7" deliver on that tradition. Genocide nods to early-Southern California punk (e.g., Dangerhouse Records, Agent Orange) with its downstroked mid-tempo rhythm, layers of subtly distorted guitars, and anthemic chorus; however, as Red Dons has done in the past, they are able to evoke the reference without aping the style. Letters is slightly slower with the bass driving the bouncing music under Doug's signature vocal melodies. If you are familiar with Red Dons, then the quality of the songwriting on this release will continue to fulfill expectations. If you are just now discovering the band, then you will be both pleasantly surprised and baffled that they such an amazing punk band has escaped your attention before now. Man In Decline Records counts Red Dons as one of our favorite bands and we are excited to collaborate on this release.
BURNING KITCHEN "Det Langtande Djuret" LP

 
(Man in Decline Records)
Sweden's Burning Kitchen were instrumental during the '90's in developing a melodic punk sound that would influence a whole generation of Scandinavian bands that followed ranging from MASSHYSTERI and GORILLA ANGREB to current up and coming bands like ARTIC FLOWERS and VANNA INGET. After a decade-long hiatus, the band reformed and recorded eleven new songs of some of their strongest material, as if the band picked back up and no time had passed. In 2014, Man In Decline Records issued a 35 song 2xLP discography, which compiled all of their pre-break up material and provided old fans with never before heard songs while introducing a whole new generation of fans to their socio-political style of punk. With a new LP and the 2xLP vinyl pressing of the "Many Wonder…" compilation, Burning Kitchen is as vibrant today as they were in their first inception. Perhaps most importantly, their friendships and the politics on which they are based are still as relevant today as they were over 20 years ago. "Punk rock n roll against state control"
RULETA RUSA "Viviendo Una Maldicion" LP

 
(Sorry State Records)
It's been nearly five years since Ruleta Rusa released Aqui No Es, their debut LP for Sorry State, but if you think they've slowed, mellowed, or otherwise slipped off their game you are sorely mistaken. If anything, they're harder, faster, and punker on Viviendo Una Maldicion than they were on Aqui No Es, as perfectly exhibited on Viviendo's furious opening track, "No Hay Paz." Elsewhere on the album you get a similar mixture of classic Spanish punk, US hardcore, and second-wave UK punk that you heard on the band's previous releases, but everything feels a little more direct and a little rougher around the edges. Oh, and dig the show-stopping pair of Paralisis Permanente covers that close the album! In a word, Ruleta Rusa have gotten better... the tougher parts are tougher, the catchy parts are catchier, and they've delivered what is (to date, at least) the crowning achievement of their discography. Limited to 300 copies.
NO LOVE "Choke On It" LP

 
(Sorry State Records)
No Love's explosive debut LP, Choke On It, has been simmering in a centrifuge and wastes no time hurling potently packed punk rock nuggets at the listener. Clocking in 13 songs at 21:12, it's a furious listen. To quote Daniel, "We're vicious editors. It's like we write in a subtractive method, gradually removing everything that feels cliche, boring, or otherwise less than 100% awesome until the songs are distilled down to their essence." This "all killer, no filler," approach whittles away the straightforward Circle Jerks foundation, and layers Die Kreuzen-esque skittering leads that marathon like Death Side solos – all with the tightly-wound discipline of Minor Threat. Couple that with malaise over bad television: "Feed me those dripping words / Those saccharine lines that make me wanna hurl / My body gets wider / My brain gets duller / But I need the drama / Like I need water." Put that in your pressure cooker and smoke it. At this point, the punchy cover of local breakouts ISS's "Back Taxes and Anaphylaxis" is just gravy.
CHAOS U.K. "Chipping Sodbury Bonfire Tapes" LP
(Radiation Records)
1989 album officially re-released. This is the last record with Mower singing and it's still a kicki-in-your-face-album. Pure raw U.K. hardcore that'll blow you away.
CHAOS U.K. "Floggin' The Corpse" LP

 
(Radiation Records)
Formed in 1979 near Bristol, Chaos UK are a classic group of the early '80s British hardcore scene who released several records on the legendary 2nd wave of British punk label, Riot City Records. Floggin' the Corpse is an amazing archival release collecting previously unreleased tracks and 10 great live cuts recorded in 1983, the same year as the band's debut release. Brutal and unrelentingly fast hardcore from one of the greatest groups of the UK scene.
CHRON GEN "Chronic Generation" LP

 
(Radiation Records)
On vinyl, here's a reissue of the 1982 debut-LP by street punk unit Chron Gen, which formed in 1978 in Letchworth, Hertfordshire. The band debuted in 1981 with the classic 'Puppets Of War' EP and was part of the infamous 'Apocalypse' tour (also 1981) along with Discharge, Anti-Pasti, Anti-Nowhere League and The Exploited. For genre addicts 'Chronic Generation' is an essential title.
INFA RIOT "Still Out Of Order" LP

 
(Daily Records)
Limited edition vinyl reissue of the classic debut album by Infa-Riot, originally released by Secret Records in 1982!. This album spent four weeks in the UK albums chart, reaching number 42, and is a certified Street Punk classic. This repress includes lyric inner bag and a full-colour A3 poster!.
PETER AND THE TEST TUBE BABIES "Pissed and Proud" L
P (Radiation Records)
Formed in 1978 in the sleepy Brighton suburb of Peacehaven, Peter & The Test Tube Babies are one of the most legendary bands of the first wave of UK Oi! and punk. Known for their sarcastic, tongue-in-cheek lyrics and explosive live show, the band has been rocking stages for nearly 4 decades and are still going strong. Pissed & Proud, originally released in 1982, is their debut full-length album. They had previously released numerous singles and compilation tracks, but this live album - recorded in Hammersmith, Wood Green, and their original stomping ground, Brighton - was their biggest release yet. Not many bands debut with a live album, but for Peter & The Test Tube Babies, who were at that point legends for their live show, it made perfect sense. Essential UK Oi! reissued on vinyl, enjoy P&TTTB at their rawest, wryest best.
MAXIMUMROCKNROLL #431 - April 2019
(MRR)
OUT NOW at a supermarket checkout stand near you: the scandal-packed second-to-last issue of Maximum Rocknroll! All the latest tawdry punk gossip from your favorite columnists, the usual packed review section with the latest records, books, demos, zines, and punk movies, PLUS: Cruising through the brittle reality of life in a broken colony with TERRY; Portland, Oregon noise merchants LEBENDEN TOTEN; raw punk mania from Finland's YDINASEETON POHJOLA; from Brazil, a scene report from Belém in the Amazon region, and melancholic post-punk from COMPLETERS. Not enough for you? We catch up with Navajo punks WEEDRAT, bratty anarcho sounds from Australia's UBIK, feral QUEEN superfans CHILD'S POSE from London, pessimistic Russian hardcore from CENTRAL, and Italian punks IMPULSO. That's not all! MRR cub reporter Mitch Cardwell digs behind the scenes of the production of the CRIME documentary, San Francisco's first and only rock'n'roll movie. Additionally, we hear about the DIY ethos of Chicago's Not Normal label. Ever wonder what it's like for a Scottish teenager to bring her dad's past-it thrash band on tour? Find out in the BRATAKUS/SEDITION Japanese tour diary. If that's not enough, freak out on the eye-bleeding photo spreads from Karoline Collins and David Carcerán. There will only be one more print edition of MRR after this. Can you afford to pass this up?
Restocks for April 10th, 2019:
COKE BUST / DESPISE YOU Split 7"
DEVIANT "Loading the Gun" 7"
DOOM "Police Bastard" 7"
EXOTICA "Musique Exotique #3" 7"
FUERZA BRUTA "Somos el Mal" 7"
G.L.O.S.S. "Trans Day of Revenge" 7"
IDIOTA CIVILIZZATO "La Vita Silenziosa" 7"
NEGATIVE APPROACH "10 Song" 7"
NO COMMENT "Live On KXLU 1992" 7"
SCREAMING SNEAKERS "Marching Orders" 7"
SHEER MAG "I" 7"
SHOGUN AND THE SHEETS "Hold on Kid" 7"
WARCRY "Drone" 7"

4 SKINS "The Good, The Bad and The 4 Skins" LP
ASOCIAL "Religion Sucks" LP
BOSTON STRANGLER "Outcast" LP
CHAOS U.K. "Short Sharp Shock" LP
CHRIST ON PARADE "Sounds of Nature" LP
DINOSAUR JR. "Glimpse of What Yer Not" LP
DINOSAUR JR. "I Bet on Sky" LP
DISCLOSE "Tragedy" LP
EXECUTE, THE "Greatest Punk Hits (Collection Vol. 1)" LP
EXTORTION "Degenerate" LP
EXTORTION "Sick" LP
FIX, THE "At the Speed of Twisted Thought" LP
FORWARD "Just Go Forward To Death" LP
FORWARD "War Nuke & Death Sentence" LP
GAG "America's Greatest Hits" LP
IDIOTA CIVILIZZATO "s/t" LP
L.O.T.I.O.N. "Digital Control and Man's Obsolescence" (UK Pressing) LP
NEGATIVE APPROACH "Tied Down" LP
SIEGE "Drop Dead" LP
SPAZZ "Crush Kill Destroy" LP
SPAZZ "Dwarf Jester Rising" LP
SPAZZ "La Revancha" LP
TORSO "Sono Pronta a Morire" LP
TRAGEDY "Fury" LP
URANIUM CLUB "All Of Them Naturals" LP
URANIUM CLUB "Human Exploration" LP
WARCRY "Not So Distant Future" LP
WARCRY "Savage Machinery" LP
ZERO BOYS "Vicious Circle" LP
ZOUNDS "Can't Cheat Karma" LP