GRAVE MISTAKE RECORDS AND MAILORDER
Webstore

 

Update

 • February 17, 2023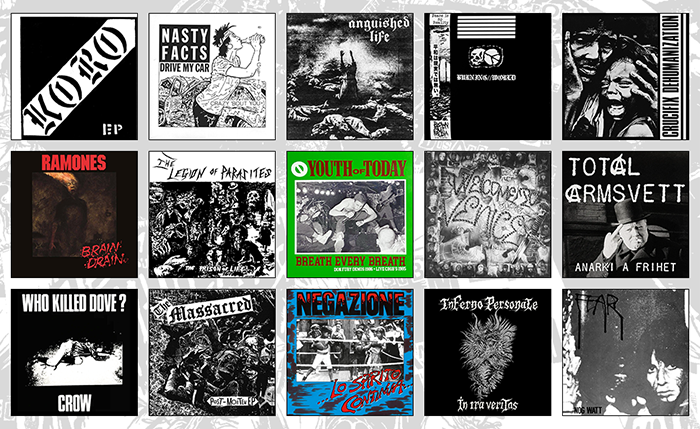 For quick browsing of recent additions to the 

store

, you can check out all of these titles mentioned below in the New Arrivals and Recent Restocks sections!
Greetings all! Wanted to send out a brief 

webstore

 

update

 before the month is over ... we've have a good amount of reissues, fanclub pressings, and restocks come into the 

webstore

 this month, including a long overdue repress of the legendary Koro 700 Club 7", an official reissue of the Nasty Facts EP (in 12" form this time), a few copies of the official reissue of Crucifix's classic Dehumanization LP that came out a few years back but we were slack on stocking, a couple of new Ramones LPs including a fanclub repro of their Brain Drain full length; we've got a few awesome fanclub collections from the UK's Legion of Parasites and Sweden's Total Armsvett (pre-Disarm), a couple of sick French punk and Oi compilation reissues (Apocalypse Chaos and 1984: First Sonic World War), and some nice rarities and live LPs from Siouxsie and the Banshees, The Clash, Nirvana, Misfits, Undertones, and Joy Division!
On the new release front, we got a couple of sick new titles from Anguished Life and Burning/World which you should definitely check out for that good raw hcpunk stuff.
We also had a few new titles sell out quick like the Youth of Today Don Fury Demos / Live LP, Warsaw Demos LP, and Legal Weapon reissue on Radiation - but have no fear as we have restocks already en route and they should be landing early next week so keep your eyes on the 

webstore

 or the GM instagram page, where we post 

updates

 in (pretty much) real time.
And don't forget, some gems from our last 

update

 like the Crow, Nog Watt, and Negazione reissues, plus the new releases from The Massacred, Inferno Personale, and more!
We also got a huge batch of assorted Grave Mistake band stickers printed up, every order gets some! Fun stuff.
That's all for now, peep the full list below!!! Thanks for reading!
Alex / Grave Mistake Records
New Titles in the 

Webstore

 for 2/17/23

KORO "700 Club" 7" (Sorry State Records)
Sorry State is excited to bring you a repress of one of the best hardcore records ever, Koro's 1983 7" EP. Originally released in a small, self-released pressing, over the decades this monster's reputation has continued to grow, and collectors now have to fork over well over a grand for an original pressing. This one is too good for the scum to keep to themselves, though, a hyper-compact explosion of energy that can hold its own next to any landmark early 80s hardcore punk record you want to compare it to. Sorry State's 2023 pressing aims to replicate the original look and feel of the original as closely as possible, with an offset-printed sleeve on legal size paper. It's as close as you can get to the original without missing a mortgage payment.

NASTY FACTS "Drive My Car + 2" LP (Left for Dead Records)
Finally a proper reissue of this KBD classic!! What we have here is an official 12" version of Nasty Facts' sole three song EP from 1981. Features the remastered ep in its entirety plus a bonus poster repro and liner notes. The original 7" fetches around $200-300 these days, and for good reason; not only are these three tracks the only known recorded material from the band, but they are fuckin great!!! Catchy and gritty power-pop-punk-rock-n-roll!!!! First pressings of this reissue sold out fast, but we were able to grab a few of this repress (ltd. to 400 on black vinyl). These will disappear quick I'm sure of it, so grab one while you can!!

CRUCIFIX "Dehumanization" LP (Kustomized Records)
Dehumanization is the only full length album from the band Crucifix. Recorded in 1983, it is considered a classic American hardcore album and a landmark of anarcho-punk. Dehumanization delivers a raging critique of war, violence, displacement, and the decimation of human rights and human dignity—themes at once global in scope and also completely endemic to Reagan-era America. The intensity of this message is matched only by the intensity of the sound: a heavy minimalist construction built on brutal guitar riffs, low-end distortion, hardcore fury and teenage speed. It is an album of pure raw power, a hot blast of personal and political outrage and musical adrenaline. Fusing California hardcore with metal and second wave British anarcho-punk, Crucifix carved out their own highly distinctive wall of sound on this release. Ignoring the rules of punk purism in favor of a well produced huge guitar sound, the album preceded much of the hardcore metal crossover of the mid-80s and played an influential but often unacknowledged role in the punk and metal subgenres that followed. "Annihilation," the album's opening track, has become iconic. Quoted often, it's been sampled by Orbital and covered by A Perfect Circle and Sepultura.  The original vinyl version of Dehumanization was released on the Crass Records offshoot label Corpus Christi in the UK, and has been out of print since the 1980s. This new Kustomized rerelease has been carefully remastered from an original vinyl source and adheres closely to the audio quality of the original. In addition, the six-panel foldout poster sleeve has been reproduced in its entirety. Taken together, the words, music and graphics of Dehumanization form a complete work and a resonant and enduring document of the period.

SUBVERT "A Simple Solution to a Complex Problem" 7" (Janku Land Records)
"A Simple Solution to a Complex Problem" was recorded by JACK ENDINO in '87 and released only as a cassette. The tape caught some attention in the underground, and connected SUBVERT with bands like POISON IDEA, FINAL CONFLICT, THE ACCUSED, CHRIST ON PARADE, and eventually made their way into PUSHEAD's top 100 of the 80's. This 7" is the new remastered version of the Demo Tape and includes an additional Instrumental song "Noxious Tune" from the same session, which has never been released on vinyl until now. The cover is a reworked version of an early Subvert logo with original art by NEKO CASE.

CONFLICT "It's Time to See Who's Who" LP (Color Vinyl) (Radiation Records)
30th Anniversary deluxe reissue of a classic of the UK anarcho punk scene. Originally released in 1983 by Corpus Christi, this is the Radiation Records version that also includes the "The House That Man Built" legendary 7" released by Crass Records in 1982.

ANGUISHED LIFE "Promo" 7" Flexi (Blown Out Media)
3 tracks on promotional flexi discs for a 10-track vinyl 12-inch record due in 2023. Limited to 150 copies.

BURNING/WORLD "Peace is No Reality" LP (Blown Out Media)
"And now it is finally in stock, uncompromising D-BEAT RAW PUNK ~ Scandinavian HC ~ CRUST Super Specialized Label, the latest release delivered by BLOWN OUT MEDIA, D-BEAT RAW PUNK fundamentalist new group BURNING //WORLD from New Jersey in the United States 2022 45 rpm 1st album!! The 2020 limited edition 50 1st cassette became a big topic among fanatics, and this work follows the 2021 EP that was recorded as it should! Even if a style that has already been imitated many times and fallen into a state of cannibalism, if it is born with a thorough and uncompromising attitude, I think it is very rare that it will regain its novelty again, but isn't this BURNING //WORLD album just that? The perfect early DISCLOSE Worship of Noisy D-BEAT RAW PUNK heard on the demo EP is now more amplified by its nihilistic horror, and this group of songs that push through with thoroughly laid-down noise and disturbing and hopelessly heavy riffs are obvious to those who are fanatics, including me, though they haven't done anything new! It can not help but feel the same thing that DISASTER, which was influenced by DISCHARGE, gave an impact that surpassed DISCHARGE at that time, a D-BEAT RAW PUNK CLASSIC following works such as NO FUCKER, DISPOSE, DISEASE, which combined the destructive power of DISCHARGE "WHY" and the blackness of Canada DECONTROL while under the influence of DISCLOSE, is now here, limited 300 copies!!" -Jacky at Revenge Records

ISS "Spikes+" LP (Sorry State Records)
Spikes+ is an expanded edition of ISS's pandemic-themed 2020 cassette, whose uniquely packaged, self-released edition came and went before most anyone could hear about it. With some of ISS's best songs—like the anthemic title track, the unexpectedly touching "Cellmate," and the blistering "Facemask"—Sorry State couldn't bear to let Spikes pass as a mere blip in the zeitgeist. Besides the five tracks from the original Spikes cassette, Spikes+ includes "Puttin' on the Blitz" from 2016's Studs cassette, 2018's self-titled 7" on Sorry State, ISS's three tracks from 2019's American Idylls compilation, and the 2020 single Too Punk for Heavy Metal. Highlights abound here too, from the cowbell-infused "One-Sided Triangle" to the Agent Orange-inspired lead guitar on "I Wanna Be Dated" (courtesy Scarecrow's Jeff Leppard). Like the best odds-n-sods compilations, Spikes+ sounds great whether you're revisiting old favorites or making new ones.

V/A "Welcome to Venice" Compilation LP (Fanclub Pressing)
Welcome to Venice is a compilation album that features local Venice Beach crossover thrash bands. It was originally released in 1985 on Suicidal Records and then reissued and remastered on cd in 2017. Of the bands on the release, two feature Mike Muir on vocals (SUICIDAL TENCENCIES and LOS CYCOS) and the other three all later released albums on Suicidal Records (BEOWULF, NO MERCY and EXCEL).

TOTAL ARMSVETT "Anarki A Frihet" LP (Fanclub Pressing)
Collection of demo material from this band who later evolved into 80s Swedish hardcore band Disarm. "This Fan Club LP collects 20 tracks from the 80s Swedish hardcore band Total Armsvett. After releasing the handful of cassettes compiled here, Total Armsvett changed their name to Disarm and released two of the best, most punishing Swedish hardcore punk records ever… records that stand toe to toe with other classics from their time and place like Anti-Cimex, Crude SS, Mob 47, and Shitlickers. While you can hear some development over the course of Anarki A Frihet's 20 tracks, it's also clear that Total Armsvett knew what they wanted to do from the start: play raw, feral, Discharge-influenced hardcore with maximum noise, intensity, and brutality. By the end of this collection (which, if I understand the liner notes correctly, are songs recorded after they changed their name to Disarm, but were written during the Total Armsvett phase of the band) the production is more dialed-in and the playing a hair more adept, but the focus on pummeling hardcore never shifts. No funk, no death, etc. While this Fan Club collection doesn't feature the extensive packaging we expect from legit reissues, the sound is excellent and the record just steamrolls you from start to finish." - sorrystaterecords.com

LEGION OF PARASITES, THE "The Prison of Life" LP (Fanclub Pressing)
The 1985 full length LP plus bonus tracks! In 1981, three lads in Pavenham, Bedfordshire, aged 14 to 17 decide to form a punk band. They soon discover Crass and the burgeoning anarcho-punk movement and this influences them both politically and musically. In 1982 they record seven tracks and release it as a cassette titled Another Disaster and later that year another five tracks are recorded with two of the tracks appearing on the highly successful 1983 Pax compilation Bollox to the Gonads Here's the Testicles alongside Flux of Pink Indians, Dead Kennedys etc. The same demo tape gets them two tracks on each of two American compilation albums: Compulsory Overtime (Diesen Records) and Empty Skulls Vol. 2 (Fartblossom Records). By now interest in the band is snowballing and they record six more songs that appear on Colin Jerwood's (Conflict/Mortarhate) new label Fight Back as the Undesirable Guest 12″. The record was a huge success and Colin asked them to record a song for the compilation: We Don"t Want Your Fucking War. Their track "Sea of Desecration" became probably their best known song. In spring 1985 the band recorded an album. Unfortunately they had no way of paying for it. After discussions with Red Rhino and the Cartel who suggested the band set up their own label — which they promised to bankroll — Prison of Life was released on Trash Records in autumn 1985.

MOTORHEAD "Live at the Manchester Apollo 1983" LP (Mortal Shock Records)
Recorded live during 'Another Perfect Day' tour at Apollo, Manchester, UK on 10th June 1983. Excellent quality soundboard recording with recently improved sound. - This is another top performance by Motorhead at the top of their game, ten tracks to prove once again why they were kings among men.

PIG SWEAT "Don't Panic" LP (Agipunk Records)
Straight forward in your face hardcore punk from this fresh band from Bern, Switzerland. Pig Sweat will bring you back to 1981 Washington DC or Boston with their direct blend of hardcore. They sharpened their knives after their amazing debut self-titled LP released in 2020 and are gonna rip you with these ten tracks of absolute relentless aggressiveness. Edition of 300.

RAMONES "Brain Drain" LP (Fanclub Pressing)
Most people ignore the Ramones' later work for one reason or another. The most likely reason is that the boys themselves play relatively few post-1979 songs in concert. In the case of BRAIN DRAIN this turns out to be a mistake, as it's the album most evocative of the classic Ramones sound since SUBTERRANEAN JUNGLE."Merry Christmas (I Don't Want to Fight Tonight)" and the cover of "Palisades Park" are so lavishly produced that they could have been outtakes from the Phil Spector sessions (though minus the negative karma that accompanied that time period). "Don't Bust My Chops" finds the Ramones revisiting the crunchy guitar sound of the mid-'80s albums, only with better hooks this time around. "Zero Zero UFO" returns the boys to familiar goofball territory and "All Screwed Up" keeps them there.

V/A "Apocalypse Chaos" Compilation LP (Euthanasie Records)
Originally released by CHAOS PRODUCTIONS back in 1982. This french Oi!/Punk compilation includes REICH ORGASM, NO PUB, KOMINTERN SECT and KIDNAP. Great compilation. Included lyrics and posters inside.

V/A "1984: The First Sonic World War" Compilation LP (Euthanasie Records)
"This French sampler contains a wide variety of punk styles—classical, garage, thrash, skunk (big in France), and drum-machine/synth punk (which the French seem to have cornered the market on). HUMAN BEING and HEIMAT weigh in with some choice thrash, and there's lots of other good stuff from R.A.S., ELECTRONAZE, LES CADAVRES, the SUB KIDS, and a dozen more. Tres bien!" - Tim Yo / MRR 1984

UNDERTONES "Peel Sessions 1978-79" LP (Fanclub Pressing)
The first 3 sessions The Undertones recorded for the BBC present the Irish masters of Punk Pop at the peak of their game, energetically going through an unbeatable set of classics any band would kill for. Recorded for the show of one of their biggest fans and supporters (no wonder they were one of John Peel's favorites after listening to this songs), this collection proves again The Undertones where unstoppable when it came to mixing the frenzied out energy of punk rock with the melodic sensibility of the best 60's pop. A must!

CLASH, THE "Burn Down the Suburbs - Live at the Palladium 9/21/79 FM Broadcast" LP (Color Vinyl) (Dear Boss Records)
Live at the Palladium 9/21/79 FM Broadcast

MISFITS "We Bite - Live at Irving Plaza 1982" LP (Suicidal Records)
Live at Irving Plaza 1982. TRACKLIST: Demonomania / Hate Breeders / 20 Eyes / Night Of The Living Dead / Mommy, Can I Go Out And Kill Tonight? / Skulls / Vampira / London Dungeon / All Hell Breaks Loose / Horror Business / We Bite / I Turned Into A Martian / Devils Whorehouse / We Are 138 / Halloween / Attitude / Queen Wasp

JOY DIVISION "That'll Be the End: Live at the Ajanta Cinema 4/19/80" LP (Mind Control Records)
Joy Division – That'll Be The End: Live At The Ajanta Cinema, Derby, UK, April 19th, 1980

RAMONES "Blitzkreig '76 - Live in Boston" LP (Fanclub Pressing)
Few Ramones bootlegs (especially from the early years) have the quality of "Blitzkrieg '76". The band play virtually the whole of their debut album, only missing 'I Don't Wanna Go Down to the Basement' and 'Loudmouth.'

SIOUXSIE & THE BANSHEES "Paradise in San Francisco 11/26/80 FM Broadcast" LP (Dear Boss Records)
Siouxsie and the Banshees , live at California Hall on November 26th 1980. FM broadcast.

NIRVANA "Hollywood Rock Festival 1993 - US TV Broadcast" 2xLP (Color Vinyl) (Loco Motion)
NIRVANA "Hollywood Rock Festival 1993 - US TV Broadcast

NIRVANA "Live at Hollywood Underground Club, Seattle 12/28/88" LP (Mind Control Records)
Live at Hollywood Underground Club, Seattle 12/28/88. BLEACH era!

Restocks for 2/17/23

ACTION PACT "Mercury Theatre on the Air" LP
ANTI "I Don't Want to Die in Your War" LP
BLACK FLAG "Damaged with Dez" LP
BLITZ "The Killing Dream" LP
CARBONAS "S/T" LP
CHAOS UK "S/T" LP
CRYPTIC SLAUGHTER "Speak Your Peace" LP (Color Vinyl)
ESKORBUTO "Eskizofrenia" LP (Color Vinyl)
FLUX OF PINK INDIANS "Not So Brave" LP
JOY DIVISION "Live at Town Hall, High Wycombe 2/20/80" LP
MARKED MEN "On the Outside" LP
MIA / GENOCIDE "Last Rites for Genocide and MIA" LP
MINOR THREAT "Irving Plaza, NYC 1982" LP
NEWTOWN NEUROTICS "Beggars Can Be Choosers" LP
NISSES NOTTER "Det Ar Krig" LP
PETER AND THE TEST TUBE BABIES "Pissed and Proud" LP (Blue Vinyl)
PLUGZ, THE "Electrify Me" LP
RAMONES "Pleasant Demos" LP
RAMONES "Pleasant Demos" LP
REICH ORGASM "S/T" LP
SAMHAIN "Final Descent" LP (Orange Vinyl)
SIRKKA "Viivyttely" 7"
SLAPSHOT "Greatest Hits, Slashes, and Crosschecks" LP (Color Vinyl)
STOOGES, THE "Fun House" LP
V/A "Bootboy Discotheque Vol. 1" LP (Clear Vinyl)
VATICAN COMMANDOS "Hit Squad for God" 7"
VATICAN COMMANDOS "Point Me to the End (plus Bonus Tracks)" LP (Yellow Vinyl)
YOUTH OF TODAY "Breath Every Breath: Don Fury Demos 1986 & Live CBGB's 1985" LP