GRAVE MISTAKE RECORDS AND MAILORDER
Webstore Update - September 17, 2020
Here we are with yet another MASSIVE Grave Mistake Webstore update / recap! Apologies that these past couple of updates are so jam packed; our last one of these was back in May and, as expected, a lot more new stuff has hit the webstore shelves over the past few months. Going to try and get these email updates out a bit more frequently as we close out 2020. For now, hopefully you can make it through until the end because there are so many killer new additions and restocks in here, I'm postive you'll be able to find something to pick up.
Before I get into that, I want to send a sincere thank you to everyone who placed an order during our summer sale! It's so incredible to see the response when I do these label sales and to see orders filled with both new and old Grave Mistake releases. While I'm appreciative of every single order placed in the webstore, it means a lot to see people interested in the label's output over the past 18 years! I also tried to load orders up with a bunch of extra goodies, so hopefully you are happy with your order!
We have a couple of represses of some out of print titles in the works as we wrap up 2020, the first one of those will be available before the month is up so stay tuned! Hoping to have a few more bits of news before the year is up, but for now we'll just leave it here...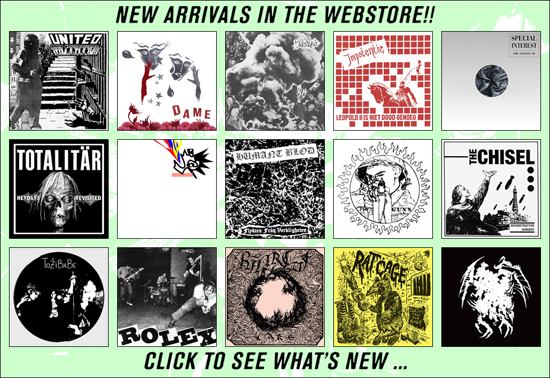 For quick browsing of recent additions to the store, you can check out all of these titles mentioned below in the New Arrivals and Recent Restocks sections!
Let's start with some current hardcore punk happenings from right here in Richmond! 11PM Records has dropped 5 new vinyl slabs on us this summer - two of which just came out this week! We've got the brand new 7" from Richmond's Haircut and a debut 7" EP from LA's Rolex out this week, and if you missed the Big Laugh 7", Loss Prevention 7", and Cadanexo LP that came out a few months back - be sure to scoop them ALL! We also have the latest release from our pal at Beach Impediment Records - the first long player from Boston's Dame! And if that wasn't enough, Vinyl Conflict released the debut LP from Richmond favorites Gumming at the beginning of summer - do not sleep on that!
A steady stream of new hits have poured in from the UK thanks to our good friends at both La Vida Es Un Mus and Quality Control HQ over the past few months. From LVEUM, we've got new EP's from Barcelona, Irreal, The Chisel, Kohti Tuhoa, and Regimen de Terror, plus new LPs from Rat Cage and Sial; QCHC brings us LP's from Fuse, Vile Spirit, and a rad 12" from Masterpiece Machine.
Roachleg Records out of NY dropped a slew of killer hcpunk on us recently as well - including a couple of rad LPs from Subdued and Impotentie! We've also got the brand new LP from Special Interest LP on Thriling Living, who also brought us two killer 7"s from Sniffany and the Nits and CB Radio Gorgeous a few months back - all of which deserve your attention. Other great new releases of note include the debut 7" from Humant Blod, the latest 7" from legends Totalitar, the U.N.I.T. LP, debut 7" from CA's GUNN, the latest LP from Tokyo's Life, and much much more!
And last but not least, a TON of killer reissues and fanclub collections / represses have hit the store lately - most noteworthy being the incredible United Mutation discography LP. Do NOT sleep on getting this, you are going to regret it big time when it sells out (for a second time) and you find yourself empty handed! It was compiled and released by Radio Raheem, so you know it's going to be a top notch reissue! For you Japanese hc/punk afficianados, we picked up some cool fanclub collections from the likes of Kuro, Mobs, Poison Arts, and the Pinch and Ouch compilation (which features Gai, Kuro, and more!); we also stocked up on a rad Tozibabe anthology LP, and fanclub pressings of the classic first three TSOL 12"s! Let's see, what else ... finally grabbed a couple of copies of the incredible 4xLP Husker Du box set on Numero; some new domestic US pressings of some UK classics from Blitz, Partisans, Icons of Filth, and Disorder, all courtesy of Puke and Vomit; a brand new pressing of the essential power pop reissue from The Shivvers; Newtown Neurotics singles collection LP and a rad Rudimentary Peni 7" single from Sealed Records; a reissue of the debut 1978 single from San Francisco's The Nuns; a double LP discography from NY's Citizen's Arrest; plus a TON of staples from Ramones, Bad Religion, and Misfits!
Damn ... that's a LOT of stuff! And that isn't even everything! Not to mention the lengthy list of restocks; always trying to keep the best modern day releases along with a slew of classics and essential punk releases in stock... we've got full lists below so be sure to see if you need anything you may have missed!
If you made it this far - thank you very much for reading and for all of your support especially in 2020! Couldn't do this without you!
Alex / Grave Mistake Records
New Titles in the Webstore for 9/17/20:
UNITED MUTATION "Dark Self Image" LP (Radio Raheem Records)
Originally founded in 1980 under the name Dark Self Image by brothers Jay and John Fox, United Mutation sprang from musical influences most hardcore punks either ignored, or denied knowing existed. The dementedly tranquil sounds of The Grateful Dead, the lysergic space rock of Hawkwind, and the complex arrangements of the ultimate anti-hippie Frank Zappa were some of their favorites, but when local punk bands started to pop out their own self-financed vinyl, it inspired them just as much — if not more — as those rare bits of strangeness major labels would release from time to time. Informed in equal parts by self-released singles from their local favorites the Teen Idles and _ Japanese, the band came upon their own unique sound which combined the breakneck pace of hardcore with a frantic and cathartic take on psychedelia. In 1982 United Mutation entered celebrated D.C. punk recording studio Inner Ear to lay down two sessions, the first with their original lineup of the Fox brothers, vocalist John "Monk" Harding and drummer Sean Sumner, followed by a second session for the Outside Records compilation "Mixed Nuts Don't Crack", featuring new vocalist and former Dark Self Image drummer, Mike Brown. 1983 saw the band return to Inner Ear to record their debut 7" E.P. "Fugitive Family", a split release between Dischord Records and the band's newly minted D.S.I. label. "Fugitive Family" is the most well-known of any of the band's output, due to perhaps the inclusion of the Dischord logo on the back cover, or the sheer mind-blistering assault of the six tracks contained on the original record. This LP compiles all of the aforementioned recordings — 26 tracks total, 6 of which are previously unreleased — all faithfully restored from the original master tapes at Inner Ear for maximum aural freak out. Also included is a 24-page full-color booklet chock full of the band's politically-tinged xerox collage artwork, housed in a gatefold sleeve featuring more of the same. We're proud to call this the definitive collection of early United Mutation material!

DAME "S/T" LP (Beach Impediment Records)
At long last, as a follow up to the 7 on the band's own Charm School label a few years back, we are granted the debut 12" by Boston's DAME. Though currently spread out geographically, the quintet were able to capture these modern classic tracks of post punk / gothic brilliance at Side Two Studios before the world turned upside down on us all. Equal parts melancholic and haunting, these seven tracks permeate the deepest corners of your psyche, refusing to vacate for quite some time. Each record comes in a full color jacket along with a fold out 24" x 24" poster insert, both of which feature art by guitarist Anna Cataldo."

HUMANT BLOD "Flykten Fran Verkligheten" 7" (Desolate Records)
5 tracks of full speed kang punk from the best in the game. Members of Totalitar, Extended Hell, Brainbombs, Question, etc.
SPECIAL INTEREST "The Passion Of" LP (Thrilling Living Records)
Special Interest have returned with their sophomore LP. A dual release from Night School (EU) and Thrilling Living (US), "The Passion Of" combines elements of glam rock and no wave pushed through a mangled filter of contemporary electronic forms. Special Interest present a precise and deranged vision of punk, an apocalyptic celebration, a step forward into a perverse and uncertain landscape.

HAIRCUT "Cake" 7" (11PM Records)
With their third EP in three years, HAIRCUT returns with CAKE their newest offering on another local RVA Label, following up after stellar releases on FEEL IT RECORDS and BEACH IMPEDIMENT. Pairing catchy riffs with catchy lyrics, this is the most to-the-point Haircut release yet, where they join their already established sound with a newfound simplicity. Definitely one of the best bands from Richmond's never-ending roster, HAIRCUT is completely relentless with these six tracks. If you like hardcore like then you definitely need CAKE.

ROLEX "S/T" 7" (11PM Records)
Coming in from California, ROLEX returns with their debut 7 inch offering now on 11 PM RECORDS. Vicious and untamed; Rolex has created a new breed of hardcore punk that is true to their LA roots, with influences from JFA and Mystic records; but contains the same poison that is behind DIE KRUZEN and CHEETAH CHROME MOTHERFUCKERS. ROLEX is far from your average mindless hardcore punk and brings in riffs and songwriting which owes as much to THE MINUTEMEN as it does surf rock; all with seething lyrics of vitriol and poetry. These ten tracks were previously released on 5 cassingles (R-O-L-E-X) and are now re-recorded and compiled on a 7 inch. ROLEX fuses art and hardcore together in a way not heard before and is truly worth a listen.

KURO "Collection" LP (Fanclub Pressing)
This record compiles Who The Helpless 8", Fire 7" EP, Pinch and Ouch Compilation tracks, Kuro flexi, 1983 Gig phono sheet flexi, Revival of Death CD tracks. This collection brings together pretty much all of Kuro's discography, leading off with the peerless Who the Helpless EP. If you're into 80s Japanese hardcore, you should school yourself on Kuro, and if you need a lesson, this LP is a fine place to get it.

U.N.I.T. "What's It All For?" LP (Torn Light Records)
"Hailing from San Antonio and Houston, Texas- The U.N.I.T. return with their kick to the teeth 12" record, "What's It All For?". After nearly 3 years since their last release (Demo II), multiple shows and tours, they have arrived at their loudest and most steely statement yet. Years in the making has brought us to this existential grip of dense, impulsive and unbending brevity chopped into catchy hooks and 86 mentality-like stomp proportions that leave you no time to breathe. It's a dust devil, it's lunacy, it's an array of no bullshit and straight to brass tacks style hardcore leaving you no anticipation- just the clasp of maniacal waves that it throws at you. The statement of these songs is delivered with absolute urgency. Pat's voice is sheer on top of pummeling riffs that are relentless through and through. Unhinged hardcore in a time of six's and sevens is exactly what we need. Texas hardcore delivers and graces us once again." - Monty C

RAT CAGE "Screams From The Cage" LP (La Vida Es Un Mus)
Like a steel girder to the forehead, incomes SCREAMS FROM THE CAGE. 19 minutes of brutally up front and relentlessly rowdy hardcore punk, that slams a firm British stamp on the classic Swedish Hardcore blueprint. This wrecking ball sits somewhere between the 80's Hudiksvall sounds of MISSBRUKARNA, the damaged NO FUTURE confessions of THE PARTISANS and the sheer rock and roll audacity of the SKITKIDS. Back to back riffs that'll stick to your brain like the glue at the bottom of your bag and steaming drums blasts that'll plough through your skull like a juggernaut driven by a maniac high on amphetamine. Mylo Oxlo provides the artwork once again, perfectly capturing the claustrophobic animosity of the Rat's latest 12 song romp and rampage. Fittingly dropping on the year of the Rat while the Tory's take a strangle hold of the U.K for another 4 years. Hold onto your seat, feel the burn and don't you dare turn this fucker down.

BARCELONA "Residuos del Ultrasonido" 7" (La Vida Es Un Mus)
Over three years ago the band Barcelona entered the studio to record what was originally planned as a double LP. As the genius that they are, they managed to record around 25 minutes of their trademark "extremo Nihilismo" sound. A high concept sonic vomit somewhere between CRO MAGNON, ISKRA, NO TREND and PETRA DE FENETRA. Comfortably sitting on the crossing between hi-brow conceptual art and low-brow delinquency. In the intersection where the EXPLOITED meet the Incus catalogue as if Tony Oxley and Ian Brighton were jamming with Wattie and Big John. The recording was eventually (and conceptually it seems) split into two records. The first one being "Un Último Ultrasonido Nació Y Murió En Barcelona" (MUS138, 2017) and the second one "Residuos Del Ultrasonido" released now a mere three years later. Loads could be written about the painful process between both records but let's just focus on the recording and be clear: Residuos pisses all over its predecessor. The songs are full of spite and power with the level of vileness reaching new levels on this eight track 7" EP. Listen to Higiene or Salvajes and tell me they are not some of the best Barcelona songs ever. As always, artwork taken care by Oriol Roca, a person I look forward to never hearing from again.

CHISEL, THE "Deconstructive Surgery" 7" (La Vida Es Un Mus)
Explosive new music from The Chisel bringing the edifying and restorative powers of the great British folk tradition back to the table for a staggering next pint. Just when you thought you were fucking full, your mouths been winched open and gallons of shards of broken glass guitar, thick bass, and burning howling bilious guts gets poured down your maw. The speed of UK82, the terror of punk, the solid mass of Oi!. Like a bar stool breaking through a bus stop, there'll always be THE CHISEL. (Jonah Falco)

IRREAL "2020" 7" (La Vida Es Un Mus)
Barcelona's IRREAL return with a new 5 Track EP of more short sharp hardcore shocks. Recorded on a 23F, the anniversary of the frustrated coup d'état in Spain, the record was originally intended to be released for IRREAL's European tour that just cancelled. The five bursts of savage hardcore on 2020 are influenced from MELLAKA, DISCHARGE and the more troglodyte end of NYHC and follow the path laid down by DESTINO FINAL. Wild and brute heavy riffing that is equal part hard hitting punk and mosh inducing mayhem that proposes the Total Dissolution of the System.

KOHTI TUHOA "Ela Totuudesta" 7" (La Vida Es Un Mus)
Finland's Kohti Tuhoa return with a brand new 5-track EP! Picking up where they left off with their highly acclaimed 2019 album Ihmisen kasvot, this Helsinki 4-piece bring you another relentless piece of wax full of raw and catchy hardcore punk. Much like Kohti Tuhoa's previous recordings, Elä totuudesta (Live the truth) EP has a strong classic-Finnish-hardcore feel to it, but it also shows the band breaking with tradition and bringing in more experimental elements in the closing track "Vesi virtaa". Thematically the EP revolves around personal struggles and gender equality with the powerful vocal work underlining every word, even spotlighting problems within the punk scene.

REGIMEN DE TERROR "Inherente Del Poder" 7" (La Vida Es Un Mus)
If you live your life like music stopped after the first three DISCHARGE EPs - Realities of War, Fight Back and Decontrol then this debut five track EP from REGIMEN DE TERROR is a must. It has the intensity, passion and authentic sound like it was recorded in 1979 in four hours in a cheap studio in Stoke on Trent. A barebones recording with a clear debt to MG-15, SUBVERSION and EU'S ARSE in full opposition of over produced modern D-Beat.

SIAL "Tari Pemusnah Kuasa" LP (La Vida Es Un Mus)
Singapore's SIAL return with another wave of destruction and their 3rd release on LVEUM. They've truly found the perfect balance of melody, noise and aggression while still putting great emphasis on the political aspect of hardcore punk that's always spitting hate towards the power that corrupts. The music and song writing can be somewhat ambiguous to some listeners who have devoted their life to the classic raw hardcore punk format, but this record shouldn't be left out- it carries the same cathartic punk experience. References point being THE COMES, LEBENDEN TOTEN or Perdition era DISORDER. SIAL has always been using strong malay metaphors and proverbs in their lyrics, and more in this release to stress how important the Malay language is to them in expressing a structure that is broken in this modern capitalistic world. 'Tari Pemusnah Kuasa', which translates to 'The Revolt Dance' or ' Dance of The Power Crusher', delivers a sense of mysticism and empowerment. This uncompromising attitude is what we need in these trying times.

TOTALITAR "Heydays Revisited" 7" (Fight For Your Mind Records)
FIGHT FOR YOUR MIND Records presents Swedish Hardcore Punk veterans delivering 5 songs recorded in the late 80's with different versions and mixes of already existing songs.

IMPOTENTIE "Leopold II is Neit Dood Genoeg" LP (Roachleg Records)
Impotentie is an Oi! hybrid with lyrics sung in Flemish, likely to bring the most suburban Herbert out of push mosh retirement. Comparable to Reich Orgasm and might fit perfectly on Chaos En France compilation if it was 83'. With members of Omegas, Thee Nodes, Secretors, Proxy etc.

SUBDUED "Over the Hills and Far Away" LP (Roachleg Records)
Subdued from London is one of the most authentic bands going in contemporary punk music, reminiscent of dark 80's UK legends Amebix and other anarcho acts of the time. This is anti-war music that will really make your calloused heart feel again. First 100 available with alternate hand screened sleeve. All include a 16-page booklet.

BIG LAUGH "Manic Revision" 7" (11 PM Records)
Milwaukee youth brings the fire and fury on their first record, Manic Revision. Sharing as much influence from Boston bands such as SSD and DYS and power violence bands such as Heresy and Infest; Big Laugh blends Hardcore and Punk in a way that is truly original and unprescendented. Big Laugh does not try conform to either genre, yet weaves the two together in an uncompromising fabric. First pressing out of 300 with 100 on crystal clear.

LOSS PREVENTION "Shoot to Kill" 7" (11 PM Records)
Straight from Kansas City, Loss Prevention returns with their follow up seven inch, "SHOOT TO KILL", after a great surprise demo was released last year. Inspired by recent KC bands like BETA BOYS and NO CLASS as well as classic Hardcore Punk like AMDI PETERSON ARME and JESUS AND THE GOSPEL FUCKERS, Loss Prevention takes a breakneck approach to Hardcore Punk with three words: "SPEED, SPEED, SPEED" These four tracks are relentless, careening and moving like a runway train. 300 first press records with 100 on yeller with printed inner sleeves.

CADENAXO "Lenguas Podridas" LP (11 PM Records)
10 spicy hardcore truths, sharp and simple like a bean Tlacoyo, with a good salsa guajillo and fresh nopalitos on top. Cadenaxo is just another intense flavor you can find in the streets of the big Tenochtitlan, Mexico. This monster of a city full of surreality and contrasted universes, has so many secrets, scenes, bands, characters, so many worlds in its self, makes anyone feel lost, disconnected and overstimulated in the noisy daily struggle. A band swinging from the outskirts of this saturated reality, Cadenaxo rule the place with their manic sound without knowing it, they bring people together, people listen, people slam. Hard workers like no others in town, Cadenaxo is known for their no bullshit mentality, extremely good riffs and spicy sing along vocals. This Maxi single has been many years in the making; finally it comes out on the 12" format for your immediate consumption. Now, would you want that for here or to go? -Eduardo Vaca

GUNN "Peace Love & Heavy Weaponry" 7" (Going Underground Records)
At long last the debut ep from Orange County's G*U*N*N is here! 5 tracks of vicious hardcore punk, raw and wicked.

LIFE "Ossification of Coral" LP (Desolate Records)
3rd full length from Tokyo's amazing crasher crusties LiFE. 13 tracks of their classic UK crust inspired raw noise. From crushing to catchy, sprawling and metallic to fast and aggressive. This is LiFE at their best. As always anti nuke, peace crusties offering hope and a message to respect and save the natural world. Released internationally by Desolate Records (US, Americas), Not Enough (EU), Acclaim Collective, Distro Rakkos, and Punk Bastard (Japan).

DROPDEAD "Demos 1991" LP (Armageddon Label)
This LP compiles the first and second demos plus one compilation track all recorded in 1991. Raw primitive versions of songs that the band started with and slowly developed into tracks for the early EPs and first LP, plus a couple relevant covers. Some of these tracks are still played at live shows today in 2020 almost 30 years later. Demo one has 17 songs recorded at WRIU live to reel to reel and has been restored by Kurt Ballou at God City. Demo two has 8 tracks recorded on a home 4 track, original unmixed master cassette given to Chris Corry at the Paincave to restore. Several on this tracks were never before released. The final track is a completely Hellhammer style version of the outro to Kiss' Black Diamond recorded for a local Providence Kiss covers cassette, many years later it was included on a vinyl 8" record that accompanied Rocktober Magazine issue 22. All in all a rough, noisy & raw document from the early days released on vinyl for the first time.

HURAÑA "Brujas, Cholas E Inventadas" 7" (Iron Lung Records)
Hailing from the southern-most state of Chiapas, HURAÑA seems to have appeared overnight with a fully realized vision of wonderfully off center scrappy punk with echoed vocals, punchy drums and richly layered guitar work in the vein of moodier DEAD KENNEDYS songs, without all the silliness. There is a healthy dose of irrepressible hardcore power on here too. We get the feeling there isn't a whole lot of punk music coming out of this region of Mexico but HURAÑA could very well be the spark to ignite an exciting new scene. The certainly have the power, quality and message. Seven mindstickers altogether including a cover of the VULPESS' hit "Me Gusta Ser Una Zorra" which will only be available on the vinyl version of the EP. Always loved that song and definitely do it justice.

ALL HITS "Men and Their Work" LP (Iron Lung Records)
After a head warping intro "Men And Their Work" kicks into eight driving postpunk rockers full of angst, confidence, feminism, melody, grit and a sense of direction not commonly found in a debut album. Shit, most seasoned bands don't even make albums this coherent. It's a smart moniker as ALL HITS certainly lives up to the promise. There is a 60/40 split of familiar comfort and provocative mystery inherent in every song. You get shouted sloganeering backed with barbed melody and finessed  power-ups massaged into the sweetest spots. We can't put our finger on exactly what it is that makes this record so special but whatever it is there is a lot of it.  Destined to be a modern classic. Destined to be a modern classic. So much so, that Rough Trade has deemed it their "Record of the Week" for June 26th. Lovely.

CAGES "A World In Song" LP (Iron Lung Records)
A statement from Nola Ranallo: "I was in an abusive relationship in which I endured for several years. Overwhelmed and reinforced, my mind deteriorated. I was declining in an infinite cycle I allowed. My brain had ceased from processing logic. To many others around me, I did not appear recognizable. I felt trapped in a tiny space. No one could find me, hear me or help me. I disappeared. I could not help myself. On May 8 2018 I took my own life. Anoxic for nearly 20 minutes. I experienced clinical death. My heart stopped. I was placed in a medically induced coma for close to a week. On life support, intubated. My body, in a hypothermic state. A punctured lung, unstable vitals and in hospital contracted pneumonia. It was not determined whether I would wake from my coma or not. In my death experience I heard music. The music initiated life. I returned to this life. "A World In Song" is the music I heard in the velvet blue tunnel with tiny stars. Translucent figures of light reaching out to me, bright cloaks, thin fingers, smiling warmly, singing to me, holding me safe inside their song. The intention of this release is to provide great love. "A World In Song" transformed tragedy and overcame it. The music built me. I have experienced a test of a person's true character, one's will to live. I want people to realize that we each affect each other. I would like to share my resilience to inspire other people. Now is not the time to hide. It is time to share so that I can reach you. You who are contemplating ending your own life. I hope to wake you from your sleep. Wake others who judge from fear or ignorance. Wake others who hurt others. Ignite a new path with the force of music. I intend on using my story to serve as a turning point for those who listen and consider. Through "A World In Song", we were able to work together like a family to create the most important and beautiful music of a lifetime. I have hope that people all over the world will open themselves to this music, more importantly open a new path within themselves. I hope for all to wake up and transcend."

GELD "Beyond the Floor" LP (Iron Lung Records)
Across 10 songs and a handful of instrumentals, Melbourne's GELD demonstrate a concerted progression from their previous work; raging incendiary hardcore collides with nightmarish bad trip wanderings in a swirling maelstrom of tightly marshaled chaos. The fast parts are faster, the slow parts slower, the weird parts weirder. The vicious thrashing punk of songs like "Invader" and "Infra" come in at a little over a minute; a wild joyride reminiscent of the Japanese Burning Spirits bands alongside Cleveland's infamous '90s hardcore scene. Meandering hallucinogenic badness meanwhile emanates from "Gedankenfleisch", "Forces At Work" and "L.O.W.A.G. II", injecting the record with a terrifying sense of drug paranoia and psychological dissolution bringing to mind STICKMEN WITH RAYGUNS, FLIPPER or POISON IDEA. Purportedly undertaken as something of an exorcism, the writing and recording of 'Beyond The Floor' was characterized by "pills, meth, booze, weed, DMT, hate, betrayal, fear, love, depression, addiction, denial and broken bones".

KOBRA "Confusione" LP (Iron Lung Records)
You may remember Kobra from a 5-song tape released on Milan's excellent Occult Punk Gang label back in 2018. Not to be confused with the other Italian band from the early 80's or the current rapper who also goes by Kobra. A pit of snakes to step carefully through indeed. "Confusione" comes after a couple of line up changes and sounds way different than the first tape. They channel the spirit of early anarcho-punk and Italian hardcore while still injecting it with their own unique personality. The album tells the story of young broke punks in Milan, always looking for a grift in the system, angry but also full of self-doubt, torn between activism and nihilism. 'Confusione' is 10 songs plus one interlude, 22+ minutes long. It features added saxophone by Luigi Monteanni from ArteTetra records. Art by Francesco Goats. Mastered by Will Killingsworth at Dead Air studios.

HARD SKIN "South East Enders" LP (JT Classics)
Hard Skin are like the milkmen. They always deliver. Here's another six song brickwall Oi! classic for all the skinheads who have had no chance to polish their doc martens and hit the streets. It's business as always - hooks galore, razor sharp sounds and lyrics that say everything and nothing at the same time. Among the six songs are four fresh slabs of meaty Oi! and two cockney knees up moments with covers of The Lambeth Walk and Millwall FC's theme tune Let 'Em Come. Hard Skin once again prove they are the best band in the land.

CB RADIO GORGEOUS "EP" 7" (Thrilling Living Records)
Like some lost speed-driven KLEENEX/FANNY collaboration produced by GEZA X, this supergroup touting members of CCTV, FORCED INTO FEMININITY, and NEGATIVE SCANNER return with their vinyl debut, seven inches of pure punk rock'n'roll. Limited to 400 copies, housed in a full color Risograph-printed sleeve and with a double-sided lyric insert.

SNIFFANY & THE NITS "The Greatest Nits" 7" (Thrilling Living Records)
Introducing the deliciously demented SNIFFANY and her NITS. Clattering, ramshackle pogo punk fronted by the coolly sinister Nurse Sniffany. Is she here to cure you or torture you? Figuring out is half the fun. Infectiously catchy and putridly repulsive at once, this is the vinyl debut from this Brighton / London group featuring members of ARTEFACT, JOANNNA GRUESOME, the TUBS, the ESTATE AGENTS and more. Limited to 400 copies on black vinyl, housed in a full-color Risographed sleeve with a two-sided lyric insert.

GUMMING "Overripe" LP (Vinyl Conflict Label)
Anxious, mean noise punk from Richmond. The four-piece's second full length, Overripe, is defined by themes of self loathing, grief, grudges, and navigating mental health disorders.

RESULT OF CHOICE "Place of My Dreams" 7" (Advanced Perspective Records)
Spry, clear, and fast as ever, PLACE OF MY DREAMS is here. Like Up Front or Unity blasted with the color wheel, the debut 7" from SFL's Result of Choice leaves listeners in a bright and dizzy whirl, a near-trance, each song and message reverberating long after the six-song record's end. With November '16 barely in the rearview - and a grim 2020 a stone's throw away - PLACE OF MY DREAMS asks and answers, critiques and expresses, gives and guides. But most importantly, PoMD embodies: embodies the power necessary to not just survive times like these, but to push through -- to reach that better world "hard to see, but not out of reach." A place of dreams.

FUSE "The Segragation Will End" LP (Quality Control HQ)
FUSE formed as a 5 piece in 2017 and released a 2 song promo tape the same year. It's 2020 and they return with a new drummer to deliver 7 new songs in addition to "Poison" and "Deceit" from their 2017 promo. This masterpiece was recorded at 416 studios, mixed to perfection by Tom Howard and mastered by Will Killingsworth. The record is rounded out with art and layout by the infamous Nicky Rat.  "Lion City Hardcore. "This Segregation will end" a 9-song 12" EP created by FUSE from Singapore is 100% hardcore concentrate. I don't need to mention similar sounding bands, influences or FFO type shit. FUSE bring a contemporary stab at a classic style while injecting their own unique worldview. You've heard hardcore like this before, you like hardcore like this, self described as "punked up hardcore, hard but not like those tough guy hardcore bands", they produce 8 songs and an intro that are worth your time (personal favorite is "Poison"). Music aside, because hardcore is so much more than what you play, it's how you play, and more importantly it's the reasons why you play. The Extracurriculars - FUSE never miss an opportunity to shout out their local scene, they put energy into building up their hometown, and they support their peers. Bottom line, they fucking care about creating their own space for themselves and their friends and that's all I want in a hardcore band." - John Scharbach, Give & Shining Life Press.

MASTERPIECE MACHINE "Rotting Fruit" LP (Quality Control HQ)
Members of Fucked Up and Power Trip have coalesced to create the throbbing musical beast that is Masterpiece Machine. Imagine pounding the drum of Psalm-era Ministry with flashes of Nine Inch Nails, massive rock riffs, cinematic electronics, and post-hardcore influenced vocals. Rotting Fruit b/w Letting You In On A Secret is their debut 12" single. In this chaotic world, industrial influenced music seems more relevant than ever as it channels the unstoppable wheels of a mutating mass of electronic and biological matter lurching towards an unknown destination. Singer Riley's love of comics led to a collaboration with celebrated comic artist and animator Lale Westvind, known for critically acclaimed works such as Grip, Hot Dog Beach and Hyperspeed to Nowhere. Lale's art for Rotting Fruit/Letting You In On A Secret perfectly captures the aforementioned musical qualities as technological chimeras made up of biological matter cruise a desert landscape seemingly without purpose, while simultaneously racing towards the future head on.

VILE SPIRIT "Scorched Earth" LP (Quality Control HQ)
Scorched Earth marks the long awaited debut LP from the UK's ultimate misfit squad, Vile Spirit. After well loved demo and promo tapes, Scorched Earth marks a major step up in terms of musical landscape and craft as members have sharpened their teeth touring Europe and being active members of the UK hardcore punk scene. Somehow they have managed to sew together influences such as United Mutation, Integrity and Black Metal into a noisy mass of hard as hell tunes with fuzzed out guitars burning your ear drums whilst being punched to death by relentlessly rolling drums excelling at unpredictable rhythmical directions. Meanwhile mid-tempo songs like Going Home march along, snarling in the darkness, creating an atmospheric backdrop for those who prefer to awaken at night. Vocalist Ben summons a cynical view of the world, conjuring tales of the survival of mankind and a contempt for the world. Bursting onto the UK hardcore punk scene three years ago the members have never ceased to play in and create numerous bands such as Gutter Knife, Saliva, and Chubby and the Gang. They originally formed part of the new generation of Brighton punks re-energising the scene there alongside bands like State Funeral, Never and label mates Imposter, whilst members finished high school or started University. Joining the band on second guitar is Rory O'Neill, singer of Imposter, and responsible for the artwork on Scorched Earth. Enjoy, and be damned upon the scorched Earth.

POWERPLANT "A Spine / Evidence" 7" (Static Shock Records)
Now grown out of the bedroom and operating as a fully functional band, London via Ukraine's POWERPLANT follow up last year's 'People In The Sun' LP with this new 5 track banger. The Devo / Tubeway Army / Screamers / Lost Sounds comparisons are still there but also the weirder tracks are weirder, the faster tracks are faster and is Theo fucking crooning on the opener? One way to find out. To better days!

CEMENT SHOES "A Love Story of Drugs & Rock & Roll & Drugs 7" (Drunken Sailor Records)
There's a parallel universe out there somewhere, one where Poison Idea's 'Pick Your King', Gang Green's 'Sold Out' and Negative Approach's 'Tied Down' are sacred texts and all art is merely an attempt to bow down and pay tribute to their holy genius. In this universe, Richmond, VA's Cement Shoes will be truly worshipped as the heroes they deserve to be - this triple shot of hits is a perfect piece of punk in that lineage. The record is subtitled 'A love story of drugs & rock & roll & drugs', which sounds straightforward enough. If you can pierce through the rollicking scree to find that story, you'll be screaming along at the walls for the rest of time. Either way, this is a great piece of old skool hardcore - perfect for honing that tinnitus you've been working on all these years. - Will Fitzpatrick.

EXECUTORS "The New Decline" 7" (Mister Face Records)
NJ psychopaths, Executors, return with one of their most dangerous lineups yet. The perfect mix of UK82 a la Riot City and early 90s Headache Records. First pressing, 300 black vinyl

ARESHOLES "PHL 19'" Tape (Roachleg Records)
Raw Snaggle toothed smile Hardcore, Ex Mauser and Ectoplasm

FINAL WAR Demo Tape (Roachleg Records)
Catchy American HC from NYC that will get stuck in your head all week. Brought to you by the makers of Stigmatism, Humant Blod, Mati and Extended Hell. U-09, Printed 50 on red and 50 on off-white. Limited to 100.

V/A "Days of a Quiet Sun" LP (Feel It Records)
Mid-1960's Richmond, Virginia had little to offer aspiring local artists. Enter Martin Gary, a local kid who grew up working at Gary's, the primary record shop in town that his father opened in 1939. Starting in junior high, Martin Gary became interested in producing local bands, however Richmond lacked any real recording studios. Gary first linked up with The Barracudas, a teen group from nearby Sandston, traveling up to Washington, DC's Edgewood Recording in June 1966. The resulting session produced a 45 on the Cuda imprint, establishing NewBag Music for publishing, and using Gary's Records (which would grow into an 8-store chain) as distribution. More 45's soon followed in '67 and '68, with Gary creating the Groove label that would release The Hazards "Hey Joe" (one of the best versions from the late 60's garage explosion), King Edward & His B.D.'s "Beg Me" (a snappy garage/soul hybrid with horn section), and the monster soul cut "Gotta Be a Reason" from Bernard Smith & Jokers Wild. Trips to Virginia Beach resulted in a 45 on the appropriately-dubbed Beech label for Group Nine, early adopters of a psychedelic rock sound reminiscent of Jefferson Airplane. Summer 1968 found Gary and The Barracudas reuniting and moving studios to Recordings, Inc. near Baltimore, with now legendary engineer George Massenburg. This session produced "Days of a Quiet Sun", The Barracudas' heavily psyched-up take on a Group Nine original with Massenburg on Moog synthesizer (one of the first units on the East Coast!). "Days" was backed with "Apple Pie" on 45 and released in late '68 on Satori, the last of Gary's short-lived labels. Following "Days", Gary produced a demo session for Richmond's Bosom Blues Band - an amazing bluesy hard rock group that nearly signed a major deal with Capitol Records. "Days of a Quiet Sun" collects the best of Martin Gary Productions, including several unreleased (like a '73 outtake from notable fingerpicking guitarist Duck Baker) and alternate takes, all professionally transferred and remastered from the original sources. "Days of a Quiet Sun" shines a light on the raw energy and musical colors that swept through Virginia in the late 60's, most of which hasn't been available in over 50 years. Packaging includes liner notes from Martin Gary, a detailed rundown of each track, and five bonus tracks with download code or CD.

SOCIALCIDE "Unapproachable" LP (Even Worse Records)
One of the best HC LPs to come out of the US in the 2000's. "I've said it before and I'll say it again here: Socialcide are easily the meanest band in the world. That ferociousness is even more apparent on this debut 12inch. These songs are just out of control, ranging from mid-paced stompers to lightning-speed, Deep Wound-style thrashing. Zach's lyrics are the most bitter, hateful things I've ever read in my life. It's like the ancient Roman gods of negativity got together, started a band and pressed the results to vinyl. GREAT sounding recording that captures the rawness of the EPs while making everything just a little bit clearer and punchier. Probably the most essential hardcore full-length of 2008 if you ask me." - Sorry State Records

HUSKER DU "Savage Young Du" 4xLP Box Set (Numero Group)
Experience the punishing sonic origins of a punk icon. Collected here for the first time, and skillfully remastered from original board tapes, demos, and session masters, this collection is an authoritative chronicling of the wellspring and maturation of Grant Hart, Greg Norton and Bob Mould - three Minneapolis teenagers who'd go on to become the most heralded trio of the American punk underground. Follow the Hüskers to their earliest gigs in 1979, through extensive road dog touring, and to the start of their partnership with West Coast tastemaker SST in 1983. This primitive stage in the fabled career of Hüsker Dü is presented as a deluxe box set and packaged with a hardbound book crammed full of never before seen photos, flyers, and a sprawling essay with participation from the band. Spread across four LPs or three CDs, 47 of the 69 songs compiled here are previously unissued. Also included are Statues/Amusement, In A Free Land, Everything Falls Apart, and an alternate recording of the Land Speed Record set. 4 vinyl LPs

MOBS "1983 Demo / Live 1986" LP (Fanclub Pressing)
Killer Japanese punk! Includes their 1983 demo and a high-quality soundboard live set from 1986, both previously unreleased on vinyl.

POISON ARTS "Flexi and Comp Tracks" LP (Fanclub Pressing)
Released on DTK PoisonArts Records Fan Club from Brazil. Limited to 180 copies. This LP compiles Hi-Energy 7" flexi as well as Poison Arts' appearances on Attack of 4 Tribes compilation 12", Nobody's Fault Sulais Omnibus compilation 12", and Game of Death compilation 12".

V/A "Pinch and Ouch!" Compilation LP (Fanclub Pressing)
Reissue of this killer 1985 Japanese punk compilation including Gai, Kuro and more!

TOZIBABE "Anthology" LP (Hardcore-Ljubljana Records)
Slovenian all female hardcore/punk band active during 80's and former in Ljubljana ex-Yugoslavia. This LP compiles the De_uje 7" from 1986, Hardcore-Ljubljana comp tracks (1985), and the Novi Punk tracks. Includes a double sided insert. Record it cut at 45rpm for best sound.

DISFEAR "A Brutal Sight of War" LP (Havoc Records)
Third in the Disfear re issue series. A Brutal Sight of War captures the raw early days of Disfear. Originally released in 1993 it is a perfect reflection of the Swedish hardcore sounds of those days. Raw down tuned D beat hardcore with a heavy influence from Anti Cimex and Discharge. But with many of the Swedish bands of this era, there is a bit of influence from Swedish  Death Metal, notably Entombed lurking beneath the gritty and raw surface. And we should not be surprised as it was recorded at Sunlight Studios when that name was associated with only the finest in Swedish Death Metal and Hardcore.

RUDIMENTARY PENI "Wilfred Owen the Chances" 7" (Sealed Records)
First time on vinyl and with new Nick Blinko artwork. This track was originally only available as a one track CD single with the purchase of The Haunted Head book by Nick Blinko which came out in November 2009. The then newly-recorded and previously unreleased Rudimentary Peni song Wilfred Owen The Chances is a three and a half minute dark and disturbing dirge. The lyrics were originally written by Wilfred Edward Salter Owen (1893-1918) about the fortune of five British 'Tommies' during World War I. Hopefully the start of making all Rudimentary Peni catalogue available again.

NEWTOWN NEUROTICS "Kick Out!" LP (Sealed Records)
Formed in 1979 in new town Harlow, The Newtown Neurotics are one of the most under rated but essential punk bands. Kick Out! is a 15 track round up of their first six singles taking in the years 1979 to 1984. The first two singles Hypocrite and When The Oil Runs Out were melodic nuggets released on their own No Wonder label. Both of these singles were written prior to the election of the Thatcher monster. The horror of this event changed what was the non-political writing style of Steve's lyrics into the other extreme, and so in June 1982 Kick Out The Tories was released on CNT records. Sadly 38 years later, the lyrics are most poignant and needed than ever. The band continued releasing single after single from the painfully personal to the politically pertinent, all done with intelligence and style. Also included is Andy Is A Corporatist / Mindless Version taken from the Son of Oi! compilation. The album comes with a 32 page booklet of archive - photos, reviews, interviews and more and was conceived to be released alongside the Documentary of the same name about the band's history.

PATHETX, THE "1981" LP (Third Man Records)
The formation of the Pathetx began in 1980 with singer, Mark Leavitt, and guitarist, Greg Kutcher. They had been playing together in their basements for a while and were looking to get out on stage in the punk clubs in and around Detroit. They assembled the rest of the group, drummer Ted Meek, guitarist happy Tom McHenry and 16 year old bass player Mick Nasty, through newspaper ads, local "punk walls" and music stores. The Pathetx took their inspiration from the West Coast punk scene that was happening at the time, bands like The Germs, Black Flag and Dead Kennedys, as opposed to most of the other punk bands that were kicking around Detroit who were looking to The Stooges and MC5 to show them the way. Nunzio's was the band's unofficial home away from home but they played every legendary punk club in the area: Bookies Club 870, Freezer Theater, Red Carpet, Windsor's Coronation Tavern...you name it, The Pathetx played it. They shared the stage with Detroit's first wave punk bands as well as the superstars of this new hardcore thing that was happening. They played the legendary Endless Summer Skatepark show with Necros, Negative Approach and Meatmen. Their live shows were filled with beer, blood and pogos.

SNOT PUPPIES "S/T" 7" (No Matrix Records)
Previously unreleased 1978 EP by Hollywood punk band The Snot Puppies produced by Geza X. Made up of students enrolled at Beverly Hills High School, including Jeff McGregor (a one time member of the Screamers), The Snot Puppies were active for a few short months between 1977 and 1978. In May they played Lobotomy Magazine night at The Whisky, July 9th they played The Masque by August they called it quits. Remastered from the original master tape by Geza X and pressed for the first time in this official edition of 500. Comes housed in a two sided sleeve and includes an insert with rare photos, a new interview with the band as well as a postcard of an unpublished photo of the Masque club by Michael Yampolsky.

BLITZ "Voice of a Generation" LP (Puke N Vomit Records)
Puke n Vomit presents the first domestic US vinyl pressing of one of the most seminal and influential albums from the early 80s UK Punk/Oi! Scene. When this album was originally released in 1982 it quickly climbed the UK Independent charts reaching all the way to #2 and made waves across the globe. Often citied by many bands as a major influence and inspiration and for good reason. The album from start to finish is filled with some of the most blistering raw, catchy, aggressive street level punk ever released. The album fully exposed the life and ideas of the English underclass. Our deluxe reissue includes a printed inner sleeve, reproduction of the rare t-shirt order form only available in the initial pressing and a copy of the original album promo poster sent to shops. For fans of The Business, Cockney Rejects, The Partisans, Abrasive Wheels, The Casualties, Monster Squad, Toxic Reasons, Reagan Youth

DISORDER "Perdition" LP (Puke N Vomit Records)
When it comes to UK Punk and Hardcore there are lots of great bands and great records, the kind that change you forever. The kind of bands and records that make "must have" lists and continue to inspire and devastate listeners to this day. Disorder from Bristol is one of those bands. More distorted, metallic and noisy than their contemporaries and the bands that had come before them. Disorder created a unique template of noise that many have copied and cited as a defining influence. Their 1982 Perdition EP is one of those rare records. 8 tracks of some of the best uncompromising, exciting, loud and extreme music ever released.The EP wasn't all speedy noisy driving punk, it has a catchiness and melody along with its thundering tom driven drum sound, rumbling guttural bass assault and one of the coolest primitive dinniest razor sharp guitar sounds imaginable. The EP includes the brooding dark post-punk inspired epic 'Remembrance Day' and the track 'Life that appears in the now legendary UK punk documentary 'UK/DK' from 1983. Finally back in print after an absence of 9 years from your friends at Puke N Vomit Records. COMES WITH 24X24 POSTER OF THE COVER

ICONS OF FILTH "Onward Christian Soilders" LP (Puke N Vomit Records)
Puke n Vomit presents the first domestic vinyl release of this seminal UK Anarcho Punk classic from 1984. Onward Christian Soldiers by Icons Of Filth is a fiery slice of fierce punk/hardcore with lyrics dealing with a need for individual responsibility, action and positive change. Considered one of the defining and most popular albums to be released from the 80s UK Anarcho Punk scene. The scene bands and records from that time are enjoying a new resurgence with the new breed of Anarcho/Political bands that often cite that period and bands as major influences,. For fans of CRASS, The Instigators, Flux of Pink Indians, Conflict, Poison Girls, Crucifix, Anti-Sect and countless others.

PARTISANS "S/T" LP (Puke N Vomit Records)
Not only were the Partisans one of the best and most inspiring bands from the third wave of British Punk. Hailing from Wales, originally starting out in 1978, they not only channeled all the melody and magic of their influences (Sex Pistols /Clash / Ramones/ Vibrators / Stiff Little Fingers /UK Subs) from the first two waves of UK and American punk they added a refreshing amount of youthful energy and best of all a hard 'kids on the street' edge to their sound. Originally released in 1983 on the now legendary No Future Records This debut LP has become one of the seminal albums in 80s British punk alongside records from the likes of Blitz, Red Alert and Cock Sparrer. Just one listen to songs like '17 Years Of Hell' and 'I Never Needed You' and you'll know why this album shows up constantly on so many 'Top 100' must have lists of Classic UK Punk.  It is now being released domestically for the first time on Puke n Vomit Records. comes with a 24x24 poster of the album cover

SHIVVERS, THE "S/T" LP (Bachelor Records)
Untouchable early '80s Power Pop from Milwaukee, WI. They only released one 45 during their existence, but it stands up as one of the top tier Power Pop singles of all time. This collection plays like a long lost album or maybe even a collection of classic, lost 45s. Timeless, perfect pop songs that echo the Raspberries as much as they do Brill Building hits. Almost every number sounds like it could have, should have been a hit single. This release is a new and improved issue of the collection that Sing Sing released in 2014. The audio has been improved. The LP comes with a 12"x36" double-sided insert with photos, liner notes, etc. and a replica of the original Shivvers bumper stick

TSOL "Beneath the Shadows" LP (Beneath the Radar Records)
This fanclub pressing includes suburbia tracks as a bonus. Originally released in 1982 on Alternative Tentacles and then again on Restless Records in 1989, BENEATH THE SHADOWS is one of the true punk rock classics. It was an early masterpiece from TSOL—a progression from their earlier releases—highlighting the maturity of a truly original band. On BENEATH THE SHADOWS TSOL added keyboards to the lineup, along with complex and stylized arrangements that made one think the London Symphony might be touring with them in the future. As other bands in their genre fumbled around 'into the unknown', with BENEATH THE SHADOWS TSOL forged a new sound that made their fan base more numerous and rabid.

TSOL "Dance with Me" LP (Beneath the Radar Records)
Fanclub Pressing. Dance with Me is the first full-length album by the American hardcore punk band T.S.O.L. (True Sounds of Liberty), released in 1981 though Frontier Records. While the band's eponymously titled debut EP, released earlier that year, had been filled with radical leftist lyrics, Dance with Me moved away from politics in favor of horror film- and gothic-inspired subject matter. The album includes T.S.O.L.'s most well-known song, the necrophilia-themed "Code Blue"

TSOL "S/T" LP (Beneath the Radar Records)
This fanclub pressing contains weathered statues as bonus tracks and peace thru power form the posh boy single.The EP's emotional sound and vicious attitude ensured T.S.O.L.'s standing as a major force in the southern California hardcore scene. According to Grisham, "the kids ate it up like candy, or cheap booze, and the shows grew in size." Steven Blush, author of American Hardcore: A Tribal History, writes that it was "lauded for its political conviction". In a retrospective review for Allmusic, Alex Henderson rated it four stars out of five. He remarked that the political stances of "Property Is Theft" and "Abolish Government / Silent Majority" seem opposing, representing two radically different schools of thought and making it unclear which ideology the band preferred. "What is clear", he said, "is that this record hits its mark musically even though its lyrics can be nebulous. Whatever you think of T.S.O.L.'s politics, this EP is an inspired and exhilarating slice of early '80s punk." Adam Bregman, reviewing Dance with Me, called the debut EP "exceptional".

FRICTION "Death Cult 911" 7" (Blank Recording Company)
Formed in 1978, Friction were Helen Carter (later of Do Re Mi), Ruby D (who went onto other areas of the arts), Danny Rumour (S.P.K, Sekret Sekret & The Cruel Sea) and Fiona Warner (whose brother, Bruce was in The Thought Criminals). They shared the stage with the likes of The Thought Criminals and Lipstick Killers. Existing between 1978 and 1979. After much excavation, this previously uncirculated tape was found with three original tracks from a rehearsal recorded in January 1979. Friction being barely documented or infact known, plans were hatched to preserve this recording onto vinyl for the masses and posterity rather than be lost to time eventually. Includes double sided insert with band history by Helen Carter. Think along the likes of Slits, Suicide Squad or Avengers.

NUNS, THE "Decadent Jew" 7" (Blank Recording Company)
THE Nuns were part of the very first wave 1970's punk rock coming from San Francisco. A three prong vocal attack led by the charismatic Jennifer Miro, along side Jeff Olener and Richie Detrick, rounded out by future RANK AND FILE member Alejandro Escovedo, Pat Ryan and Jeff Raphael. THE Nuns would go on to record for Posh Boy and Bomp but this is where it all began for the band and seminal 415 Records alike. Easily the rawest release they would release. Subsequent releases were crossing over to be far more polished. THE NUNS legend would be cemented in punk rock history by being on the bill for the very last SEX PISTOLS show at Winterland along side the AVENGERS. Decadent Jew has been completely unavailable since it's original 1978 release.

MISFITS "Collection" LP (Caroline Records)
A great introduction to one of punk's most influential bands. All the hits are on here, 20 tracks, all killer.

MISFITS "Earth A.D." LP (Caroline Records)
Earth A.D./Wolfs Blood is the last album released by American horror punk band Misfits to feature founding member and lead vocalist, Glenn Danzig. Danzig released it on his Plan 9 label in December 1983, two months after he played his last concert with the band. It was noticeably harder and faster than their previous releases, showing more of a hardcore punk sound. Since it's release it has often been referred to as simply "Earth A.D." amongst fans. Originally released as a 9 song LP, it was later issued with the three tracks of the Die, Die My Darling EP

MISFITS "Legacy of Brutality" LP (Caroline Records)
'Legacy of Brutality' is a compilation album from American punk/rock band Misfits, featuring selections of their early work, including rare singles and alternate takes. 'Legacy of Brutality' draws from Misfits recordings made between October 1977 and June 1981, though the majority of the material comes from unissued tracks off of the Misfit's 1978 debut album, 'Static Age'. Also included are A-sides of singles, 'Halloween', 'Who Killed Marilyn?', and, 'American Nightmare' - 'Legacy of Brutality' is the only place besides 'Box Set' where you can find the latter track. The material from 'Static Age' was overdubbed and remixed by Glenn Danzig, the lead singer of Misfits. The Misfits still stand as the benchmark for punk, and 'Legacy of Brutality' is an intriguing look into their earlier, and more alternative, material.

MISFITS "Static Age" LP (Caroline Records)
In August 1977 The Misfits released their debut single "Cough/Cool" on Blank Records, a label operated by the band's lead vocalist Glenn Danzig. Several months later Mercury Records issued a Pere Ubu record on their own Blank Records imprint, unaware that Danzig held a trademark on the name. The parties came to a settlement, with Danzig accepting thirty hours of studio time for his band in exchange for the rights to the Blank Records name. In January and February 1978 the Misfits recorded seventeen songs at C.I. Recordings in New York City with engineer and producer Dave Achelis. Due to time constraints, the band recorded the songs live in the studio with only a few takes and very few overdubs. Ultimately fourteen of the seventeen tracks produced during the sessions were assembled for the Misfits' anticipated debut album, to be titled Static Age. However, the band were unable to find a record label interested in releasing the album. Instead, the Misfits released four of the new tracks ("Bullet", "We Are 138", "Attitude", and "Hollywood Babylon") as the "Bullet" single in June 1978 on Danzig's newly created label Plan 9 Records (the same four tracks, along with a remixed version of "Last Caress", were reissued on the Beware EP in January 1980). Not until 1996 did the complete original Static Age album see the light of day for the first time, eighteen years after the songs were recorded.

BAD RELIGION "All Ages" LP (Epitaph Records)
Spanning some eight albums and multiple line-ups, "All Ages" contains the very best of Bad Religion's Epitaph years. It includes live versions of "Do What You Want" and "Fuck Armageddon..." with artwork that is culled from original show flyers! The lyrics sheets are also the original hand-written versions; some of which were scribed on bedroom walls!

BAD RELIGION "How Could Hell Be Any Worse?" LP (Epitaph Records)
With this album a fuse was lit, leading to an explosion that spawned a new religion: Bad Religion. This, their second record and first LP is nothing short of genius. Shattered-glass guitar riffs, fast, furious drums, and a 16 year old Greg Graffin's voice for the ages. The coalescence of lyrical intellect and savage music make for a sound seldom (if ever) heard before. The impact of this record still resonates to this day. Classic tracks like "Fuck Armageddon...This Is Hell," "American Dream," and "The Voice Of God Is Government" are as crucial and socially lucid as the day they were created in a southern California garage. When the greatest punk records of all-time are discussed, How Could Hell Be Any Worse is sure to be mentioned.

BAD RELIGION "No Control" LP (Epitaph Records)
No Control is one of the albums that helped bridge the band's more reckless earlier direction with their more focused (but just as pissed-off) '90s-era. The strength of such cuts as "Big Bang," "Automatic Man," the title track, and "I Want to Conquer the World." NO CONTROL is one of the bands best all-time albums and an archetypal blueprint for the genre. Bad Religion has been setting the standard for years; this album is yet another stone in the band?s long road to identity and style.

BAD RELIGION "Suffer" LP (Epitaph Records)
BR's third album that was hailed as "Best Album Of The Year" by punk bibles Flipside and Maximum Rock 'n Roll. Bad Religion's 1987 release, is one of their finest. The band (which saw the original line-up reunite for the album's release) was improving and becoming more and more focused with each successive release, and SUFFER showed the band as one of the world's top thought-provoking punk outfits. Although many similar-sounding bands have taken Bad Religion's patented sound further chartwise, few have been able to truly top such Bad Religion classics as "You Are (the Government)," the title track, "Do What You Want," and "What Can You Do?"

CITIZENS ARREST "Discography" 2xLP (Fortress Records)
Back in print, double LP discography of this killer NY fast hardcore band. CA came around at a time when hardly anyone was playing fast furious hardcore. They took the Heresy/Ripcord sound and mixed in a bit of NYHC and some crust/grind influence for a hard driving and powerful hardcore sound. This band was really populuar in the late 80's and early 90's because they managed to appeal to then booming SEHC and Crust scenes simulatenously. I think they got somewhat overshadowed by Nausea and Born Against who seemed to get a lot more attention, but to my mind their music has held up much better than either two of those bands. Not to say those bands were bad, but they now sound very much like a product of their times, while Citizens Arrest is still sounding very vital, raw and powerful.

BAUHAUS "The Bela Session" LP (Leaving Records)
The Bela Session is a full release of Bauhaus' first studio session from January 26 1979, where the iconic "Bela Lugosi's Dead" was recorded. This is the first and only official reissue of "Bela Lugosi's Dead" on vinyl, and the first time 3 of the 5 tracks have been released. This EP has been produced directly by the band with Leaving Records, in advance of the band's 40th anniversary. Bauhaus are a four-piece from Northampton, England, composed of Peter Murphy (vocals, occasional instruments), Daniel Ash (guitar), Kevin Haskins (drums), and David J (bass). Venerated and highly influential, the band emerged from the post-punk alternative music scene of the early 80s with a string of innovative albums and a powerfully dramatic live presentation. Their music embodies a minimalistic, disconsolate style of post-punk rock unlike any other.

RAMONES "Leave Home" LP (Sire Records)
1977 saw Ramones release two great albums in the same year, and Leave Home was the first to be released in January of that year, as the follow-up to their eponymous debut album. This 30-minute opus of buzzsaw rock introduced fans to classics like Pinhead, California Sun, and Swallow My Pride.

RAMONES "Road to Ruin" LP (Sire Records)
The Ramones released the band's fourth studio album, Road To Ruin, 40 years ago this September. Dee Dee, Joey, and Johnny were joined for the first time by drummer Marky Ramone, who replaced founding member Tommy Ramone, who'd left to do more producing and writing for the band. It was also the album that introduced a nation of pinheads to the all-time Ramones' classic I Wanna Be Sedated.

HELLISH VIEW "Reaper's Hand" 7" (Desolate Records)
Debut 7" from these Minneapolis raw punk heads. Distorted and driving d beat obsessed with Disclose, Discard, Discharge. "Arms production / Our destruction / Arms race / Death race" Limited to 300 copies

DETRACTORS "S/T" Tape (Desolate Records)
Debut release from this new Minneapolis hardcore punk band. A group of long time mad punks from such bands as Zero, Frustration, Geiger Counter, Kontrasekt, etc. Described by Drew Ailes as a "American Paintbox"… 7 tracks pro dubbed cassette.

RUBBLE "Parts Per Million" 7" (Distort Reality Records)
Rubble follow up their remarkable 2018 LP with a stellar four track 7". Their melodic anarcho approach met with rapid UK82 style radiates passion & excitement!

SKITKLASS "Sekaino Byoudou Sayonara" 7" (Distort Reality Records)
SKITKLASS from Tokyo are back with a new 7" titled "Goodbye World Equality." It contains 5 tracks of pure Ra Punk! 1 minute of violence says it all!

DECADE "A Deadly Game of Make Believe" 7" (Rawmantic Disasters)
6 track D-Beat Raw Punk massacre the japanese way, but from the New World". These guys love Disclose and Discharge to death. Vinyl release of their brilliant demo tape 2017.

DISEASE "Destructive Noiseraid" 7" (Rawmantic Disasters)
Disease from Macedonia are strongly influenced by Disclose, Besthoven, Framtid, Pisschrist, Dispose, Shitlickers ... Q .: and D-beat? A .: and D-beat!

HEAVY NUKES / EARTH CRUST DISPLACEMENT Split 7" (Rawmantic Disasters)
Here we go with the long awaited follow up release after the briliant "7 and the "12 with 4 unreleased, unheard Heavy Nukes songs, still in the Shitlickers vein, the best way possible. Four ultrabrutal straight forward classic raw noize bombs, the way we all love it. Berlin's Earth Crust Displacement deliver another 2 new songs and a coversong of the best Berlin band ever MxVxDx from the same recording session as the split"12 with Disease. Still no compromises at all, straight Dis-Noize Raw Punk on furious speed as they are known for.

TOTALICKERS "Cementiri EP" 7" (Rawmantic Disasters)
Latest release by Spain's infamous D-Beat Raw Punk Veterans TOTÄLICKERS. Co-released with Nuclear Fear Records. Long running european Band back their classic straight forward HC-Punk!

BRACHRAITS "November '89 (Demos 1990/1992)" LP (Rawmantic Disasters)
Timeless classic Eastern German noisy punk/hardcore attack outta Stalinstadt ("first socialistic town in Germany", haha). Each demo has been recorded on primitive taperecorder in rehearsal, but has great sound quality. Raw to the bones!!! Historical document in the vein of SCHLEIM KEIM, L'ATTENTAT, PARANOIA etc etc etc. 300 copies on black vinyl with insert. GDR PUNK AT ITS BEST!!!

M.V.D. "War Species" LP (Rawmantic Disasters)
M.V.D. is a band from Berlin that formed in mid '80s and became known for its brand of crust-hardcore. The 14 tracks on War Species" is everything you'd want in the perfect old-schoolish crust album – relentlessly crunching, crust-edged riffs, a precision guided jackhammer of a rhythm section, and pissed-off and in-your-face vocals assault.

TORTUR / HELLISH VIEW "Raw Split" LP (Rawmantic Disasters)
LA RAW PUNX TORTUR & MPLS D-BEAT RAW PUNK HELLISH VIEW SPLIT 12" LP! Imported from Germany,released on the epic RAW MANTIC DISASTERS, this record is for all you DISCLOSE fans!

End My Life Zine Issue #1 (Zine)
Fanzine inspired by DIY music fanzines and high-fashion periodicals with emphasis on the world ending. Interviews with Bruised, Public Acid, and Be All End All with intermittent runway photos. Photocopied and lovingly hand assembled and stapled.

DISTORT Zine Issue #54 (Distort)
Highly recommended! "This issue of Distort is my final word on Cleveland and is in credit to A. Savage, who contributed a recent interview with Craig Bell, who was a member of The Mirrors and Rocket From The Tombs and X_X. Christina Pap provided fliers and a primo photo. The cover artwork of East 1999 Eternal by Jessie Rose (JR) Streker. All other material is from the first two issues of Distort Cleveland, or rinsed from many a zine or flier collection across the world. Thanks to Johan Kugelberg2 who allowed me to reproduce some of the material for his upcoming book on Cleveland youtube star cakeboi. Half size 8.5"x5.5", 114 pages." -DX

DISTORT Zine Issue #55 (Distort)
This is a collection of Total Control lyrics from the last decade. Printed for the Total Control show with DAF in Melbourne and tour of Vietnam and Japan in Nov / Dec 2019. Half sized 5.5"x8.5", 48 pages.

Restocks for 9/17/20:

ADRENALIN O.D. "Let's Barbeque" 7"
AGGRESSION PACT "Instant Execution" 7"
AMDI PETERSENS ARME "Blod Ser Mere Virkeligt Ud Pa Film" 7"
AUS ROTTEN "Fuck Nazi Sympathy" 7"
BIB "Moshpit" 7"
BLACK FLAG "Nervous Breakdown" 7" (SST Records)
BLAZING EYE "Ways to Die" 7"
BLITZ "All Out Attack" 7"
BROKEN BONES "A Single Decade" 7"
CHAIN CULT "Isolated" 7"
CHISEL, THE "Deconstructive Surgery" 7"
CLITBOYS, THE "We Don't Play the Game" 7"
DICKS "Hate the Police" 7"
DIE KREUZEN "Cows and Beer" 7"
DILS, THE "198 Seconds of The Dils" 7"
DISCHARGE "Decontrol" 7"
DISCHARGE "Fight Back" 7"
DISCHARGE "Never Again" 7"
DISCHARGE "Realities of War" 7"
DISCHARGE "State Violence, State Control" 7"
DOGS, THE "Slash Your Face" 7"
DOOM "Police Bastard" 7"
ELECTRIC CHAIR "Performative Justice" 7"
FEATURES, THE "Floozie of the Neighborhood" 7"
FINAL CONFLICT "In the Family" 7"
FINGERS, THE "Isolation" 7"
GOVERNMENT ISSUE "Make an Effort" 7"
HEAVY DISCIPLINE "S/T" 7"
HUMANT BLOD "Flykten Fran Verkligheten" 7"
INSULTS, THE "Stiff Love" 7"
KNOTS "Heartbreaker" 7"
KRIEGSHÖG "Paint it Black/ White Out 7"
KRIEGSHOG "S/T" 7"
LONG KNIFE "Sewers of Babylon" 7"
LOS CRUDOS "Cobardes" 7"
MDC "Millions of Dead Cops" LP (Millenium Edition)
MDC "Millons of Dead Children" 7"
MDC "Multi Death Corporations" 7"
MINOR THREAT "Salad Days" 7"
MISFITS "3 Hits from Hell" 7"
MISFITS "Beware" 7"
MISFITS "Evilive" 7"
MISFITS "Horror Business" 7"
MOB 47 "Karnvapen Attack" 7"
NUBS, THE "I Don't Need You" 7"
NUBS, THE "Job / Billy's Burning" 7"
PARTISANS "Police Story" 7"
RAMONES "Carbona Not Glue" 7"
RAT CAGE "Blood On Your Boots" 7"
SCREAMING FIST "Templanza" 7"
SIEGE "Drop Dead" Tape
SOA "First Demo Tape" 7"
STATE "No Illusions" 7"
TEAR IT UP "S/T" 7"
ULTRA "España Invertebrada" 7"
URCHIN "How to Make Napalm" 7"
V/A "Dangerhouse Vol. 1" Compilation LP
VARUKERS "Die for Your Government" 7"
VARUKERS "Massacred Millions" 7"
VARUKERS "Protest and Survive" 7"
WARTHOG "S/T" 7"
YOUTH BRIGADE "Complete First Demo" 7"
13TH FLOOR ELEVATORS "Psychadelic Sounds of" LP
ACUTE "Mini" LP
ADOLESCENTS "S/T" LP
ADOLESCENTS "The Complete Demos 1980-1985" LP
ADRENALIN O.D. "The Wacky Hi-Jinks of" LP
ARMS RACE "New Wave of British Hardcore" LP
ARTIFICIAL PEACE "Complete Session 1981" LP
AUS ROTTEN "The System Works for Them" LP
BAD RELIGION "How Could Hell Be Any Worse?" LP
BAD RELIGION "Suffer" LP
BAUHAUS "In the Flat Field" LP
BAUHAUS "Mask" LP
BAUHAUS "Press Eject and Give Me the Tape" LP
BAUHAUS "The Bela Session" LP
BIB "Delux" LP
BIG CHEESE "Don't Forget to Tell the World" LP
BIKINI KILL "Pussy Whipped" LP
BIKINI KILL "Revolution Girl Style Now" LP
BIKINI KILL "The Singles" LP
BLITZ "Time Bomb, Singles and Demos" LP
BREAKAWAYS, THE "Walking Out on Love (The Lost Sessions)" LP
BREAKDOWN "Runnin' Scared" LP
BROKEN BONES "A Single Decade" LP
BUGG "S/T" LP
CHAIN CULT "Demo 2018" LP
CHAIN CULT "Shallow Grave LP
CHRISTIAN DEATH "Only Theatre of Pain" LP
CIRCLE JERKS "Group Sex" LP
CIRCLE JERKS "Wild in the Streets" LP
CITIZENS ARREST "Discography" 2xLP
COLD MEAT "Hot and Flustered" LP
COWBOYS, THE "The Bottom of a Rotten Flower" LP
CRASS "Feeding of the 5000" LP
CRASS "Penis Envy" LP (Crass Records)
CRISIS "Kollective" 2xLP
DAG NASTY "Dag With Shawn" LP
DAG NASTY "Wig Out at Denko's" LP
DARK THOUGHTS "Must Be Nice" LP
DARK THOUGHTS "S/T" LP
DIAT "Positive Disintegration" LP
DISCHARGE "Hear Nothing See Nothing Say Nothing" LP
DISCHARGE "Why" LP
DISCLOSE "Yesterday's Fairytale, Tomorrow's Nightmare" LP
DISFEAR "A Brutal Sight of War" LP
DOUBLE O / Red C "Demos" LP
DRI "Dirty Rotten" LP
FAITH "Subject to Change" LP
FAITH / VOID Split LP
FRAMTID "Defeat of Civilization" LP
FRAMTID "Under the Ashes" LP
GAI "Rock N Roll History Fuck Off" LP
GHOUL "Night Out" LP
GUTTER KNIFE "Boots On the Ground" LP
HARD SKIN "Hard Nuts and Hard Cunts" LP
HARD SKIN "On the Balls" LP
HARD SKIN "Same Meat Different Gravy" LP
HARD SKIN "We're the Fucking George" LP
IDIOTA CIVILIZZATO "S/T" LP
IMPACT "Solo Odio" LP
INSANITY "Demo 1985" LP
INSTITUTE "Readjusting the Locks" LP
INSTITUTE "Subordination" LP
KAAOS "Ristinnaulittu Kaaos" LP
KIDS, THE "Naughty Kids" LP
KIDS, THE "S/T (Delux Edition)" LP
KRIMEWATCH "S/T" LP
LAFFING GAS "It's a Beautiful Day in the Gulch" LP
LUMPY AND THE DUMPERS "Huff My Sack" (UK Pressing) LP
MAN-EATERS "Gentle Ballads" LP
MISFITS "Static Age" LP
MISFITS "The 1980 MSP Sessions" LP
MY BLOODY VALENTINE "Loveless" LP
NEANDERTHAL "A History of Violence" LP
NEGATIVE APPROACH "Tied Down" LP (Purple Vinyl)
NEGATIVE GAIN "Back From the Dead" LP
NIKKI AND THE CORVETTES "S/T" LP
NIRVANA "Almost Everything - The BBC Sessions" LP
OBEDIENCIA "Erosión" LP
PASSION KILLERS "They Kill Our Passion With Their Hate And War" LP
PATSY "LA Women" LP
PERMISSION "Drawing Breath Through a Hole in the Ground" LP
PIXIES "Bossanova" LP
PIXIES "Come On Pilgrim" LP
PIXIES "Surfer Rosa" LP
POWER TRIP "Nightmare Logic" LP
PROTOCOL "Bloodsport" LP
PSYCHOS, THE "One Voice" LP
RAMONES "End of the Century" LP
RAT CAGE "Screams from the Cage" LP
REGULATIONS "Electric Guitar" LP
RIXE "Collection" LP
SACRILEGE "It's Time to Face the Reaper (Demos)" 2xLP
SARCASM "War-Song" LP
SCALPLE "World Gone Bad" LP
SCREAMERS "Demos 1977-1978" LP
SIAL "S/T" LP
SPECIAL INTEREST "Spiraling" (Euro Press) LP
SUICIDAL TENDENCIES "S/T" LP
UNIFORM CHOICE "Screaming For Change" LP
V/A "Bloodstains Across California" Compilation LP
V/A "Bloodstains Across Texas" Compilation LP
V/A "Bloodstains Across the Midwest" Compilation LP
V/A "Bloodstains Across the UK Vol. 2" Compilation LP
V/A "Dischord Records: Four Old 7"s on a 12"" Comp. LP
V/A "Flex Your Head" Compilation LP
V/A "Killed By Death Vol. 1" Compilation LP
V/A "KILLED BY DEATH Vol. 3" Compilation LP
V/A "Killed By Death Vol. 5" Compilation LP
V/A "Killed By Death Vol. 6" Compilation LP
V/A "Killed By Death Vol. 12" Compilation LP
V/A "Killed By Death 15: New Zealand Punk" Compilation LP
VARUKERS "Another Religion Another War" LP
VARUKERS "One Struggle One Fight" LP
VIOLENT REACTION "City Streets" LP
VOID "Sessions 1981-1983" LP
WHITE PIGS "Hardcore Years 1983/1985" LP
WOLFBRIGADE "D Beat Odyssey" LP
WOUND MAN "Perimeter" LP
ZERO BOYS "Vicious Circle" LP