GRAVE MISTAKE RECORDS AND MAILORDER
Webstore Update - May 15, 2020
Oh wow! Crazy to think, but this is actually the first real Grave Mistake Webstore Update since October 2019!!! Of course, that's not to say we haven't bugged you a few times this year about some important events like the release of the Destruct Echoes of Life LP and our 2020 Spring Cleaning Clearance Sale, but haven't had a chance to update you on all of the great new releases that have been stocked up in the store for the past few months. That being said, we have quite the list of new titles and restocks for you below ...
Before we get to that however, let's just recap 2020 so far! Before the entire world went to shit amidst a global pandemic (and of course, I hope everyone reading this along with your friends and loved ones are staying as safe and healthy as you can), we dropped the Destruct Echoes of Life LP, which was our first new release since 2016 and I think it's safe to say it is a great release to come back with. The first pressing of the LP has already sold out, however we just picked up the second pressing last week so the record is still available and we still have a ton of killer large promo posters for anyone who orders directly!
Second, we kicked off our 2020 Spring Clearance Sale a few weeks back and were able to get rid of a TON of great records at some great low prices.  That being said, we still have over 150 titles still available for cheap! You can check out everything still available here. Lots of killer titles to choose from, but a lot of the sale titles are down to the last copy or two, so act fast.
Finally, we wanted to give you a decent rundown of all of the new stuff that has been added to the webstore since the last update! We are doing mailorder as usual over here, so feel free to order away. Below is a fairly lengthy list of everything new from this year. I wanted to rundown the highlights, but wouldn't even know where to begin since it's been so long and there are so many releases to cover.
Feel free to follow us on Instagram (@gravemistakerecords) for the most up to date postings of new additions to the store.
Thanks for reading and thank you for the continued support during these hectic and unprecedented times!!!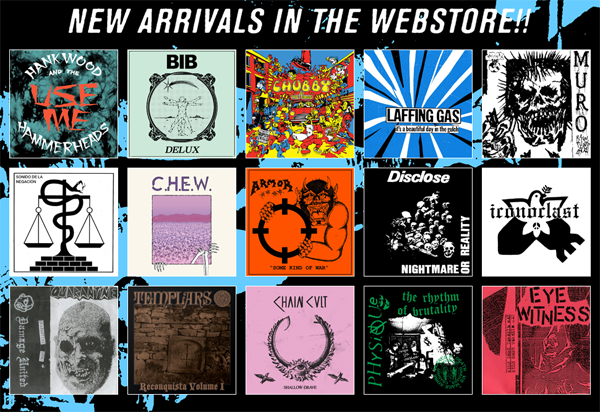 For quick browsing of recent additions to the store, you can check out all of these titles mentioned below in the New Arrivals and Recent Restocks sections!
New Titles in the Webstore January - May 2020:
CHUBBY AND THE GANG "Speed Kills" LP (Static Shock Records)
The debut full length from London's loudest. Wall to wall speedy punk bordering on the recklessness of Motorhead, the single mindedness of the Kids, the streetwise panache of Cockney Rejects, and the occasional curveball pasted in to keep us all surprised. This LP is timeless vernacular perfection peppered with misleadingly obvious displays of brashness aching their way into the hallways of surprising musical channels. "Can't Tell Me Nothing" could have been on a Rip Off Records 7" from 20 years ago, "Trouble" - a love song to Chubby's one true muse: being naughty - is like an ironed and overdriven Wreckless Eric, "Grenfell Forever" is taken from the empty glass of the Billy Bragg back catalogue. All that alongside the sneering eternity of "All Along the Uxbridge Road," the Hammond Organ smeared "Bruce Grove Bullies" -- it will all have you reaching for your London A to Z and trying your hardest not to spill your pint. (Jonah Falco)

HANK WOOD AND THE HAMMERHEADS "Use Me" 7" (Toxic State Records)
"Hank Wood & the Hammerheads are back with a new 4-song single on Toxic State. If you had told me in 2012, just after I heard their inescapable debut LP, that in 2020 Hank Wood & the Hammerheads would have three full-lengths and a healthy stack of EPs in their discography, I never would have believed you. However, Hank Wood & the Hammerheads have not only persevered for a decade, but grown and evolved. When those early records came out, the auxiliary percussion and the organ set them apart from what most other bands were doing at the time, but on Use Me the emphasis is on the core band's songwriting and playing. The vocals are a little more buried than they were on the last LP, but the sound is clearer and cleaner, even incorporating piano and melodic, feminine-sounding backing vocals on the title track. While that song has a 90s alt-rock grandeur that I haven't heard from Hank Wood before, "Strangers" sounds wistful, like Replacements songs such as "Here Comes a Regular." I'm sure there are plenty of you who only ride for the band's early material, but it's hard for me to imagine Use Me being a let-down to anyone." - Sorry State Records

BIB "Delux" LP (Pop Wig Records)
"Bib" is a good name for the Omaha band Bib. It's a good name because they sound like they're drooling all over themselves. Bib's music is a sloppy, raw, intentionally ugly take on hardcore punk. There's a lot of murky old-school garage rock in what Bib do, and there's plenty of unstable and tape-hissy Japanese hardcore, too. Theirs is a beautifully bleary and chaotic sound. Bib have been putting out music since 2015 — often on obscure, difficult-to-find tapes and records. (They collected these on the 2018 compilation A Band In Hardcore.) This past Friday, Bib released a full-on album called Delux. It's 19 minutes of grunts and splats and sludge-riff bedlam.

ARMOR "Some Kind of War" 7" (11PM Records)
Tallahassee's newest export, Armor breaks out with their debut seven inch on 11PM Records. New Skool punk with an old school sound, they read the playbook and threw it away. They've already ripped up the midwest and east coast with Protocol and only time will tell whose next in Tallahassee's crosshairs. Think it sounds too contemporary? get your head out of your ass its 2018. Music for last age of hardcore. Where will you be when the bomb falls? In the pit slamming to Armor.

CHAIN CULT "Shallow Grave" LP (La Vida Es Un Mus)
Athen's CHAIN CULT return with their first full length following a great Demo and 7" from last year. Recorded at Ignite Music by George Christoforidis during May and July of 2019, Shallow Grave shows the progression of a band who have played non-stop for two years, covering pretty much all of Europe. CHAIN CULT's post punk is anthemic, militant and idealistic, putting music to a very dark and bleak time and place. You can hear echoes of early THE CURE, THE SOUND, Second Empire Justice era BLITZ or WIPERS in their music but also the passion and conviction of locals METRO DECAY, STRESS or ANTI… Very much a perfect reflection of what springs to mind thinking about the current Athens scene. Shallow Grave comes housed in a reverse board sleeve including a printed inner sleeve with lyrics, all  designed by CHAIN CULT's collaborator Aris Panagopoulos of A.D. Visions.

LAFFING GAS "It's a Beautiful Day in the Gulch" LP (Beach Impediment Records)
Nearly four years after delivering a handful of demos along with a live tape then seemingly dropping off the radar release wise, Bloomington's LAFFING GAS swing back at any and all credulous hardcore punk enthusiasts who might have forgotten about them or thought they'd just run their course and faded into obscurity as so many tend to do. "It's a Beautiful Day in the Gulch" showcases 10 blazing tracks of classic Midwestern hardcore punk, the vibe of which is more in debt to the revolutionary aural offerings of the early Touch and Go and/or Version Sound labels or even Kick N' Punch Records as a slightly more modern reference than what the region has become synonymous with in more recent times. Each record comes in a stunning glossy jacket featuring art and layout by the band's guitarist Kora Puckett.

MURO "Pacificar" LP (Beach Impediment Records)
It's been a few years, countless miles of international touring that has exhibited their energetic live show to those lucky enough to witness it, and an incalculable amount of hours spent in rehearsal perfecting a breed of auditory frenzy that is all their own... and at long last we, the hardcore punk faithful, are rewarded with the great MURO delivering to us their latest LP titled "Pacificar." Many would have fathomed a follow up to 2017's "Ataque Hardcore Punk" to be quite the unthinkable feat, but these 11 tracks prove that MURO are far from a flash in the pan like so many others in this day and age and that they don't take the creation of their contributions to the greater punk canon lightly. As a testament to their unwavering work ethic and approach to presenting their art how they see fit, all print material was made by the band and friends at their Casa Rat Trap Collective in Bogota, Colombia and features a series of alternate versions of cover art a la The Execute's 1983 self titled EP compliments of the band's own Carlos Velásquez and Wilson Melo. It's a privilege to kick off yet another decade of hardcore punk with a release of this caliber.

MURO / ORDEN MUNDIAL "Sonido De La Negacion" Split LP (La Vida Es Un Mus)
Bogotá's MURO and Mallorca's ORDEN MUNDIAL have been flattening audiences all over the world with their unrelenting passion and energy. Now, one of the mightiest of all possible pairings in todays already delectable world of HC/Punk is available for the worldwide community of underground music. Recorded in Berlin in the icy grips of winter 2017, ORDEN MUNDIAL devastate the A-Side with a uniquely southern Spanish take on some classic American HC tropes like the buzzsaw sensibility of Boston Not LA era JERRY'S KIDS, part noisecore a la CONFUSE, all blended with a dirgey desperation that "Side B" era BLACK FLAG would leap upon with utter enthusiasm. MURO follow with an equally massive grip of songs in their uniquely "Muro" style. This is punk music only they could have made. Bursting with aggression and sadness, this is manic and dynamic hc at its best. As wonderful as it is, this record is the last recorded output of ORDEN MUNDIAL. This project is in memory of the passing of Martí, bassist of ORDEN MUNDIAL, who outside of their duties in OM played bass in MURO on their tour of Europe, and on one of the MURO tracks on this record. Wild HC will keep us all. (Jonah Falco) Sleeve designed by Sebastian Rosillo with a 8 page booklet by Bernat Mundial.

PHYSIQUE "The Rhythm Of Brutality" LP (Static Shock Records)
Sometimes a band just builds a kind of momentum where they just produce more and more rippers and Olympia's PHYSIQUE are clearly locked into a serious groove. 'THE RHYTHM OF BRUTALITY', their third 12" in a year and a half, and released in time for their upcoming rampage across Europe, is another uncompromising slice of crasher crust ugliness, guitars hissing and squealing in anguish, searing radiation-buzz noise crudely marshalled into seven nasty hardcore salvos, from the punchy d-beat of 'We Make Noise' to the punishing stomp of the title track and 'Miserable Existence', with its propulsive rolling punk beat half-drowned in feedback filth. PHYSIQUE slam together a knack for disgusting sonics with rock solid riffs for a rawpunk record in the vein of Disaster or Fader War that will scour the paint from your walls.

PHYSIQUE "The Rhythm Of Brutality" 10" (Distort Reality Records)
After releasing a punishing 12" which was highly acclaimed to start 2019, Physique are back with 7 new tracks of pure disbones crasher brutality in a "ode to Disclose" 10" format to round out the year. SILENCE IS DEATH -WE MAKE NOISE!!
C.H.E.W. "In Due Time" 7" (Iron Lung Records)
Uncompromising hardcore punk from the bricked bowels of Chicago. "In Due Time" is five ridiculously tight songs of flawlessly executed frenzy with a hint of winter snot that we couldn't be more stoked about. We thought the "Feeding Frenzy" LP was good but damn, this is pure madness. C.H.E.W. is really a force of nature. Please see them, my words will never do them justice.

FALSE BROTHER "Uncanny Valley" LP (Iron Lung Records)
Slow cooked gloomy post punk from the outer realms of the midwestern United States. Nine shuffling stabs of icy bleakness about the fog of existence, psychic waste and drifting aimless in the vein of DIÄT or some of the more brooding TOTAL CONTROL stuff carefully assembled over the last 4 years. We are pleased to welcome FALSE BROTHER to the only format that matters.

PERMISSION "Organised People Suffer" LP (La Vida Es Un Mus)
The latest record from London's Permission perfects their thin savage sound that they've been refining for three records now. Restless manic hardcore, squirming with fury. While some hardcore attacks with sheer force or repetitive brutality, PERMISSION's riffs whip back and forth like loose firehose, and though there may be some spiritual ancestors in the likes of weirder, more discomfiting ends of 80s hardcore like DIE KREUZEN or MECHT MENSCH, PERMISSION's angle of attack, their style of itchy marshalled chaos, unpredictable yet never disjointed, is very much their own. (Joe Briggs) Organised People Suffer sleeve and poster designed by guitarist Ralph Simmonds with a lyric insert designed by drummer Lloyd Clipston.

BIG BITE "Trinity" LP (Pop Wig Records)
Big Bite is back - Blowing brains and bending big ass bass strings on Trinity. The Seattle, Washington based group makes fuzzy punk designed to make you head bang. Trinity continues the trend carved through a number of EPs & their 2018 self-titled debut.

VANITY "Anticlimax" 7" (Feel It Records)
Right alongside a stellar upcoming single and 2018 LP on the esteemed Beach Impediment label, NYC's VANITY offer up another double A-sider for Feel It. "Anticlimax" rolls out of the gate with a cool, Stones-esque confidence, resting on the otherworldly lead guitar of "Groovy" Mike Liebman (formerly of VEXX and RIK & THE PIGS). This irresistibly catchy, glammed-out rocker is backed up with "A Seat at the Table" quickening the pace atop a brilliant walking bass line. While VANITY have excelled in everything from Oi! to Britpop in their fascinating time as a band, both the songwriting and production on this single may be VANITY's highest mark yet.

VANITY "Rarely if Ever b/w We're Friends" 7" (Beach Impediment Records)
The second of two brand new singles that one of NYC's greatest will be gracing us with during this balmy winter and their first recorded output since the release of their highly praised "Evening Reception" full length, the Beach Impediment Label is honored to be an even minuscule component in releasing yet another slab for the almighty VANITY. With a track record of releases that spans the past 7 years, the style and approach of the group has (much to the dismay of some yet absolute delight of others) arguably seen it's fair share of metamorphosis over the course of this particular project's run. Yet amidst the sonic evolution exhibited by VANITY as their catalog has progressed, the expertise in conceiving an ever so catchy ditty still holds true as is evident with the A-Side "Rarely if Ever" - a track that is guaranteed to remain embedded in one's head for quite some time. "We're Friends" closes it all out on a triumphant and decidedly rocking note, bebe, leaving those who've been on this journey thus far yearning for what comes next. Limited to a one time pressing of 500 copies.

FOC "La Fera Ferotge" LP (La Vida Es Un Mus)
Absolutely reckless and compressed hardcore punk rock, full of jumps in register and micro-shifts in timing. Based in Barcelona, and powering through 10 songs in their mother tongue of Catalan, this livid and catchy record is like MOTORHEAD at 78rpm with the vocal phrasing of the PEGGIO PUNX or INDIGESTI. Sounds like the bass is made of wiggly melted down Gitoni players, and the guitars have Big Muff pedals wedged in the amplifier cones. Punk at this level of disheveled velocity and excitement is a rare art.

ALGARA "Enamorados del Control Total" 7" (La Vida Es Un Mus)
Algara's first communiqué vomits in the face of moderate leftism; encouraging class war and insurrection, and wanting the total annihilation of police forces. Home recorded in a Barcelona Squat, the production of their debut four-track EP is minimal. Algara deal in stark and sparse sounding post-punk that hints at Crisis, early Decima Victima and Joy Division in equal measures. The lead guitar is brittle and skeletal, and sits perfectly on the driving rhythm section, made up of a primitive drum machine, creating a sonic background for their message to be heard. Algara has expanded into a four-member band since this recording and is currently performing live while working on an upcoming LP.

OHYDA "Koszmar" LP (La Vida Es Un Mus Discos)
Sophomore release by Lublin's OHYDA. Picking up where their Self Titled LP left in 2016 their new 12" ups the feedback, aggression and psychedelic infused hardcore of their previous release to new levels. Sonically OHYDA are dark and anthemic, with a ferocious guitar tone and delay vocals backed up by a extremely solid rhythm section. Not afraid of riffs or creating atmospheric passages leading to explosions of noise full of nightmarish visions of the current world. Imagine ABADDON meeting HAWKWIND at Jarocin festival then using CRESS's gear to write an album of distorted quasi industrial hardcore. I want to think that if the class of 1984 Polish hardcore had dreamed of what the future would sound it will be close to Koszmar. Recorded by Pawel Chyla at Backyard Studio and Mastered by Daniel Husayn at North London Bomb Factory. Koszmar comes in a heavy reverse board and insert designed by guitarist Mike.            

LUX "New Day" 7" (La Vida Es Un Mus)
Barcelona's Lux return with a new four track EP and it's pogo thrills the whole way. It's raw, tight and primal. It perfectly captures the sound of a classic and much loved UK82 release with a basic production and foot to the floor energy. Standouts include Action which sits next to the first two singles by Vice Squad and the Expelled and Mañana which is more uptempo and shows a love of Action Pact and all things Riot City Records. Simplicity done well is a hard thing to do but Lux do it without any problems.

RATA NEGRA "La Hija Del Sepulturero" 7" (La Vida Es Un Mus)
One year after their "Justicia Cósmica" LP RATA NEGRA are back with a two song single of dark pop perfection. On the A side the Madrid power trio puts music to a poem of José María Gabriel y Galán (1870-1905) turning its melancholic prose into a mid tempo punk beauty with surf guitars and deep bass tones bringing to mind the almighty GOLPES BAJOS on speed. A chance meeting of Spanish Costumbrism and kitsch as seen on the song's video. The flip side "Problemas, No" brings back to life VIDEO's minor hit from 1983 updating the Synth Pop of the original to a sharp upbeat punk jam which will have you dancing your shoes off.  Recorded in Madrid at Metropol and mastered at London's Finyl Tweek La Hija Del Sepulturero comes housed in a sleeve designed by the band's Guitarrist Fa with help from Vocalist Violeta and includes a lyric insert.

DESPERFECTO "Quanta Gerra" 7" (R&A Schallplatten Records)
Four tracks of crude Chilean Hardcore PUNK. Somewhere between PARTISANS, BASTARDOS SIN NOMBRE, EXEROICA, FERTIL MISERIA and ULTIMO RESORTE. Highly recommended.

DISCLOSE "Nightmare Or Reality" LP (La Vida Es Un Mus Discos)
20 years ago DISCLOSE released their response to the greatest hardcore 12" ever released: DISCHARGE's Why. At the time the band was at the peak of their DISCHARGE era and had perfectly crafted a trademark sound, which shows through on the recording. The chainsaw-sounding double-toned guitar, Kawakami's unmistakable vocals, and a rhythm section firmly based on the Stoke-On-Trent's beat melded together to create a repetitive mantra-like noise chant. Recorded at Grove Cargo and mastered at Studio D-Takt by Jan Jutila, the production is a perfect example of noise not music pressed into vinyl, with both high and low frequencies cutting through the mix without losing any power. Lyrically Nightmare Or Reality focuses on the tragic sights of bullshit fucking war while aurally the record is a full-blown attack on all senses. D-Beat Raw Punk at its best. 20 years on and many times imitated but never duplicated. Originally released by MCR Company, this 20 year anniversary official reissue comes in a printed inner sleeve and heavy board outer sleeve.

ICONOCLAST "Domination Or Destruction" LP (Sealed Records)
Sealed Records release the complete remastered ICONOCLAST Discography including the immense self released 1983 Demo, The Flipside 7" from 1985 plus Two Compilation tracks. It's a small but perfectly formed discography and one that 36 years after it was first recorded still has power, intensity and rage. ICONOCLAST were part of the early 80's American peace punk scene that included CRUCIFIX, BODY COUNT, AGAINST, ANOTHER DESTRUCTIVE SYSTEM, DIATRIBE, ARMISTICE and A STATE OF MIND. Idealistic bands highly influenced by CRASS which shined amongst the heavily nihilistic California Punk scene of the era. ICONOCLAST sound was in tune with DISCHARGE, early ANTISECT or WRETCHED while lyrically the songs were political and to the point. They played benefits for animal rights, anti nuclear, anti apartheid, anti police brutality, and Big Mountain. The demo was followed by their only vinyl release on Flipside which has two ragers and the more mellow In These Times which has a touch of THE MOB and OMEGA TRIBE about it. The band had tracks on various compilations including the seminal International P.E.A.C.E. Benefit LP on R Radical in 1984 which had the cream of the crop of international hardcore punk of the heyday. Domination Or Destruction comes housed in a heavy reverse board sleeve and includes a 24 page 11"x11" booklet containing interviews, photos and flyers from the era documented, 1983-1985, which will help understanding the band ideas and the local scene of the era. Sealed Records are proud to finally reissue ICONOCLAST's catalogue, a criminally overlooked band for some but in the label's eyes this LP is a must have for all punk households!
V/A "AK79" New Zealand Punk Compilation LP (Flying Nun Records)
Raw, unfiltered, shambolic madness. The vision to capture the Auckland scene began with Bryan Staff (Head of Ripper Records and Radio DJ at the time) who saw reason to capture the music coming out of the local punk venues of the time such as Windsor Castle and Zwines. Originally released by Ripper Records in December 1979, bands that featured on the original pressing included The Swingers, The Scavengers, The Primmers, Proud Scum, Toy Love and The Terrorways. The musical movement captured on record was an abrasive, empowered response to the overindulgent progressive rock and glam era of the 70s. The initial pressing, with its iconic black and white cover designed by Terence Hogan was limited to 500 copies, to be later reissued on vinyl and cassette through CBS. During the 40 years since AK79's first release, the record took on a life of its own. Those original 500 pressings became a rare and coveted collectors item, and somewhat of an "urban myth" on the vinyl market. December 2019 marks the 40 year anniversary of an important record in our lives, AK79. Within the grooves of this historical landmark compilation lies a connection to our musical whakapapa as New Zealanders and music lovers. A defining record, having captured a raw snapshot of the punk subculture in Auckland during the late 70s, this much-loved compilation is a living, breathing statement of what came before today. To mark this very special occassion, Flying Nun Records pays tribute to those ragged and rambunctious years by presenting the AK79 40th Anniversary Edition Reissue, featuring new liner notes written by Ripper Records' Bryan Staff, as well as all songs ever featured on any version of AK79 for a complete look at its recorded history. 40 years on, the spirit of the AK79 still packs a punch and the feeling captured in these recordings are as relevant as ever.

TEMPLARS "1118-1312" LP (TKO Records)
Long cited as a fan favorite, this classic 6-song EP returns on vinyl for the first time in 20 years!! Originally released on 10" and CD, we now bring you this remastered version on 45 rpm 12" vinyl!! "POSSIBLY THE MOST POPULAR STREET BAND IN THE WORLD! New York's finest deliver the fuckin' goods again on this unbelievably great record! THE TEMPLARS demonstrate each time out that they are of the highest order." - Bruce Roehrs (RIP), Maximum Rockn'Roll (RIP) / 1998

TEMPLARS "Reconquista" LP (TKO Records)
AVAILABLE FOR THE FIRST TIME EVER ON VINYL!! COLLECTION OF RARE SINGLES & OTHER RARE TRACKS, ORIGINALLY RELEASED IN 2002 ON CD! NO MESS, NO FUSS, JUST PURE TEMPLARS!!! "This is rough 'n ready audio insurrection at its most blistering and abrasive, with aggressively gruff whiskey-slathered vocal, rumbling low-end three chord guitar rhythms, frantically fierce face-slapper leads, destructive demolition bass explosions, and hearty pneumatic-drill drum thumpings... the Templars are the cream of the crop in today's rapidly growing Oi! army....Join 'em or die." -Razorcake 2002

WARHEAD "Cry of Truth" 7" (Farewell Records)
Officical re-releases of the devastating debut EP from now-veteran Kyoto thrashers Warhead! Amazing Japanese hardcore from 1991. An absolutely jaw-dropping slab of intense, ravening thrash, blasting through five songs in less than eight minutes with an absurd amount of energy and power.

SOAKIE "S/T" 12" (La Vida Es Un Mus)
Debut seven track album from half Melbourne-half NYC Soakie. It's total no nonsense blistering, fast and energetic hardcore with a vocalist that sounds like she has been chewing on glass everyday since birth. She has a real rasp and anger that is part Nick Blinko (Rudimentary Peni) and Part Vi Subversa (Poison Girls) but the music is totally pummelling and would sit perfectly for those that love pogo punk, Teddy And the Frat Girls, The Feederz and Good Throb in equal measures. Boys On Stage is a real standout with the lyric "There're too many fucking boys on stage" sticking in your head from one listen.
FRAGMENT "Serial Mass Destruction" 7" (Sewercide Records)
Are you pro-cimex or Anti-cimex? If you answered the latter, then this devastating slab of dark chaos is for you. Fragment have been producing some of the most blown out D-beat hardcore in Canada for the past couple years and this new e.p. is no exception. Picking up where their 2017 lp 'In The Dust' left off, Serial Mass Destruction sees the group at their best yet, dragging this raw punk beast through the same Scandinavian and Japanese influences while being cut to hell in a sea of spikes and studs. A one time pressing of 300 copies, expect something special for the preorder copies so don't sleep.

COLD FEET "Punk Entity" LP (Feel It Records)
John Waters once said, "The only thing I wanna be is a negative role model for a whole new generation of bored youth." Well, perhaps Baltimore's Cold Feet were the generation that picked up on those sage words, and have crafted their own trashy, hardcore punk anthems on "Punk Entity". Following a promising debut 7" EP and several cassette releases, we find Cold Feet at the height of their game with eight completely scorching tracks. Caught somewhere in the crosshairs of the early 80's USHC craze, like the odd New Englander cousin who caught as much X-Claim! as Mutha Records bands - Cold Feet harness the power of "Get It Away" era SSD, steal the reckless abandon of the first couple N.O.T.A. 7"s, and indulge the bohemian sense of humor that Adrenalin O.D. rocked. These guys are complete underdogs, the secretly smart idiots that allow their guitar player to be Jim Lahey for a Halloween gig and still completely blow the place apart. Cold Feet are here to show ya that they're one of the most true-to-form hardcore bands of contempo HC punk and hammer the point home with "Punk Entity".

COWBOYS, THE "Room of Clons" LP (Feel It Records)
Out with the old and in with the new! Just in time for Spring we have a fresh album from The Cowboys - now spread between their hometown of Bloomington, to Chicago, and Cincinnati. "Room of Clons", their fifth album, is possibly the group's most ambitious and diverse body of work to date. Those familiar with The Cowboys' previous output for Feel It - most notably 2019's "The Bottom of a Rotten Flower", will be well acquainted with the group's penchant for songwriting across the upper echelons of contemporary garage, punk, & powerpop. "Room of Clons" asserts itself as a varied hallmark of stylistic prowess, ranging from The Cowboys' trademarked Midwestern punk odes of previous work, all the way to a massive postpunk-leaning hit (yes, you're reading right) backed with a snarky pop number accented with kazoo that would surely please even Ray Davies himself. Further along, we're treated to several tracks with frontman Keith Harman taking the lead on piano, propelling his otherworldy vocals to the same towering clouds that Scott Walker and Emitt Rhodes occupied in '69 & '70. "Room of Clons" stretches even further, but never strays from attention, as The Cowboys delve into new, exciting, and largely uncharted territory - perhaps their most abstract work, but just as worthy as their now towering discography that never ceases to impress.

ACUTE "みだら" LP (Desolate Records)
Acute from Aichi, Japan are back with 6 new, inventive tracks of unchained hardcore punk. Those familiar with the 2012 "Murder Notice" EP will be ready for this extra dimensional musical assault.

ALEMENT "Onward" LP (Desolate Records)
Second vinyl release following up the excellent "The Hunter" 7". Axegrinding crust for the new millenium.

SMUT "First Kiss" LP (Iron Lung Records)
You ever spent a Saturday night dripping with sweat and lathered up for wanton destruction? Ready to rage at the drip of a drop, looking for action. Well that is SMUT in a nutshell. They're like that ALL the time. Lucky for us, they scraped together a couple hours to record the music. A late night drug fueled session to be sure. "First Kiss" feels like if Darby Crash could sing on time and his backing band was "Record Collectors..." era POISON IDEA without the stadium anthem tendencies. In other words pure snarling punk that is nastier than an unchecked venereal disease in the summer swelter. 500 copies on white vinyl housed in a 24pt reverse board jacket with poster and download card included. Tattoos by Alan Dubbs. Art by Sal Hernandez. Recorded by Mike Kriebel.

BIG CHEESE "Punishment Park" LP (Quality Control HQ)
Big Cheese have established themselves firmly in the UK hardcore scene, after releasing the Sports Day Demo in 2016, followed by the phenomenally received 'Aggravated Mopery' 7", as well as a New Wave of British Hardcore FM live tape and Discography 12". They have developed a signature approach to hardcore that skilfully ties together complex rhythms and melodies into catchy and memorable songs with a powerful intensity, inspired by late 80s inspired NYHC ala Rest in Pieces and NWOBHM. Not only that, but after touring Europe twice, and the USA, as well as doing a UK stint with Turnstile, Big Cheese have shown themselves to be one of the most devastating hardcore live bands on the planet right now. A well-oiled machine, Big Cheese present to you their trailblazing debut full-length, 'Punishment Park', which nods to sounds from the Demo and 7" but pushes the boat out even further, incorporating thrashier riffs and hard rock licks akin to Motörhead. You can feel the power as soon as opener Pennine Scrubs hits, taking you on a journey through unpredictable riff after atomic bomb inducing breakdown. There is no room to breathe here. Recorded by NWOBHC studio legend James Atkinson at the Stationhouse, mixed by Jonah Falco (Fucked Up, Game, Career Suicide), and mastered by Will Killingsworth at Dead Air, this production trio have created the perfect recipe for the Loudest Cheese in Town to be heard clear across the Pennines and beyond. Don't miss a show, add this record to your collection, and 'don't forget to tell the world'.  

COLD MEAT "Hot and Flustered" LP (Static Shock Records)
Well, after a slew of 7" offerings, Perth's Cold Meat have finally hit us with a full length record. Much like their last few releases they've taken an amped up approach to 70s PUNK but this time round they offer ever so slightly more diversity. Ten tracks clocking in at just over 23 minutes and cut at 45rpm for maximum volume. Get hot and flustered. "Agh! A fresh chop from the large dusty burning murder island: Cold is the Meat to beat. Perth's finest flesh purveyors have upped their naughty game here across ten tracks of gleefully haughty punk. Hot and Flustered is somehow at once extremely camp and deadly serious. Ashley's vengeful, elastic rasp smears menses down the screwfaces of vacuous tastemakers, climate change deniers, perennial street perverts, and of course, ZZ top fans. There's some surprisingly poignant forays into melody (Beach Photography) and a good grip of sudden tempo fuckery to keep us well and truly hooked. Their signature chubby and defiant riffs under snarky bouncing toms formula extends well to the album form, creating a timely reminder that hate and fear are more than reasonable responses to our hell predicament. Let's take comfort in collective ridicule. When it's too hot to pogo because the sky is on fire, Cold Meat will let us writhe around in the dirt like the little piggies we are." Bryony Beynon

STAGES IN FAITH "Delside" LP (Quality Control HQ)
Stages in Faith have been carefully crafting a post-hardcore sound in London since 2017, having learned their chops in UKHC bands such as Frame of Mind, Blind Authority, Mourning and Splitknuckle. After two 7" singles and tours with Fiddlehead and Glitterer, Stages in Faith are ready for the format they were meant to be on with their Delside LP. "Stylistically rare masterclass of melody and restraint from Stages in Faith on their debut LP for QCHQ and Advanced Perspective Records. This band inhabits the moments of departure and reflection that seems to have affected so many of the bands that worked on pulling hardcore out of the cataclysmic drilling directness of the explosion of punk, moving the formulaic into calculated musicianship and off centred splashes of colour and emotion. Sounding like a too hot high school summer under the umbrella of Government Issue, American Standard, All, Bad Religion, Quicksand, a rumour of Southern California hardcore, and a whiff of early pop punk. Standout!" Jonah Falco, Fucked Up / Career Suicide

POISON IDEA "Pick Your King" 12" (Jackpot Records)
Poison Idea 1983 Debut Release on Limited Clear Vinyl.  Features New Liner Notes by Jerry A.  Includes Original Sticker design, Lyric Sheet, Credit Sheet, and Liner notes.

CONFUSE "Fuckin' All Media" LP (Fanclub Release)
Second CONFUSE fanclub collection LP! This one contains trax from the "Spending Loud Night" 7", "Contempt For The Authority And Take Off The Lie" 7", v/a - "Violent Party Omnibus - Downtown Street Punker", v/a - "Neo Compilation", and Stupid Life" 12". Includes a a double sided insert.

CONFUSE "People are Nuclear Poisoning" LP (Fanclub Pressing)
Taken from official cd reissue then mastered for vinyl, comes with an insert and collect their Indignation cassette, Nuclear Addicts flexi, tracks from the Jisatsu Omnibus, and three raging live cuts from 1985! 27 songs total

MISFITS "The 1980 MSP Sessions" LP (Fanclub Pressing)
The Misfits began this recording session on 08/07/1980 with Bobby Steele on guitar and completed and mixed on 09/05/1980 with Doyle. For each song, Bobby laid down three guitar tracks (one lead track and two rhythm tracks). Doyle later added guitar tracks to most songs, which were then mixed with his guitar sound in the center. Two songs also include additional guitar by producer Robbie Alter. Excluding overdubs, each song was recorded in one take, except "London Dungeon," of which the band recorded two takes. Mixing and mastering notes - "Skulls" and "Astro Zombies" were later remixed for Collection I. The Misfits later recorded a different drum track for "Halloween II" and remixed the song for the Halloween 7" (see 1981). Bill Inglot and Andrew Garver of Rhino Records re-mastered "Halloween" for the New Wave Halloween compilation album. All 13 songs were later remixed for the proposed "12 Hits From Hell" for Caroline Records.  

MOBS "Kill 'em All" LP (Fanclub Release)
MOBS's initial sound source re-editing board that knocked punks across the country to the bottom of fear as a cruel and villain existence in the 80s Kansai hardcore scene. Unreleased DEMO take (1983) on 1st / 2nd EP, sourced from the official cd resissue and mastered for vinyl. Comes with a double sided insert. IMPORT

POISON "Flexi plus EPs" LP (Fanclub Release)
POISON was a hardcore punk band from Tokyo, Japan formed in 1982, maybe best known for having Chelsea from Death Side on guitar. This collection collects their 毒 7" flexi from 1985, "Mystery Temptation" 7" from 1986, and "Hot Rod" 7" from 1986. Includes a double sided insert, limited 180 copies, import.

V/A "Hardcore Unlawful Assembly" Compilation LP (Fanclub Pressing)
Classic 80's Japanese hc / punk comp (1984) featuring Lip Cream, GISM, Zouo, Cobra, Mobs, and Laughin' Nose!  Sourced from the official cd reissue and mastered for vinyl for best sound. Comes with a double sided insert.

RAMONES "Adios Amigos" LP (Fanclub Pressing)
For over two decades, the Ramones built a storied career that culminated with their 1995's farewell album, ¡Adios Amigos!. True to form, like the Ramones' thirteen previous albums, the dark quirkiness was ever present.  Released Tuesday July 18th, 1995, ¡Adios Amigos! was produced by the Ramones' longtime producer, Daniel Rey for Radioactive Records in the US, and Chrysalis internationally.  Although their swan song album, it is not their best-selling album. That benchmark goes to their 1976 self-titled debut album which is their only album to go gold in the US.  However, ¡Adios Amigos! is remembered twenty years later, because sadly it was the final released by the band as a whole unit. ¡Adios Amigos! has earned the right to be among other swan song albums of 1995 such as Queen's 1995 album Made in Heaven and Selena's 1995 album Dreaming of You, which also were met with critical acclaim.

EYE WITNESS Demo Tape (Demo Tape)
This band hails from Boston and you can clearly tell just from listening alone. Same folks that were in Chain Rank, Koward and Scapegoat jam in here.

QUARANTINE Demo Tape (Damage United)
"Yeah there's a chance you might've heard this demo before but it's only a coincidence that I'm posting it now given the current state of the world... I promise bro! Quarantine is a new hardcore band from Philadelphia. This thing actually came out a little while ago but their tapes went on sale kinda recently so I scooped it and had it ripped along with Eye Witness some days ago. Overall the demo hits hard from front to back, the physical tape layout looks awesome too so make sure you grab one! A womping 9 tracks.. love it, the last 2 are killer. This group's got heads that play/played in the Impalers, Green Beret, Skinned Alive and others. I know the quality isn't amazing but just listen loud as fuck, give it a whirl and take care of yourselves - No Deal

FREON "PYK" Tape (11PM Records)
Brand new St. Louis speed punk. It's fast, its loud, its not funny, it doesn't feel good. Members of Bad Example, Ruz, The Warden, Dentist and Mom who all like Poison Idea. Put this on at a party and watch your friends go into the other room to call their mom to come pick them up. If you stopped paying attention to St. Louis, then its time to start again...this year is going to be crazy for that city. 100 pressed on limited edition computer white cassettes.

COCHONNE Demo Tape (Demo)
While Cochonne's minimal, bass-led sound immediately brings to mind a lot of our favorite bands from the post-punk and UKDIY scenes (Kleenex, the Shop Assistants, Delta 5), the breezy pop inflections and subtle organ might remind you of the best recent Australian garage and post-punk groups like the Shifters or Vintage Crop. Cochonne doesn't strike me as a band aiming for a certain style, though. The snake-y melodies and intricate wordplay of "Omega," the angry punk of "I Don't Wanna," and the brooding, Fall-like "F21" all pull in different directions, musical articulations of different thoughts and feelings rather than experiments with genres or sets of influences. North Carolina's punk scene has always pushed, extended, and blurred boundaries, and Cochonne fits in perfectly with that tradition.

GHOULI "Nothing" Tape (Demo)
Second tape from this RVA hcpunk band.

RAZORBLADES AND ASPRIN Issue #9 Zine (Zine)
INTERVIEWS WITH JEREMY DEAN (Graphic Designer behind the new book on the Misfits Scream With Me), ALEX HEIR (L.O.T.I.O.N. / DEATH TRAITORS), SIAL (Singapore Hardcore), ROYAL HOUNDS, LIZ ROSE (soundperson extraordinaire) as well as photographers MICHELLE OLAYA (Germany), TEPPEI MIKI (Japan), JARZA (Indonesia), and PHIL MONAHAN (Canada) AND a lengthy article about Swedish hardcore legends ANTI CIMEX around the recording of Absolut Country of Sweden by the one and only 138 from Demon System 13! Plus, photography and a mountain of reviews of new releases across the hardcore/punk world.

Welcome to Dripper World: Sound and Vision by Sam Ryser Book (Sacred Bones)
Sam Ryser is an artist and musician living and working in his lifelong home of New York City. For over a decade he has played in and designed art for punk bands, making his unmistakable visual aesthetic omnipresent in the DIY underground. This has culminated, since 2014, in the opening of his art and oddities shop DRIPPER WORLD in a flea market alley in Bushwick, Brooklyn—quickly becoming not only a launching point for his inimitable and innumerable projects, but a junction and destination for international underground efforts in art, music, and DIY publishing. With bands Crazy Spirit and Dawn of Humans he has toured extensively through Europe, Canada, Mexico, and the United States, and has shown work in Colombia, Brazil, Spain, Australia, Canada, as well as throughout the United States.

BOLD "1989 Tour" Zine (Shining Life Press)
Oral History detailing the final tour in the summer of 1989 featuring never before seen photo's, memories, and anecdotes from Matt Warnke, Drew Thomas, Tim Brooks, Tom Capone, Howie Wallen, Sammy Seigler, Walter Schreifels, Jordan Cooper, Joe Nelson, Mike Madrid and more. Layout and Design by Shining Life. Photography by Ken Salerno, Dave Brown, Gabe Rodriguez, and unknown. 24 pages. ANSI Letter 8.5" x 11"

CHUNKS Fanzine Anthology Book (Shining Life Press)
In the end to some we were either the best zine since the last best zine or we were over the top macho garbage with an over inflated ego. It is what it is and it speaks for itself. - CP. Chunks was a fanzine from Australia that documented hardcore from 2010-2013 and spanned 7 issues. This perfect bound book houses 100 pages collecting all 7 original issues plus extras. Contains interviews and articles with: RAMPAGE, VIGILANTE, FLOORPUNCH, RECKLESS AGGRESSION, WASTE MANAGEMENT, NEGATIVE APPROACH, OMEGAS, RIVAL MOB, INSIDE OUT NY, FREE SPIRIT, STICK TOGETHER, NIGHT BIRDS, ENUF, NO TOLERANCE, BOSTON STRANGLER, SHIPWRECKED, PEACEBREAKERS, PRISONER ABUSE, MEANSTREAK and more. Laugh or frown, it's all the fucking same...

STOP AND THINK "Annotated Gigography" Zine (Shining Life Press)
Complete gigography featuring a list of every show played with commentary from band members along with new photos, flyers, set lists, artwork, and other interesting pieces of paper associated with the band. Every zine comes stamped with the eagle originally used to stamp the "Both Demos" 12" and free stop and think stickers. Edited by Shivaun Watchorn. Layout and Design by Shining Life. Photography by Jenn Aqui, Geert Hollanders, Carrie Higgenbotham, Robert Shedd and unknown. 24 pages. ANSI Letter 8.5" x 11"

BIG CONTEST "Monkey's Paw" 7" (Lockin' Out Records)
It's been five years since Big Contest graced the world with their LP, "Time Will Tell," as the members have been busy with bands like Fiddlehead, Glitterer, and Title Fight, while reveling in the glory of their past bands Intent and Step Forward. "Monkey's Paw" finds a giant leap forward as the band's straightforward USHC, influenced by Life's Blood and Side By Side. now includes more melodic influences, with elements of Give and Supertouch now apparent.

SKOURGE "Condemned" 7" (Lockin' Out Records)
The Houston band Skourge have staked out a particularly nasty corner of the American underground, fusing bust-your-shit-open hardcore with gnarly, intense old-school '80s death metal. That can be a great combination when a band finds the right balance. Skourge find the right balance. Their sound is ugly and raw and fearsome, and it just absolutely owns. In the past few years, Skourge have released a couple of demos and a 2015 EP called Suffering Earth. And now they've followed that one up with a new EP called Condemned. The new EP is brutal and immediate and low-budget and apocalyptic. It's that real gargling-blood shit.

ALIEN NOSE JOB "HC45" 7" (Iron Lung Records)
Is this what happens when the Brian Eno of bedroom recordings decides to make a hyper teenangst hardcore record? Yep, we think so.  

BATO "Ravages of Time" 7" (Not for the Weak Records)
NFTW is proud to present ROT (Ravages of Time), the first EP release by Norfolk, VA hardcore band BATO. This EP has been a much anticipated release after their flawlessly executed 2016 demo tape. Delivered in just over eight and a half minutes, ROT is seven songs of aggressively pummeling hardcore composed by members who have served time in bands such as FRAT BOYS, RHDP, RESTLESS, and RECKONING FORCE. The band pulls from influences from the "Golden Era" of 80's American hardcore all the way up to the Grave Mistake and No Way records catalogs. Limited to a one time pressing of 500 on black vinyl.

RECKONING FORCE "S/T" 7" (Not for the Weak Records)
A completely ripping follow-up to this Virginia band's 2017 release. While not particularly sounding like LIFE'S BLOOD, these six tracks charge with the same '80s hardcore center, a savagely spit vocal assault, and quick guitar-driven breakdowns. The vocals give it a little bit of the spastic feel of YDI, as they struggle to fit all the rage in, while the music brings to mind a lot of well-played, turn-on-a-dime late '80s Canadian hardcore such as YOUTH YOUTH YOUTH or FAIR WARNING, where musical chops both embellished and tempered the chaos. Anger simmers this one over to the right point though, with totally pissed lyrics and dark, stippled artwork of cages, mental and otherwise - Maximumrocknroll

STREET WEAPON "Quick to Die" 7" (Not for the Weak Records)
Debut EP "Quick to Die" from Virginia Beach hardcore band STREET WEAPON. After previously releasing online demos in 2018 and 2019, STREET WEAPON has finally bestowed us with a truly beautiful piece of wax. Six tracks of well executed hardcore that pays respect to New York greats such as ALTERCATION, as well as Cleveland heavy hitters CONFRONT. Although, I'd say they take a more straight forward, less gimmicky approach like bands such as THE ABUSED, ANTIDOTE, and LIFE'S BLOOD. Did I mention most of the band is barely out of high school?

COWBOY, THE "The WIFI on the Prairie" LP (Feel It Records)
Here to take the (20)20's by storm, Cleveland's THE COWBOY bless us with their second full length, "WiFi on The Prairie". Yes, there's more genius to this album than the title alone! Hot on the heels of a new EP on Drunken Sailor, "WiFi on the Prairie" follows with twelve tracks of brute, urgent guitar music steeped in Cleveland's rich rock history. THE COWBOY apply a wonderful angularity to the old budget rock formula, (see 2/3 of the lineup's previous work in HOMOSTUPIDS for further proof) while locking in / jamming out on another level. THE COWBOY are IT - an endearing trio that treads on the competition and writes on a futuristic par. Just don't ask 'em for the WiFi password.

MUTUALLY ASSURED DESTRUCTION  "Fever Dream" 10" (Edgewood Records)
Mutually Assured Destruction got together last year, after frontman Ace Stallings' previous band Break Away broke up. They released a very promising three-song single last year, and they've now followed it up with Fever Dream, and absolute motherfucker of a six-song EP. The new EP is some extremely heavy hardcore, with great juddering '90s metal riffs and foreboding atmosphere and occasional goth-blues guitar heroics. Stallings switches back and forth between a straightforward hardcore bark and a full-on melodic death-croon. It's great shit. The EP sounds great, too. It's got full, thick, heavy production, and you can really feel those riffs hit. MAD play slower than most hardcore bands, and they work of massive, nasty grooves. - Stereogum

TRUE FORM "Control" 7" (IOU Records)
Jacksonville, FL's True Form is another one of Florida's new breed of powerful hardcore, blending metallic, '90s-hardcore buzz with a NYHC groove, somehow bringing to mind both "Best Wishes"-era Cro-Mags and Strife.

CRASS "Penis Envy" LP (One Little Indian Records)
Penis Envy, released in 1981, was the third LP by the anarchist punk band Crass. The album is included as #36 on Rolling Stone's "40 Greatest Punk Albums of All Time" list in 2016. Named as a reference to some of Freud's ideas concerning sexuality, this release marked something of a departure from the somewhat 'macho', 'hardcore punk' image that The Feeding of the 5000 and its follow up, Stations of the Crass, had to some extent given the group, for it featured more obviously complex musical arrangements, as well as exclusively female vocals by Eve Libertine and Joy De Vivre (although Steve Ignorant remained a group member and is credited on the record sleeve as "not on this recording"). The album addressed feminist issues and once again attacked the institutions of 'the system' such as marriage and sexual repression.

HARAM "When You Have Won, You Have Lost" LP (UK Press) (La Vida Es Un Mus)
After one Demo and one 7" on Toxic State, Haram from Nuke York release their debut album on La Vida es un Mus (in Europe) and Toxic State (USA). Taking their name from the Arabic word for 'forbidden', Haram play simple hardcore with lyrics sung entirely in Arabic. The sound is agitated and slightly deranged which hints at both Japanese hardcore and classic 80's European hardcore. The songs are driven by a primitive drum sound, melodic guitar work and intense voacls by Lebanese frontman Nader. Haram stands out as one of the most culturally relevant, challenging and important bands in America. The LP comes in a 350 gsm reverse board jacket and includes poster and lyric booklet.

MASTERMIND "Bad Reaction" 7" (Quality Control HQ)
London has been fanning the flames of hardcore punk relentlessly, producing some of the best music of the genre for a while now. Enter Mastermind, four young guns kicking it up a notch or five. Starting in 2018, and after a well received demo on Cold Comfort, here comes their scorching new release, 'Bad Reaction' EP, on Quality Control HQ Records. Prepare to have your mind mastered in the art of the wildest hardcore songwriting, where a 3 minute song can keep you engaged throughout and doesn't seem out of the norm. Karim Newble, also the resident artist of the band, takes you through the waviest of riffs that remind you of the crazy end of late 80s NYHC, from such legends as Rest in Pieces and Killing Time. Meanwhile vocalist Jon Osborne might be the long lost son of Jeff Perlin growling along to the rhythm section, seemingly out of control with one beat hook after another, pulling everything together.

NOSFERATU "Solution A" LP (UK Press) (La Vida Es Un Mus)
Texas's Nosferatu unleash their first full-length of hardcore ramped-up into its highest echelons of breakneck propulsiveness, whizzed-up and faultily-wired, a tumbledown chaos of Siege-like flurries, whipping about with Die Kreuzen sharpness, or the more modern uncompromising flailings of Permission and No. Ugly barks, murky blurs of riffs slammed into you with the force of a bomb-blast. Barely room for breath, most of the tracks snapping off with little ceremony, apart from on the Under The Sun which drags that grimy noise out into a grubby itchy monster three times the length of most of the other tracks on the album, and on the apocalyptic stomp of the closer Solution Absolute.

DINGED UP "Mucho Color" LP (Wallride Records)
Joe Rankin and Dinged Up have been churning out earworms all across Maryland and the East Coast since 2013. "Mucho Dolor" is Dinged Up's sophomore LP with all instrumentation and vocals recorded by Joe himself. It was originally released digitally in 2016, but it's now properly seeing a physical reissue on LP thanks to a collaboration with Wallride Records. Joe had put Dinged Up on hold for a bit a couple years back, but reformed the group in 2019 with a solid lineup and they're ready to support "Mucho Dolor" well into the future. The current crew includes players that have done time or still do time in such heavy hitters such as The Jons, Deep Sleep and Night Birds. That's just a few examples of the serious pedigrees that comprise Dinged Up!

HARD-ONS "Peel Me Like A Egg" LP (Wallride Records)
The Australian legends are back! 2014 sees the band celebrating their 30 Year Anniversary! And they still going strong, THE HARD ONS return for their first European tour in September – their first for three years – and treat us to this brand new album to co-incide with the tour! This is their first new full length album in five years since 2010's acclaimed "ALFALFA MALES ONCE SUMMER IS DONE CONFORM OR DIE" album. And to celebrate the 30 year milestone, original member Keish Da Silva is back with Ray and Blackie guest featuring on some of the songs here! Featuring the usual amazing artwork from bass player Ray Ahn, its been a long time coming – but has been worth every inch of the wait!!

HARD-ONS "So I Could Have them Destroyed" LP (Wallride Records)
With eleven other studio albums under their belt, Australia's Hard-Ons have added another scorching hot slab to their monolithic discography, this time with the glorious return of founding member Keish back on lead vocals. Twelve inches of wax containing twelve new songs that demonstrate an absolute mastery of their craft, along with a level of intensity that will leave your head spinning and your heart throbbing. Combining elements of hardcore punk, thrash, sludge, and power pop, while never adhering to the restrictions of genre, So I Could Have Them Destroyed is a laser focused masterwork of heavy rock music that stands shoulder to shoulder with (perhaps surpassing?) juggernauts like Yummy, Too Far Gone, and Love Is a Battlefield of Wounded Hearts. Yes, it's that fucking good, and it's available in North America through Wallride Records. Good luck finding the will to take this one off the turntable once the melodies are seared onto your frontal lobe.

PROGRAM "Dehumanized Progress" LP (Mutant Sounds Records)
"Man, Texas has produced more than it's fair share of cool Japanese-style hardcore bands, and PROGRESS is another feather in that very odd cap. The riffage is frequently GAUZE-level frantic, and the tuning is very NIGHTMARE, had there been tons of killer stop-starts in the songwriting. The leads are more Scandi-style one-notes than full-on solos (though there are some blazers as well, viz. "Pleasure For Blood"), and the vocals have more than a trace of Tom G. Warrior in them, which adds a bit of character to separate PROGRESS from their contemporaries. The gorgeous clean and clear production is a huge asset for the band and their style—credit to both the studio and the mastering job. Lyrics are interesting, brushing up against some conspiracy theory stuff à la ATROCIOUS MADNESS, but also real world issues like the disappearances of Latinx and Indegenous women in border areas. Killer LP, don't let this slip under your radar." - MRR

ZYANOSE "Total End of Existence" LP (Distort Reality Recodrs)
The title says it all. After 14 years of destroying ears with their sonic noise eruption, Zyanose calls it quits and leaves you their final output. Side A offering 7 explosive new tracks and side B 6 re-recorded classics. Housed in a 24" x 36" fold out poster with Toyo's signature style layout. Also includes a obi. Noise Philia Punks forever! ACAB - 2019! FUCK OFF!!!!

New Titles in the Webstore from late 2019:

ACRYLICS "Sinking In" LP
ARMLESS CHILDREN "9 Songs" LP
BAUHAUS "Crackle: The Best of Bauhaus" 2xLP
BAUHAUS "Press the Eject and Give Me the Tape" LP
BRAINCELL / ZIKADE Split 7"
COMBAT 84 "Rapist" 7"
ESG "Come Away With ESG" LP
KOBRA "Live Queens Walk Centre" 7"
LURKERS, THE "Fulham Fallout" LP
MASS ARREST "Power" LP
MUTUALLY ASSURED DESTRUCTION "M.A.D." 7"
NEON "S/T" LP
OVERDOSE "Hit the Road" 7"
POISON IDEA "Pig's Last Stand" 2xLP
SCREAMING FIST "Templanza" 7"
SEX DWARF "Bara Morker" LP
SEX DWARF "Sensou Hatai" 7"
TITS, THE "Great Punk Tits" LP
VACANT STATE "Collection 2009-2014" Tape
YOUNG GUV "Guv II" LP
ZOUNDS "Curse of the Zounds" LP
Six Months worth of Restocks:

ADDERALL "Versus Big Pharma" 7"
ARMS RACE "The Beast" 7"
AUTHORITIES "Soundtrack for Trouble" 7"
AVENGERS "We Are the One" 7"
AVIADOR DRO "Nuclear Si" 7"
BIB "Moshpit" 7"
BIKINI KILL "New Radio" 7"
BLACK RANDY AND THE METROSQUAD "Trouble at the Cup" 7"
BLAZING EYE "Ways to Die" 7"
CHAIN CULT "Isolated" 7"
DICKS, THE "Hate the Police" 7"
DILS, THE "198 Seconds of" 7"
ELECTRIC CHAIR "Performative Justice" 7"
FIREWALKER "The Roll Call" 7"
HAIRCUT "Sensation" 7"
IDIOTA CIVILIZZATO "Civilita Idiota" 7"
KOWARD "S/T" 7"
LOOSE NUKES "Behind the Screen" 7"
LUX "New Day" 7"
MINOR THREAT "First Demo Tape" 7"
MISFITS "3 Hits from Hell" 7"
MISFITS "Beware" 7"
MISFITS "Evil is as Evil Does" 7"
MISFITS "Evilive" 7"
MISFITS "Spook City USA" 7"
MISFITS (Glenn Danzig) "Who Killed Marilyn" 7"
NEGATIVE APPROACH "10-Song EP" 7"
NIRVANA "Your Opinion" 7"
PORNO CASSETTES "Your Face" 7"
RANDOMS "ABCD" 7"
RATA NEGRA "La Hija Del Sepulturero" 7"
RIXE "Coups Et Bleasures" 7"
SOA "First Demo" 7"
STEP FORWARD "S/T" 7"
TAMPAX / HITLER SS Split 7"
TEEN IDLES "S/T" 7"
TERRORIST 7"
VILE "Vile Says Fuck Off!" 7"
WARTHOG "S/T" 7"
YDI "A Place in the Sun" 7"
YOUTH BRIGADE "First Demo" 7"

SKINNED ALIVE Demo Tape

CONTENTION FANZINE Anthology Book
HARDWARE FANZINE Anthology Book (Softcover)

ARTIFICIAL PEACE "Complete Session November 81" LP
ASID "Pathetic Flesh" LP
BAUHAUS "In the Flat Field" LP
BELGRADO "Obraz" LP
BELGRADO "Silgo XXI" LP
BIG EYES "Hard Life" LP
BUGG "S/T" LP
CHAIN CULT "Demo 2018" LP
CIRCLE JERKS "Wild in the Streets" LP
COMES, THE "No Side" LP
COMES, THE" No Side / Power Never Die" LP
CONDOR "Singles 2017-2018" LP
DAG NASTY "Can I Say" LP
DAG NASTY "Dag With Shawn" LP
DARK THOUGHTS "At Work" LP
DARK THOUGHTS "S/T" LP
DINOSAUR JR. "Bug" LP
DINOSAUR JR. "Dinosaur" LP
DINOSAUR JR. "Give a Glipse of What You're Not" LP
DINOSAUR JR. "You're Living All Over Me" LP
DISASTER "War Cry" LP
DISCLOSE "Tragedy" LP
DISCLOSE "Yesterday's Fairytale, Tomorrow's Nightmare" LP
ERGS, THE "Dorkrockcorkrod" LP
EXCEL "Split Image" 2xLP
EXPLODING HEARTS "Guitar Romantic" LP
EXPLODING HEARTS "Shattered" LP
FAITH / VOID Split LP
FATAMORGANA "Terra Alta" LP
FIX, THE "At the Speed of Twisted Thought" LP
GHOUL "Night Out" LP
GUDON "1984" LP
GUNS AND WANKERS "The Complete Recordings '93-94" LP
HANK WOOD AND THE HAMMERHEADS "Go Home" LP
HANK WOOD AND THE HAMMERHEADS "S/T" LP
HANK WOOD AND THE HAMMERHEADS "Stay Home" LP
INMATES "S/T" LP
INSTITUTE "Subordination" LP
INSTITUTE "Catharsis" LP
INSTITUTE "Readjusting the Locks" LP
IRREAL "Fi Del Mon" LP
KALEIDOSCOPE "After the Futures" LP
KHIIS "Bezoar" LP
KLEENEX LILIPUT "First Songs" 2xLP
KOHTI TUHOA "Ihmisen Kasvot" LP
L.O.T.I.O.N. "Digital Control And Man's Obsolescence" LP
LARMA "S/T" LP
LIMP WRIST "Facades" LP
LIMP WRIST "S/T" LP
LIMP WRIST "Want Us Dead" LP
MALCRIA "El Reino De Lo Falso" LP
MARKED MEN "Fix My Brain" LP
MARKED MEN "Ghosts" LP
MARKED MEN "On the Outside" LP
MURDERER "I Did It All for You" LP
NEGATIVE APPROACH "Tied Down" LP (Purple Vinyl)
NERVES, THE "One Way Ticket" LP
NIKKI AND THE CORVETTES "S/T" LP
NIKU-DAN "S/T" LP
NIRVANA "Bleach" LP
OMEGA TRIBE "No Love Lost" LP
OUTO "Collection" LP
PARANOID "North Winds of Brutal Hell Mangel Vol. 1" LP
PARANOID "North Winds of Brutal Hell Mangel Vol. 2" LP
PATSY "LA Woman" LP
PHYSIQUE "Punk Life is Shit" LP
PIXIES "Doolittle" LP
POISON IDEA "Darby Crash Rides Again" LP
POISON IDEA "Feel the Darkness" 2xLP
POISON IDEA "Kings of Punk" 2xLP
POISON IDEA "War All The Time" LP
RADIOACTIVITY "S/T" LP
RADIOACTIVITY "Silent Kill" LP
RATA NEGRA "Justice Cosmica" LP
RATOS DE PORAO "Crucificados Pelo Sistema" LP
RIXE "Collection" LP
S.H.I.T. "Complete S.H.I.T" LP
SCREAMERS "Demos 1977-78" LP
SENSUAL WORLD "Feeling Wild" LP
TEMPLARS "Dans Les Catacombs Du Studio De L'Acre" LP
ULTIMO RESORTE "La Larga Sombra Del Punk" LP
V/A "Bloodstains Across California" Compilation LP
V/A "Bloodstains Across Texas" Compilation LP
V/A "Bloodstains Across the Midwest" Compilation LP
V/A "Bloodstains Across the UK Vol. 2" Compilation LP
V/A "Bloodstains Across Virginia" LP
V/A "Killed By Death Vol. 1" Compilation LP
V/A "Killed By Death Vol. 12" Compilation LP
V/A "Killed By Death Vol. 3" Compilation LP
V/A "Killed By Death Vol. 6" Compilation LP
VOID "Sessions 1981-83" LP
WIPERS "Over the Edge" LP
WIPERS "Youth of America" LP
WOUND MAN "Perimeter" LP
YDI "A Place in the Sun / Black Dust" 2xLP
ZERO BOYS "History Of" LP
ZERO BOYS "Vicious Circle" LP